MESSAGE FROM THE PRESIDENT: Congratulations to the extraordinary Class of 2020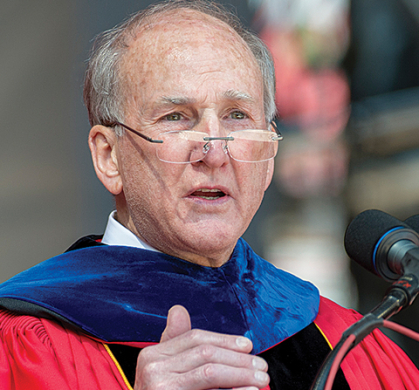 One of the saddest consequences of the coronavirus lockdown for me is that I was not able to salute our graduating students in person on a beautiful May day, with their proud families and friends cheering them. Here is what I would have said to them.
Members of the Rutgers Class of 2020:
This is an awesome moment for all of you, nearly 19,000 strong. Each of you has earned a degree from Rutgers and that is worth cheering. What's more, you can be certain that you have done so in a way that has never been done before. 
Who are you, Class of 2020? You are artists and surgeons and engineers, you are chemists and entrepreneurs and writers, you are psychologists and teachers and attorneys, you are mathematicians and criminologists and social workers, you are historians and librarians and nurses, you are pharmacists and public health specialists and planners, you are oceanographers and neuroscientists and labor leaders, you are biologists and accountants and physician assistants, you are public administrators and dentists and computer scientists. And even that array only scratches the surface of the fields you have chosen and the gifts you will bring to New Jersey and the world.
Imagine all the talent in this one group of human beings. Enough talent for some of you to have earned incredibly competitive fellowships, or entrance into outstanding graduate and law and medical schools, or job offers from some of the world's most respected firms and organizations. Enough talent in all of you to change the world.
Of course, the world has already changed dramatically, just in the past few months, and anyone who tells you what it will be like a year from now is only guessing. Most of you are in your early 20s, and yet this is already your third major crisis, after 9/11 and the Great Recession. Given what we know about climate change's effects, it likely will not be the last defining crisis you will encounter.
I firmly believe that Rutgers has prepared you to be resilient. You have already had to think on your feet—certainly in this final semester but also throughout your academic careers. Many of you have had to balance your studies with one or two jobs and family responsibilities. Some have had the burden of being undocumented and unsure of your future, or facing racial or ethnic discrimination, or enduring sexual assault, or losing a loved one unexpectedly. 
And yet you have arrived at this moment—you have truly earned your Rutgers degree.
As I have told other graduating classes, it is more than academic achievement that makes a Rutgers graduate stand out in the world. Each of you knows what it  is like to work hard for what you achieve. Your Rutgers experience demands that of you. I believe that this gives you an advantage in times of uncertainty and difficulty.
The world needs Rutgers—and the world needs you. Today we are scrambling to develop tests and treatments and a vaccine against a deadly virus, and tomorrow we will be chasing the solution to destructive hurricanes, crushing poverty, and debilitating childhood obesity, among so many global challenges. Rutgers will be there, and I am confident that so will you, applying your knowledge, ambition, and compassion to accomplish amazing things.
You are the final graduating class during my presidency, and I could not be prouder to be taking my leave alongside you.
Congratulations and Godspeed.