Only months into her new job as New Jersey's health commissioner, alumna Judith Persichilli, unfazed, steps up to help contain COVID-19.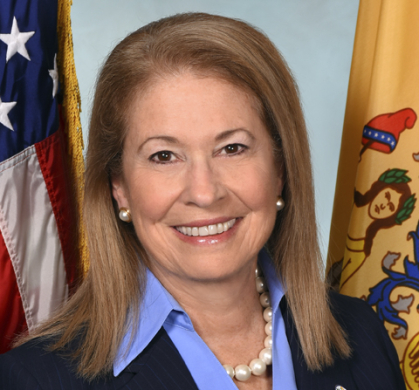 On Super Bowl Sunday, Judith Persichilli, New Jersey's commissioner of health, was on an emergency call with the Centers for Disease Control and Prevention. "It was just before kickoff when I learned that the next day, February 3, 350 travelers who had passed through China would land at Newark Liberty International Airport," she says. The task before her: to comply with an executive order from New Jersey governor Phil Murphy, effective immediately, that would establish a new coronavirus task force and institute new screening measures at the airport for incoming flights from China. 
Despite having been health commissioner for only about six months, Persichilli NUR'76, a former intensive care unit nurse, was unfazed. "I got off the phone and worked all night to do what we had to do," she says.
Persichilli, the first nurse to become the state's health commissioner, is used to confronting a crisis. "Nurses are always on the front lines, collaborating with the team and putting aside their own burdens to come in to their workplace, no matter how scared they are," she says. Now, with the COVID-19 crisis, that resilience and courage are more evident than ever. With the virus often leaving patients isolated and separated from their loved ones, "it's the nurses who become patients' families," Persichilli says. "They'll cry when we lose someone, rejoice when a patient comes through, then turn around and do it all again." 
That kind of resiliency helps keep Persichilli going during long days in her office in Trenton, New Jersey, even as so many others work from home. "We're setting up field hospitals and alternative care sites, making sure hospitals have enough ventilators, and helping them handle the surge of cases," she says. 
She is also digging deep to get the answers she needs as she battles to keep New Jersey safe, tracking the latest statistics on positive diagnoses and deaths. The nursing program at Rutgers, she says, "taught me how to be curious—in terms of research, the underpinnings of what nurses do, the importance of using evidence in caring for patients, and to consider what's happening out in the community in addition to the hospital."
Her broad, fact-based approach to health care is invaluable as Persichilli finds herself leading the charge to keep all New Jerseyans safe and calm, now and for the unclear future. There are two facts that she knows for certain: besides handwashing and social distancing, it's crucial that all of us stay connected and keep laughing. 
"I'm surrounded by people at the Department of Health who find a way to laugh every day while being extraordinarily productive," she says. "There's always a reason for optimism. We are learning more every day. New Jerseyans are resilient, and we will come through this journey together."