A persistent pandemic. A reeling economy. A racial reckoning. Since last March, the intervening months have been a challenge for everyone in the Rutgers community. Alumni share their thoughts about these tumultuous times.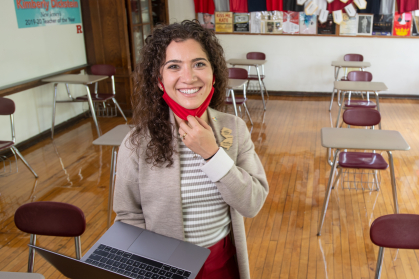 It's What We Do
When schools initially moved to remote learning, this country applauded educators for their selflessness and ingenuity. For 12 weeks, I helped produce a public television program for NJTV to reach students who didn't have access to the internet. More than 200 New Jersey teachers volunteered. When schools reopened, educators were vilified for expressing concern for everyone's health and safety. I've never been this drained but keep giving more of myself because that's what teachers do. Thank goodness my students make me laugh.
—Kimberly Dickstein Hughes RC'08, GSE'09, an English teacher at Haddonfield Memorial High School, in Haddonfield, New Jersey, is the 2019–20 New Jersey State Teacher of the Year.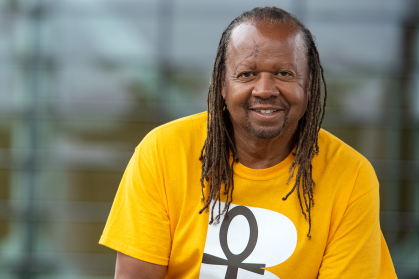 Let America Be America Again
The coronavirus has taken a toll on my family. I witnessed my nephew fighting back tears as medical staff put his mom on a ventilator. My family experienced the death of loved ones and witnessed the suffering of survivors. The health pandemic and the pandemic of racism and police brutality, reflected in the horrific killing of George Floyd, Breonna Taylor, and others, have required us to strengthen our faith, be intentional about our support, and increase our activism. Despite the health risks, I participate in protests to vent my anger and be in the presence of thousands of others who want America to live up to its ideals. They are reflected in the spirit of the 1935 Langston Hughes poem "Let America Be America Again," which describes a land that has never been for so many people.
—Bill Davis Jr. RC'76, GSE'79 is a part-time lecturer in the Department of Africana Studies at Rutgers University–New Brunswick.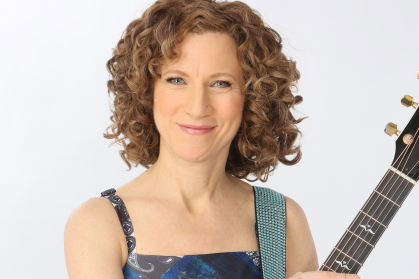 In a New York State of Mind
I am much more of an introvert than I realized, and I might not choose to spend the rest of my life in a city. Still, I love New York City more than ever. The first time I heard the shouting, clapping, music blasting, and pots and pans banging outside my window to support our essential workers, I felt my heart swell. Watching New Yorkers work as a team—to support BLM and to flatten the curve—has reminded me of the awesome power we have as a community that comes together.
—Laurie Berkner RC'91 is an award-winning children's musician, author, and owner of Two Tomatoes Records.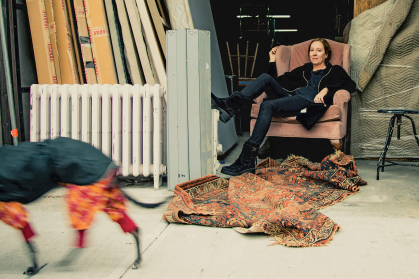 Creativity, Postponed
This thing has really dragged on and on. I am trying to run five businesses and continue in my career as a set designer. The hardest part is not being on set and creating things. This is soul crushing. I envy painters and artists; you can keep going. Writer Adam Gopnik says the key to true happiness is absorption in an activity, like painting or me being on set where I can become absorbed in the set and forget all my (and the world's) troubles for a minute. But when this is over, it's going to be a blastoff of creativity. And I plan to be there to see it and be a part of it.
—Mary Howard MGSA'83 is the owner of MHS Artists and Hook Studios.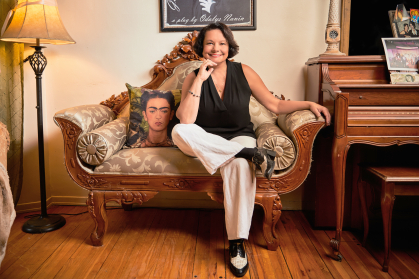 Love in the Time of COVID
I had tickets to fly to Barcelona on March 16, which was my birthday, for two weeks. All of this was canceled with the lockdown imposed on Los Angeles the day before. All theaters went dark, and we have not been able to produce anything live. I was very depressed for a few weeks, but I kept myself busy. We are keeping our audience connected to theater through streaming productions. I produced In the Time of COVID, a documentary for the City of Los Angeles, and filmed Love in the Time of COVID, which streamed in October. I've learned to be more creative with how to present my plays to audiences. Reinventing the way that you do things is the key to survival in this new world of masks and 6 feet apart.
—Odalys Nanin NCAS'81 is the founder and producing artistic director of MACHA Theatre/Films in Los Angeles.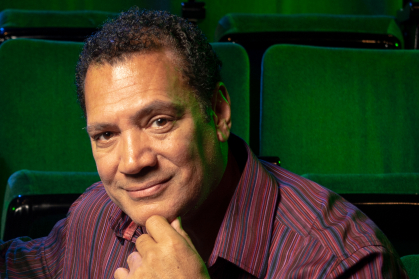 A Time of Reckoning
Days before the start of rehearsals for my latest production, COVID-19 hit and rehearsal halls in New York City suddenly went dark. There were also the murders of Ahmaud Arbery, Breonna Taylor, and George Floyd. COVID-19 might have halted nations, but these months have forced us to take a long look at ourselves and at the undeniable state of systemic injustice that we've allowed to happen for far too long. Facing and fighting it have become all that I have wanted to do. I had been marching (mask on!). I've been chanting. I've been praying. I've been singing. My eyes are still on the prize of racial justice.
—Ricardo Khan RC'73, MGSA'77, a 1992 inductee into the Rutgers Hall of Distinguished Alumni, is a writer and director as well as the cofounder and artistic director emeritus of the Crossroads Theater Company in New Brunswick.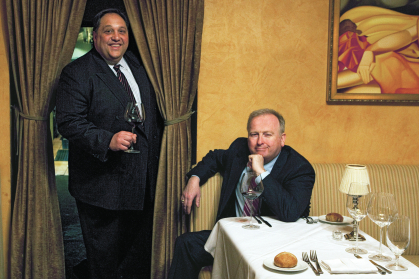 Random Acts of Kindness
During our 28 years of owning Stage Left Steak Restaurant, my business partner, Francis Schott, and I have seen a variety of human behavior in stressful times. Amid this pandemic, we have had front row seats to witness wonderful, selfless deeds. People have ordered to-go meals and filled their fridges with steaks and non-necessities to keep us in business. Others have bought gift certificates without a plan to use them anytime soon, and they stocked their cellars with enough wine to fill a swimming pool. Shortly before we closed in March, and were unsure of our future, a customer from Chicago had been planning a big birthday celebration for his wife. After we made it clear that we were not going to be open, he did something remarkable. Instead of asking for his deposit back, as almost all of our parties were doing and thus compounding our problems, he sent a $5,000 check as an advance payment, he said, for the party—whenever it does happen. Our faith in humanity was completely restored.
—Mark Pascal RC'88 is the co-owner with Francis P. Schott RC'88 of Stage Left Steak and Catherine Lombardi restaurants in New Brunswick.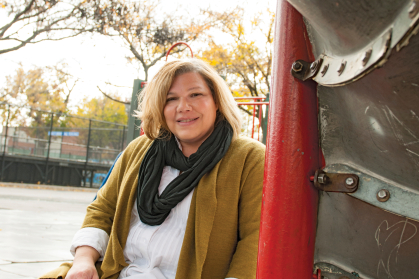 I am grateful for my family and my profession, allowing me to work from home to create safe, public open spaces for New Yorkers—which is so important during these times.
—Denise Mattes CC'90 is the Brooklyn deputy director of design for New York City Parks Capital Projects.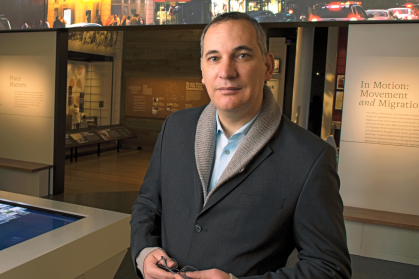 Rhythm and Blues
"They Want Our Rhythm But Not Our Blues," the protest sign read along the perimeter fencing of the White House. Being part of a joint effort with the Smithsonian, of which the museum is part, to collect materials from the COVID pandemic and Black Lives Matter protests in 2020 has both helped me cope with our crises and revealed the ways in which fault lines of health, safety, race, and social justice meet. The stories, messages, and objects shared by our families, neighbors, and fellow Americans help us all see a more complete picture of our collective life.  
—Paul Gardullo RC'90 is the curator and director of the Center for the Study of Global Slavery at the National Museum of African American History and Culture.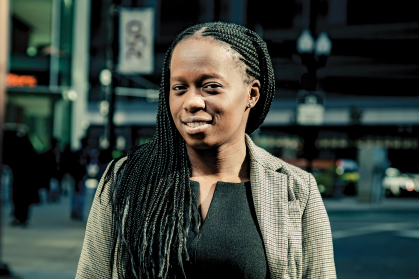 Three Things That I Know Now
1. Young people are far more resilient and capable of leading social change than most adults give them credit for.
2. Human connection is fortified by simple communication, especially when everything else seems in disarray.
3. I am most at peace when conversing with friends and family while separating myself from day-to-day work.
—Amanda A. Ebokosia NCAS'08 is the founder and CEO at The Gem Project Inc. and vice chair of the Rutgers University Alumni Association.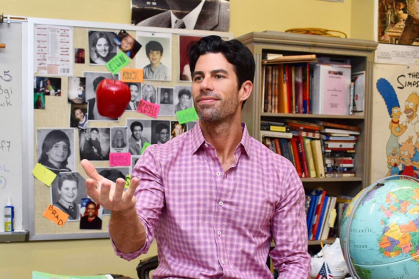 The Weight of the World
Being a teacher, I didn't think it was possible for us to work harder and more hours than we already do, but this pandemic revealed that indeed it is. This is affecting everyone, of course. But for teachers, it is so tough and so overwhelming, and we have the weight of the world on our shoulders. We care so much about our jobs as well as our students and their families. Virtual teaching is the toughest thing I have had to do in my career as an educator.
—Nicholas Ferroni LC'03 is a history teacher at Union High School in Union, New Jersey.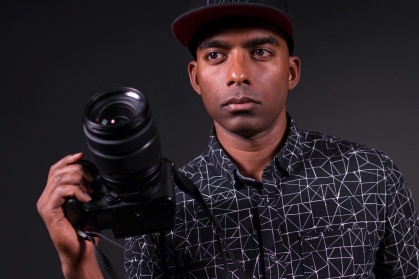 Picturing a Better Future
I have evolved during the pandemic, learning to overcome fear and anxiety of what's next and gaining control over the stress that comes with wondering when all of this will be over. I have accepted that this will go on for a while and we can only control what we do, create, impact, and build with time. Making plans and thinking about the future has helped me personally and professionally. I am optimistic that life will gradually improve, and the work we do and the relationships we build during this time take on a greater significance than they ever have.
—Landscape photographer Dinesh Boaz RC'97 is the cofounder and creative director of Direct Agents.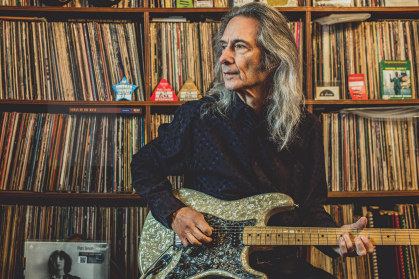 A Glimpse of the 21st Century
The 21st century has truly begun. We see the acceleration of on-screen communication, new means of socialization, and an awareness that we are all interconnected on this heating Earth, despite the fearmongering and sectarian conflict. For me, as a musician, it has meant a loss of the ability to be who I am, the physical and emotional release of performing. Luckily, as a writer and cultural historian, I maintain a rich inner life based on recordings, books, and the many byways of human art. And, so, we endure.
—Lenny Kaye RC'67 is a guitarist with Patti Smith. Because of the lockdown, he has been able to finish his forthcoming book on rock and roll's greatest scenes, Lightning Striking (Ecco Press, 2021).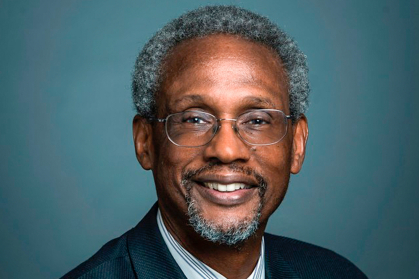 Observations of Mine
• COVID-19 has changed how we will live and work—permanently.
• The courage of our health professionals is inspiring.
• Biracial families and children have become less unusual.
• There is an economic codependency between open schools and working parents.
—Spencer Crew GSNB'73,'79 is the interim director of the National Museum of African American History and Culture.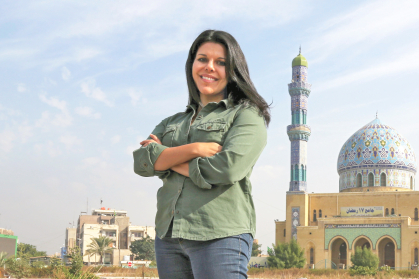 News Sources and Social Distancing
A big part of being a journalist is source-building: getting people to trust you to share confidential information, often at great personal risk to them. Face-to-face contact is usually important because it's easier to earn that trust. But, suddenly, the country was plunged into a pandemic crisis. We were relegated to doing our reporting from home. Some sources are afraid to use encrypted apps to communicate, questioning their security. And my social distancing invitations are often met with skepticism: not only do they need to trust me in order to share confidential information, they also need to trust that I am healthy enough to approach, even from 6 feet away. It's a challenge for many of my colleagues. With no end in sight, we have to come up with creative tactics in our pursuit of information.
—Vivian Salama LC'00, SCILS'00 is the national security correspondent for CNN.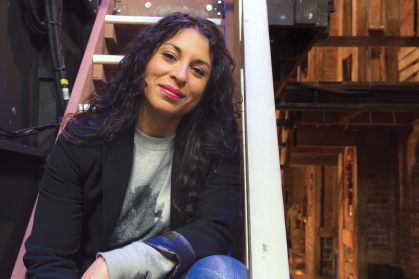 It's a Good Day When …
• I find a moment to read.
• I get in a workout.
• I get to spend some time social distancing with friends.
• I see a great story on social media of how someone is overcoming the anger they feel about all the injustice we are facing and smiles/inspires/takes action, anyway.
—Stephanie Klemons RC'04, associate choreographer and supervising choreographer of the American and British productions of Hamilton: An American Musical, is an award-winning Broadway performer, director, and choreographer and the founder of Katie's Art Project, bringing kids with life-threatening illnesses together with artists to create and collaborate.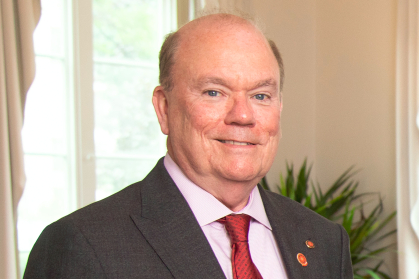 This pandemic reminds me—and many of us, especially in the LGBTQA community—of the first years of the HIV/AIDS crisis. I hope our response doesn't take as long.
  —James F. Dougherty RC'74, GSNB'75 is the president and co-owner of Metropolitan Veterinary Associates and a member of the Rutgers University Board of Governors and the Rutgers University Foundation Board of Overseers. He is the past chair of the Rutgers University Board of Trustees.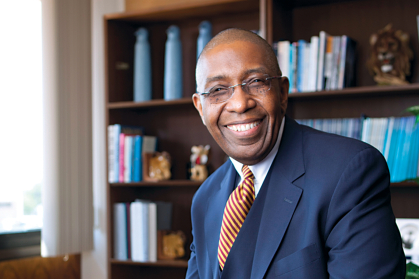 Resilience Is Our Strength
I have been impressed by the resiliency of humankind during the social disruption of the past few months. I can't recall another time in history when the world shut down and our lifestyles changed so dramatically. People have adjusted how they live and work, and they have had more time to think and reflect, which, in some ways, created space for social justice work and the Black Lives Matter movement. Those of us in health care continued to provide care and learning, adapting along the way. Medical education, which was taught in the same fashion for decades, adjusted to the demands for masking and social distancing. Resiliency is our strength and creating a healthier community is our reward.
—Robert L. Johnson NJMS'72 is the dean of New Jersey Medical School and interim dean of Robert Wood Johnson Medical School.