The Viral Underclass: A Signature on the Soundstage Event with Steven Thrasher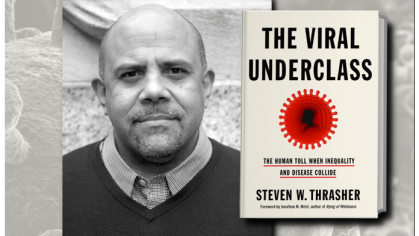 The Viral Underclass Soundstage event is part of the year-long series hosted by the Institute for the Study of Global Racial Justice.
Viral/Vital Conditions is an invitation/provocation for the university community, featuring veterans, academics, activists, and artists engaged in deepening our collective understanding of the current COVID-19 pandemic in light of earlier pandemic outbreaks such as HIV/AIDS and Monkeypox. In a moment in which "going viral" and experiencing the collective and proximal cohabitation of a precarious world of viruses, emerging diseases, and generalized precarity, how do people, communities, and systems learn from previous experiences? What are the politics of race, class, materiality, and representation in fashioning capacious futures for the most vulnerable among us?
The events in the Viral/Vital Series aim to bring attention to these interconnections and bridges linking our past and present for the sake of drawing lessons toward viable futures for all.