Rutgers Reads: A Conversation with Nikole Hannah-Jones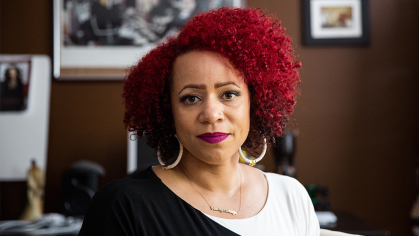 Rutgers Reads provides incoming first-year students with a shared, intellectually engaging experience and serves as an introduction to academic life at Rutgers University–Camden. Each year, a small committee convenes to discuss and decide on a selection, which is then incorporated into the English and writing curriculum for all first-year undergraduate students. The Office of New Student Programs provides these incoming students with a copy of the Rutgers Reads book before they begin their first semester at Rutgers–Camden.
Rutgers Reads 2020 author Nikole Hannah-Jones will share her perspectives on our nation's current moment of racial reckoning with an online public lecture at noon on Thursday, Sept. 24.
Hannah-Jones is the creator of The New York Times Magazine's "The 1619 Project," about the history and lasting legacy of American slavery, for which her powerful introductory essay was awarded the Pulitzer Prize for commentary. A recipient of a MacArthur Fellowship "Genius Grant" for her work in reshaping national conversations about education reform, Hannah-Jones has also won a Peabody, two George Polk awards, and the National Magazine Awards three times.
Learn more and register for the public portion of the event here.