Douglass Yule Log Ceremony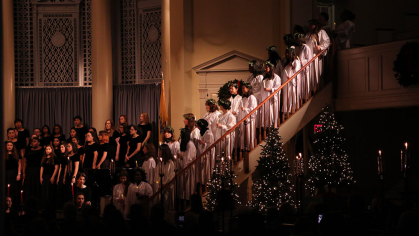 Douglass College is pleased to invite you to a cherished winter tradition that has warmed hearts for over a century – the Douglass Yule Log Ceremony!
Enjoy the delightful harmonies of the Voorhees Choir, led by Dr. Brandon Williams, and inspirational readings that embrace the rich tapestry of seasonal celebrations, cultures, religions, and traditions, presented by Douglass students. Join with members of the Douglass community, past and present, to create a magical atmosphere that truly encapsulates the spirit of the season.
Gather together, and enjoy an afternoon of warmth, joy, and unity. Please register to ensure your spot is reserved for this unforgettable event. All are welcome.