2023 Racial Justice Summit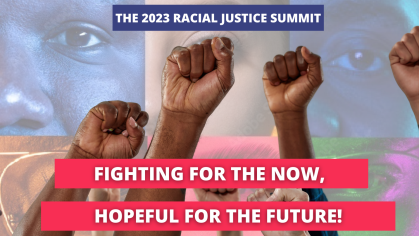 The 2023 Racial Justice Summit is the first student-led event to explore the future of racial justice on all three Rutgers campuses, encourage personal and intellectual growth, and help bolster nuanced conversation about community, activism, and responsibility. This event showcases the first year of activity of our undergraduate Fellows in Racial Justice (RAJU) at the ISGRJ. 
A free shuttle service will be provided for students from Camden and New Brunswick to Express Newark. Please register here if you'd like to board the buses on the Camden and New Brunswick campuses on the morning of the summit. 
We created this event to be a space for students, faculty, administrators, and the general public to listen, learn, and be inspired. Our theme, Fighting for the Now, Hopeful for the Future!, embodies the desire of young activists to tackle the most pressing racial justice issues, while daring to imagine a better world for us, and for future generations.
Hosted by the Office of Undergraduate Intellectual Life at the Institute for the Study of Global Racial Justice, this historic summit features three panels that embrace the theme Fighting for the Now, Hopeful for the Future!: "Education Not Incarceration," a Q&A with keynote speaker Dr. Roxane Gay, and "Community Changemakers: Celebrating the Inaugural Racial Justice Fellows."
View the Summit agenda here.
Planning your visit to Express Newark 
If you have not indicated that you'd like to take the free shuttle service we are providing from students coming from Rutgers-New Brunswick and Rutgers-Camden, please see information on how to get to Express Newark and where to park below: 

Express Newark's address is 54 Halsey Street, Newark, NJ. We are located on the second floor of the Hahne & Company building. The building atrium may be entered on Broad St. or Halsey St. We will have staff members of our team at both entrances to the building to help direct you to Express Newark. 
Parking
The Hahne & Co. parking garage, located on the basement level and entered on New Street, provides limited parking for an hourly fee. Other parking options include metered street parking or private garages or lots on Washington Street and Halsey Street.

All Rutgers faculty, staff and students with a permit, please use the Rutgers Newark lots. To access the Rutgers Newark campus map which outlines all of the lots available, please click here.

Public Transportation
There is a NJ Transit bus stop at Broad and New Streets. Newark Penn Station is less than 1 mile away for access to NJ Transit, PATH, and Amtrak trains. Broad Street Station is 1/2 mile away for access to NJ Transit trains. Via Newark Light Rail, both Military Park and Washington Street Stations are close by.
Admission
There is no admission fee to enter Express Newark, or the Racial Justice Summit. We will have food and refreshments throughout the day, and limited complimentary take away gifts from the Institute for the Study of Global Racial Justice and our Office of Undergraduate Intellectual Life. Gifts will be available at our check-in desk at a first come, first served basis. 
Accessibility
The Hahne & Co. building and all spaces in Express Newark are fully accessible via elevator.

Once again, for  any concerns or questions, please reach out to us at isgrj@oq.rutgers.edu