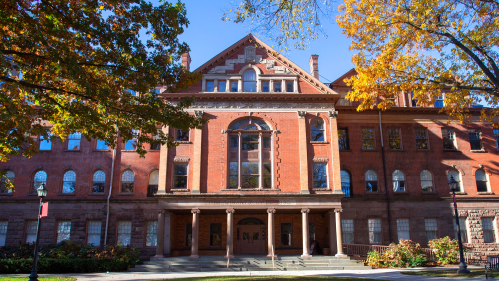 Office of the President
Rutgers' president is appointed by the Board of Governors with the consent of the Board of Trustees. He or she leads the overall performance and direction of the university with the help and advice of the Rutgers community, including members of the central administration and leaders at Rutgers–New Brunswick, Rutgers–Newark, Rutgers–Camden, and Rutgers Biomedical and Health Sciences.
About President Holloway
Jonathan Holloway became the 21st president of Rutgers, The State University of New Jersey, on July 1, 2020. Prior to his appointment, he was provost of Northwestern University. Holloway is an eminent historian specializing in post-emancipation United States history with a focus on social and intellectual history. He is the author of The Cause of Freedom: A Concise History of African Americans (forthcoming); Confronting the Veil: Abram Harris Jr., E. Franklin Frazier, and Ralph Bunche, 1919-1941; and Jim Crow Wisdom: Memory and Identity in Black America Since 1940.
Prior to his role at Northwestern, Holloway was the dean of Yale College and the Edmund S. Morgan Professor of African American Studies, History, and American Studies at Yale University. He joined the faculty at Yale in 1999. Holloway began his academic career at the University of California, San Diego. He received a bachelor's degree with honors in American studies from Stanford University and a PhD in history from Yale University. He serves on boards of the Andrew W. Mellon Foundation, the Academic Leadership Institute, and the Organization of American Historians. He previously served on boards of Chicago Botanic Garden, Illinois Humanities, the National Humanities Alliance, and the Society for United States Intellectual History. In April 2020, New Jersey Governor Phil Murphy appointed him to the Governor's Restart and Recovery Commission.
Holloway is an elected member of the American Academy of Arts and Sciences and the Society of American Historians. He is married to Aisling Colón. They have a daughter, Emerson, and son, Ellison.