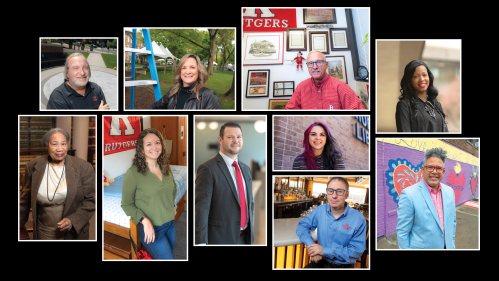 Meet the People of Rutgers
Get to know the people of Rutgers: their hobbies, accomplishments and favorite moments at the university.
Submit Nominations
If you would like to share your Rutgers story or nominate someone to be featured, follow the link below.
Christopher Keri, Supporting the Marching Scarlet Knights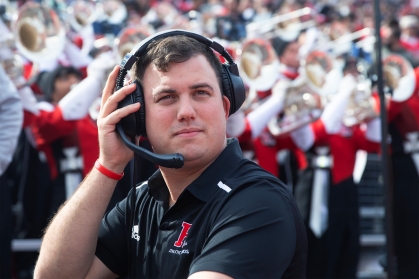 The Basics 
Title: Director of Operations  
Unit: Rutgers University Marching Band  
How Long Have You Worked at Rutgers: A total of 18 years including my time as an undergraduate and graduate student 
What I do  
I work as the director of operations for the marching and pep bands. I support the band in many logistical operations including, onboarding new members, facilitating communication with members, completing orders for equipment and various needs throughout the year and as the band's announcer during pregame and halftime on gamedays. 
Favorite Memory  
I have had a few great memories. For many years, it was when the band performed at Super Bowl XLVIII at MetLife Stadium. Last year, I had such pride when we got to announce our selection into the 97th Annual Macy's Thanksgiving Day Parade. As one of a handful of people who knew, I had the anticipation of seeing everyone's reaction. I loved hearing accolades for the program I have dedicated so much of my time to, and I look forward to what Thanksgiving of 2023 has in store for us. 
Fun Fact 
I played trumpet as an undergraduate at Rutgers and was section leader for the marching band for three out of four of my years.   
This is my first time going to the parade, but I have watched with my parents and my own family every year.  My family has always asked why the Rutgers Band didn't do the parade, so when they found out that we were going to be a part, they were ecstatic. 
Rhonda Barnes, Aiding SPH Applicants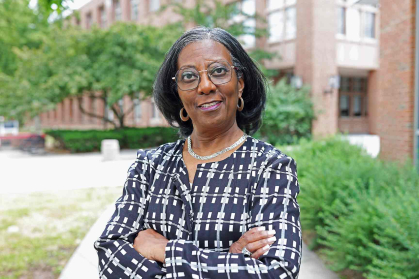 The Basics 
Title: Admissions coordinator 
Unit: Rutgers School of Public Health (SPH) 
How Long Have You Worked at Rutgers: 32 years 
What I do 
I am in charge of the application process when applying to SPH. I am the first point of contact for all prospective applicants. My work includes assisting with the application process, organizing admissions, and recruitment. I represent the School of Public Health to the general public and other academic institutions and programs. Ensuring that all admissions operations run smoothly. 
Favorite Memory 
It is always a favorite moment when I encounter one of our graduates working and making great strides in the field of public health. 
Fun Fact 
I work at a performing arts theater as a lead front of house usher for live on-stage performances. I have worked in the entertainment business for 18 years.
Bill Welsh, Ensuring Equal Access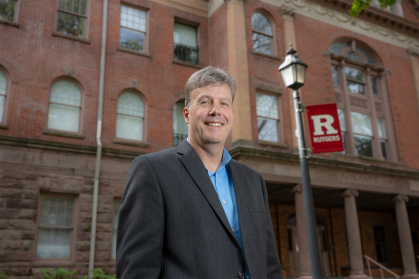 The Basics
Title: Associate Vice President
Unit: Rutgers Access and Disability Resources
How Long Have You Worked at Rutgers: 10 years
What I do
I work with all of the Offices of Disability Services across the university to ensure equal access, opportunities, and participation of disabled students at the university. We provide institution-wide academic accommodations for disabled students which include American Sign Language (ASL) interpreters, computer-aided real-time captioning (CART), captioning, assistive and adaptive technologies and course materials in alternative formats. We promote an inclusive campus environment that allows disabled students to pursue their academic, personal, and professional goals.
Favorite Memory
I have volunteered at commencement for many years assisting our guests and graduates with disabilities and it has been very satisfying.  This year I attended commencement as a proud parent of two graduates, my daughter, Erin, received her master's degree from Rutgers School of Public Health and my daughter, Keira, received her BA in psychology. It was a great experience to enjoy the commencement experience as a parent of two Rutgers graduates and Sheryl Lee Ralph was truly inspirational.
Fun Fact
I am an avid fisherman and love to be out on the water including streams, rivers, lakes, bays and the oceans. I have been fly fishing for many years and I tie my own flies. Also cooking and gardening are hobbies I really enjoy.
Shelley Franz, Providing Health Care for Incarcerated Youth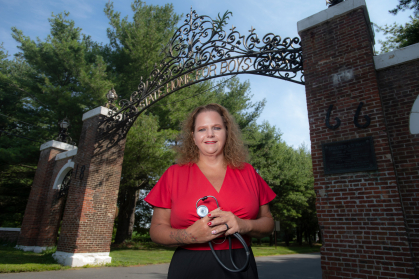 The Basics 
Title: Regional Nurse Manager 
Unit: University Correctional Health Care  
How Long Have You Worked at Rutgers: 11 years 
What I do  
I am the Regional Nurse Manager for University Correctional Health Care at the Juvenile Justice Commission. 
I ensure access to health care services across a continuum of care, which includes two secure care facilities, ten residential community homes, and community-based parole and transitional services for court involved youth of New Jersey. I work collaboratively with stakeholders such as mental health providers, corrections officers, social workers, school teachers and administration. My hardworking dedicated nurses and medical staff and I promote health and well-being as well as emergency medical care. 
Favorite Memory  
My favorite memory happened when I worked at the Child Health Unit in Camden for Rutgers as a Registered Nurse. We were tasked with the care of a Safe Haven newborn. I was part of the DYFS team who not only provided health care for this newborn but I was part of the process from the start and was witness to the baby's adoption day. I was a part of many successful adoptions while at the CHU but this one had the most impact on me. It was a testament to the Safe Haven Law, which allows parents to anonymously surrender a newborn baby at any hospital emergency room, police station, fire station and other locations no questions asked.  
Fun Fact 
I am part of an amazing charity organization called the Wicked Warrior of East Greenwich. We hold an annual Dragonboat Race and year round events to raise money for local women and children's charities in Gloucester County. I am active in NJ Special Olympics as a coach supporter and aunt to an Olympian and have done the Polar Bear plunge many times. 
Humberto Baquerizo, Engaging Newark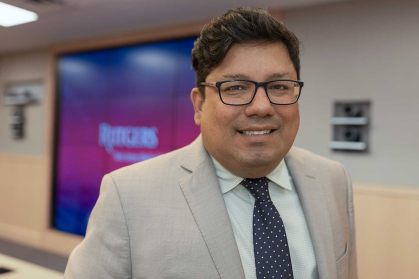 The Basics
Title: Program development specialist 
 
Unit: Office for Diversity and Community Engagement at Rutgers New Jersey Medical School in Newark 
 
How long have you worked at Rutgers: Six years
What I Do
I oversee the Northeast Regional Alliance MedPrep Program and MiniMed Program (Pre-Medical Honors Program). I'm a member of the Community Engagement Projects and Service-Learning course at New Jersey Medical School.
Favorite Memories
There are many, and they are at the intersection of paying forward and purpose. The opportunity to connect with students via our pathway programs. We built and fostered a sense of community across students' pre-medical or medical training. The chance to celebrate students, faculty and staff accomplishments at dinners, dances and galas. Our connection and pride to the city of Newark via our community service projects and initiatives. No matter where they are in their journey, from high school or medical school, you see students feeling proud when they all walk the stage with their degrees.
Fun Fact
I love the political season of elections, debates and GOTV. I host debate parties during the presidential debates, a great way to connect with old and new friends while being civic. While exercising is not always at the top of my priority list, I love walking and sightseeing. I can walk downtown Boston, Philly, New York, San Francisco, Barcelona, Italy, etc. On my last trip to the American Psychiatric Association conference, I took 27,731 steps from the waterfront to downtown San Francisco.
George Nikola, Feeding Rutgers Football Team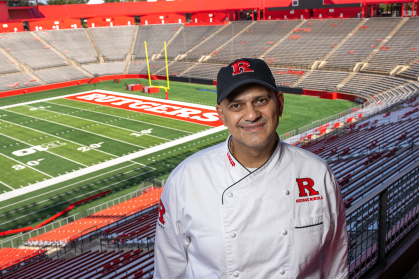 The Basics 
Title: Chef manager 
Unit: Rutgers Dining Services, Student Affairs-New Brunswick  
How Long Have You Worked at Rutgers: 5 Years 
What I do 
I am a chef manager for Rutgers Dining Services and my current role is lead chef for the Rutgers Football Team. On a daily basis, I collaborate with the coaches and nutrition staff to design menus to accommodate the needs of the student Athletes. We operate year-round beginning with training camp, providing 3 meals a day 7 days a week and continue throughout the football season. During recruiting season, we plan and execute high end events at the Hale Center as well as other off-premise locations including the Coach's residence. 
Favorite Memory  
My favorite memory is the first time that Coach Schiano introduced me as the head chef for the Rutgers Football team to one the largest recruiting visits. Coach reassured all the parents that I would take care of their sons as they would be taken care of at home. This statement truly made me feel as if I was part of the team. 
Fun Fact 
Before starting my career at Rutgers, I was a Sous Chef for the Four Seasons Hotel in various locations around the world including Qatar, Dubai, and Prague. I have planned and prepared meals for international soccer superstars, royalty, celebrities, and former presidents to name a few. 
Michael Matos, Ensuring Cybersecurity at Rutgers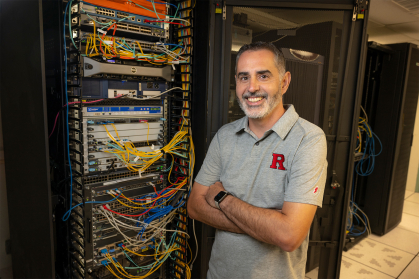 The Basics
Title:  Manager, Information Technology  
Unit:  Office of Information Technology - Information Security Office 
How Long Have You Worked at Rutgers: 17 years 
What I do 
I currently manage the incident detection and response team. When someone reports a cybersecurity issue to abuse@rutgers.edu, that report is sent to my team and we work to resolve it. 
Favorite Memory 
My favorite moments are when people pull together to accomplish something great. In March of 2020, I was part of the team which manages the remote access VPN service (vpn.rutgers.edu). In preparation for the shift to remote work, we were tasked with increasing the capacity of that system. Despite numerous setbacks, unforeseen logistical challenges and impossible deadlines, we came together and pulled it off. That service is used daily by thousands of people. 
Fun Fact
I love music. I have been playing music in various bands since I was a kid, keyboards and guitar are my primary instruments. All 3 of my children seem to have inherited my love for music, which makes me very happy. 
Jay Stefanelli, Providing One Stop Service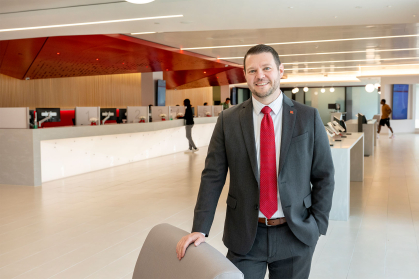 The Basics
Title: Director, One Stop Student Services Center
Unit: Division of Enrollment Management
How Long Have You Worked at Rutgers: 11 years
What I do
I oversee the staff and operations of the One Stop Student Services Center, which provides services for financial aid, student accounts and registration remotely and in person. We embrace our great responsibility to foster positive student experiences, remove barriers for students, and streamline and modernize student services. Our goal is to not only improve the experience for Rutgers students, but act as a national model for all institutions of higher education.
Favorite Memory
As a three-time alum, 20–year football season ticket holder, and one of the first hires charged with launching the One Stop, I have more wonderful memories at Rutgers than I can count.
  
This said, one of my most recent favorites was the ribbon-cutting ceremony for the opening of the One Stop in New Brunswick. It was an incredible opportunity to reflect upon and celebrate the immense and collaborative effort it took to build a completely new resource at Rutgers – all while surrounded by the folks who made it possible: my team, my campus partners, the president, chancellor, and vice chancellor for enrollment management, and my family.
Fun Fact
I love to travel, have been to more than 40 countries, and love to give recommendations. If you want to know the best place to get gelato in Nice, I can help. If you're in Japan and are debating on what cities to visit, I'm your guy. If you are planning to visit Peru and are considering hiking the Inca Trail, I got you. Even with two small children, my wife and I have no plans to slow down.
Evette Cladd, Putting Patients First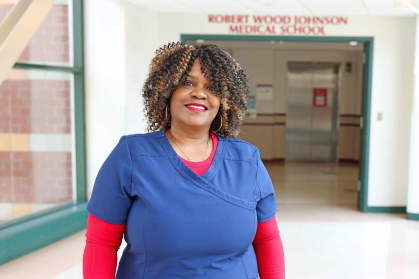 The Basics 
Title: Unit clerk at Rutgers Health Obstetrics and Gynecology
Unit: Rutgers Robert Wood Johnson Medical School   
How Long Have You Worked at Rutgers: More than 26 years
What I Do
At Rutgers, I handle the clerical duties in the office. Some of my tasks include scanning patient charts and ensuring all information is present, sending out certified letters to patients, opening up all the department mail and checking patients in and out for appointments. My priority is always putting the patients first and making sure they leave with no unanswered questions.
Favorite Memories
Interacting with patients. It brings me joy knowing that I can make someone's day with even just a "Hello." It's reassuring when patients tell me how nice I am because I always try to make a difference in their day, even if it's a small one.
Fun Fact
I am a selfie queen. I love taking photos and capturing memories.
Krista Klein, Helping With the College Transition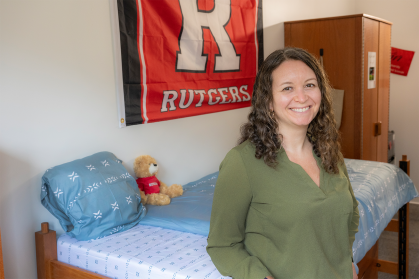 The Basics
Title: Acting Associate Dean 
Unit: Honors College-New Brunswick  
How Long Have You Worked at Rutgers: 13 years 
What I do
I connect with students from the moment they consider applying to Rutgers–New Brunswick for Honors College consideration all the way through their transition to admittance and enrolling at the university. In my time here, I've learned so much about how students access higher education, what helps them to be successful, and how to help ensure that they feel a sense of belonging in our community.
Favorite Memory
Serving students who are navigating their transition to college is deeply important to me and has been since the start of my career at Rutgers-New Brunswick as an orientation leader! In my time working on the Banks, I've recognized the need to provide intentional support to students who are still finding their way.
One moment that stands out is when one of our Honors College student leaders traveled abroad to South Africa and brought my newborn daughter a book – How the Elephant Got Its Trunk. She's going into kindergarten and still loves to read it!
Fun Fact
I've recently expanded my work in navigating life transitions to coach professional women who are returning to work after maternity leave – it's a passion project!
Gary Michael Kucsan, Connected to Rutgers History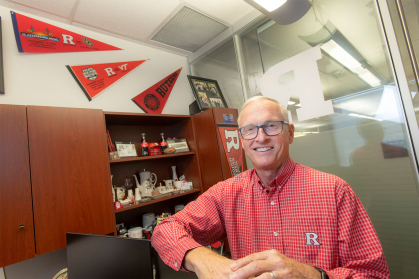 The Basics
Title: Associate Director, Accounts Payable
Unit: University Procurement Services
How Long Have You Worked at Rutgers: 40 years (including 31 years at the former University of Medicine and Dentistry, which is now part of Rutgers)
What I do
My team is responsible for processing all payments issued on Rutger's behalf, other than payroll. We process all check requests, stipends and awards to students and other reimbursements.
Favorite Memory
Any moment where I helped out a department get an urgent payment issued is special to me. Many of them have to do with Rutgers' outreach program through Rutgers University Behavioral Health Care assisting clients with housing and utilities payments. These are usually "last-minute" requests and could be the difference between a person being homeless or without heat or electricity. So proud of all the work Rutgers does with the communities throughout New Jersey.
Fun Fact
I met my wife at Rutgers. That might not sound that unusual but I went to Rutgers College the year after they went co-ed so there were very few females. On top of that, I was a member of Alpha Phi Omega, a co-ed service fraternity. Both my wife and I were president.  My wife's dorm hall mate was Sheryl Lee Ralph, our recent graduation speaker. My wife told me almost 50 years ago how talented Sheryl was.
Submit Nominations
If you would like to share your Rutgers story or nominate someone to be featured, follow the link below.
William Jones, Helping Students Find Careers 
The Basics
Title: Executive Director 
Unit: Career Exploration and Success, Rutgers-New Brunswick  
How Long Have You Worked at Rutgers: 10 years 
What I do
I oversee career services for a broad array of Rutgers academic programs on the university's New Brunswick campus. I provide leadership to the department and work collaboratively to develop strategic roadmaps to find different ways to help students explore possible careers. I cofounded the industry-centric career cluster approach that has become a national model. We are trying to transition students from solely focusing on "what can I do with my major?" and instead help them think about what they are interested in and the various pathways to get there. 
Favorite Memory 
I have many favorite moments at Rutgers. Whether it is launching new initiatives that students actually utilize, or hosting campus partner events to enhance the focus on career readiness across the campus. But honestly, what sticks out the most is when I found out that a few of my team members are Star Trek fans to a similar extent that I am! 
Fun Fact
I am officially addicted to my PlayStation 5. I spend way too much free time playing Hogwarts Legacy and Jedi Survivor, it's embarrassing. I am still more of a Star Trek fan, but this Star Wars game has me hooked.
Jim Savage Sr., Preserving Paul Robeson's Legacy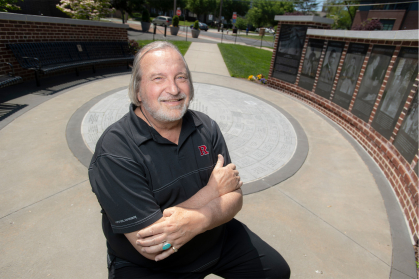 The Basics
Title: President, Rutgers Class of 1971
Unit: Alumni 
How Long Have You Been Connected to Rutgers: I have been a Rutgers volunteer for over 40 years and will celebrate my 52nd reunion this year.
What I do
I volunteer in many ways and for many Rutgers causes: The Rutgers Alumni Association; the Rutgers African-American Alumni Alliance (RAAA), Inc.; Reunions; Rutgers Day; Rutgers University Foundation phone-a-thons and Ag Field Day.
Favorite Memory 
I envisioned the campaign to build a monument in celebration of Paul Robeson, which now stands next to the Voorhees Mall at Rutgers-New Brunswick. We wanted to build this monument for people to learn about Paul Robeson's remarkable global greatness. He is legendary at Rutgers for being valedictorian; a member of the Cap and Skull honor society; Phi Beta Kappa; oratory champion for four straight years and a two-time All-American football player winning multiple varsity letters in four sports. Paul was the son of a runaway slave and became an internationally renowned stage/screen actor and singer, but his most important quality to me was his courageous activism. Paul was an outspoken champion for civil rights; human rights; labor rights; social justice and much more. He consistently stood up and spoke truth to power. Paul was an extraordinary global renaissance man, and Rutgers should be extremely proud of his life's journey and all that he stood for. We want more people to understand who Paul Robeson was and the many gifts that he gave to the world.  Activists who followed Robeson stood on his shoulders.
Fun Fact
Aside from being a super Rutgers' athletics fan, I have been a diehard Minnesota Vikings fan for over 50 years. SKOL!! GO VIKES!!
Jackasha Wiley, Getting Students Ready for Rutgers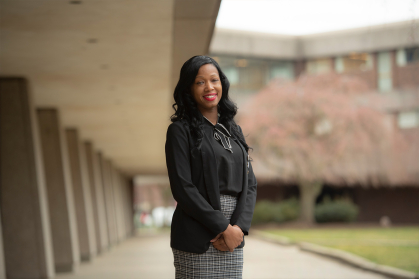 The Basics
Title: Senior Director of Pre-College Initiatives and College Success
Unit: Division of Diversity, Inclusion & Community Engagement
How Long Have You Worked at Rutgers: 11 years
What I do
I work with community and district partners to increase educational opportunity and outreach initiatives to strengthen the college-going pipeline for first generation, low-income students. I work with partners across Rutgers University-New Brunswick to improve student transition to college, promote persistence and retention, enable timely graduation, and post-baccalaureate success.
Favorite Memory
My favorite moment at Rutgers is graduation season! I love attending graduation and senior recognition banquets (especially Douglass–I am a proud alumna); watching my students receive awards and recognition for their achievements.
Fun Fact
I love making fried Oreos and traveling across the world.
Patricia Kastner, Getting Ready for Rutgers Day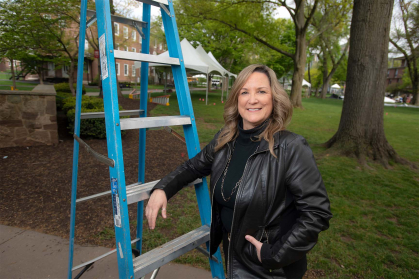 The Basics
Title: Associate Director
Unit:  Office of Strategic Events and Programs, Rutgers-New Brunswick
How Long Have You Worked at Rutgers: 30 years
What I do
I plan and produce high-visibility events for the Chancellor-Provost for Rutgers New Brunswick and the Chancellor for Rutgers Biomedical Health Sciences, including Rutgers Day, the largest one-day event at the university. I also manage commercial filming and photography projects for Rutgers-New Brunswick and RBHS, the Senior Citizen Audit Program, and the Rutgers Speakers Bureau.
Favorite Memory
I have several great memories from my time at Rutgers, including when I completed my undergraduate degree after many years and the graduation of my two children from Rutgers. A proud personal moment for me was the successful execution of my first Rutgers Day in 2012. It was a beautiful day and everything came together just right! Even with rain in the forecast this year, we are prepared and I know it will be another great day!
Fun Fact
I'm an expert fisherwoman in both fresh and salt water. I passed my motorcycle road test with a perfect score and earned my license. I have a new grandson that I adore.
Adam Staats, Helping Students From Foster Care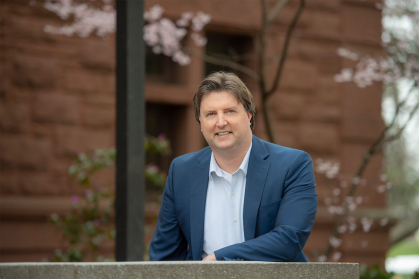 The Basics
Title: Manager, Youth and Community Development
Unit: Institute for Families, School of Social Work
How Long Have You Worked at Rutgers: 19 Years
What I do
I manage the Price and Camden Fellows Programs, which support Rutgers undergraduate students who have lived experience in foster care and/or are at-risk for homelessness by providing financial assistance, mentoring, internship and life skills development opportunities that guide our students toward successful careers and independent living. I also manage a training project aimed at helping social service providers develop the knowledge, skills and best practices essential to delivering equitable and high-quality services to members of the LGBTQ+ community
Favorite Memory
My favorite moments and memories are undoubtedly time spent with our Fellows. Each one has a unique story, talents, dreams and goals. Seeing these young people grow and find their path at Rutgers has been incredibly rewarding. In addition to the support that our program provides, we also do a lot of community-building and recreational activities. Barbecues, camping trips, talent shows, movie nights, cooking classes and volunteer days are some of my fondest memories. And of course, graduations. Watching our Fellows cross the finish line at Rutgers are some of the happiest moments of my life.
Fun Fact
I love to spend time outdoors – hiking, camping, etc. Being outside helps me relax and reflect on the things that I value most in life. My wife and I are avid gardeners. Nurturing things and watching things grow brings us a lot of satisfaction.
Marjorie E. Crawford, A Driving Force Behind Rutgers Law Library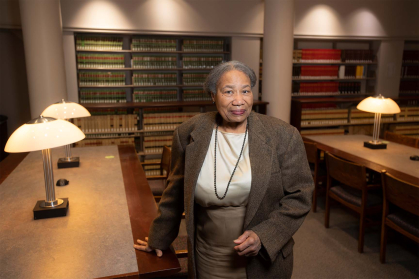 The Basics
Title: Professor and associate director of the Rutgers Law Library in Newark
Unit: Rutgers University Libraries
How Long Have You Worked at Rutgers: 50 years
What I do
My role is to assist with strategic planning and coordinating of the library services. I provide reference and research services to faculty, students, attorneys and members of the public. I also teach courses such as Law and Inequality and Advanced Legal Research.
Favorite Memory
I was a member of the Center for Law and Justice Library Building Committee on the Newark campus. On April 11, 1997, the Board of Governors authorized the sale of $27 million in general obligation bonds to fund Rutgers' share of the expense for building the new law center – it was one of the largest building projects ever undertaken by Rutgers. For the dedication of the new 221,000-square-foot facility, Justice Ruth Bader Ginsburg (a former professor at the law school) delivered the keynote address. At the first faculty meeting held in the new library, three women were saluted and given hard hats for their leadership role in the construction of the facility: professor Carol Roehrenbeck (Law Library Director), Roseann Raniere (Director, Administrative Services) and myself.
Fun Fact
I was an expert Bid Whist player when I joined Rutgers. I learned to play this card game while I was a student at Ole Miss.
Claudio Mir, Serving the Greater Rutgers Community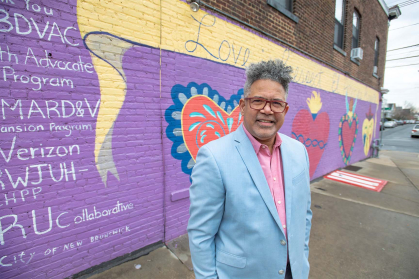 The Basics
Title: Senior Program Coordinator for Community Outreach
Unit:  Division of Diversity, Inclusion and Community Engagement (DICE)
How Long Have You Worked at Rutgers: 15 Years
What I do
I coordinate the Advance in Community Development program (ACD), a program created in our office with Johnson & Johnson to serve our community partners. I design and conduct New Brunswick Community Tours for faculty, students and the community at large. I am the artistic director of the Artist Mentoring Against Racism Drug and Violence (AMARDV) Summer Program. I serve on three different organizations boards.
Favorite Memory
It is a series of moments: Receiving the Human Dignity Award in 2012 from President McCormick; when the poet and Rutgers professor Cheryl Clark bought/fought for one of my photographs during a benefit auction gala for the Center for Latino Arts and Culture; when I saw our Rutgers Bonner students in Puerto Rico, six months after Hurricane Maria, cleaning and emptying a house where everything was ruined. The owner, a woman living alone, tried to discourage us, "I can't go there, all I do is cry." The students cleaned, checked every object, photograph with such love that by the end of the day we were all crying.
Fun Fact
I am an award-winning actor. I received the El Dorado Award for Best Dominican Actor of the Year in 1985 for my performance in the play Regina Express, about a group of Dominican stowaways who died on the Regina Express Ship. I am still famous among the theater people of my generation. I was living already in New Brunswick and I didn't go to the award ceremony. I was 22, and I was sure that I was not going to win. It makes me laugh every time I think about it!
Taryn Cooper, Tearing Down Disability Stigma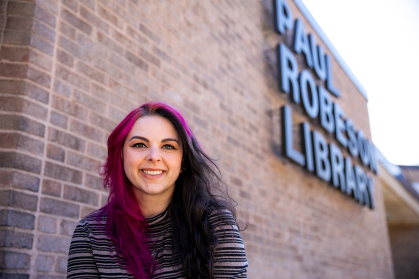 The Basics
Title: Coordinator of Accommodations

Unit: Office of Disability Services

How Long Have You Worked at Rutgers: 4 years
What I do
I meet with students to talk about their experiences and needs when it comes to their disabilities. I get to know each person and help them figure out accommodations that would remove barriers in their education so that they have a fair chance at demonstrating what they are capable of! I also work very closely with faculty to help support them as they are navigating accommodations in their classrooms. I'm the current Camden staff representative on the University Senate and co-chair for the Instruction, Curricula, and Advising subcommittee.
Favorite Memory
 I absolutely love going to orientations, information sessions, and any other type of event where our office is asked to present about what we do. There is such a stigma surrounding disability, so no one really wants to approach us at tabling events or talk freely about their experiences (which is fine, no shame in that!). However, my undergraduate degree is in geology and I've thought of a way to compare people and their needs to rocks and how they form. I typically bring actual rocks and give a small geology lesson to normalize needing accommodations. The looks on their faces are priceless!
Fun Fact
I am a fitness class instructor. I teach Zumba and FitStix, which is a cardio drumming class. My love of Pitbull and Enrique Iglesias is finally paying off, so don't be alarmed if you find yourself movin' and groovin' when you walk into my office. I got my certification in fall 2019 and started teaching classes right when COVID-19 hit. I would do free virtual classes as a way for people to maintain their health and fitness while we were locked inside. Movement is so important to maintaining mental health, so it was fantastic to dance it out during tough times.
Kerri Willson, Supporting Rutgers Students
The Basics
Title:  Associate Dean of Students
Unit: Off-Campus Living & Community Partnerships, Rutgers-New Brunswick
How Long Have You Worked at Rutgers: 18 years
What I do

 
I am part of the Dean of Students team, where our goal is to provide solutions, support and services to students. My specific area of focus is threefold: I support students who are struggling to have their basic needs met – running the food pantry and overseeing emergency funding for students. I help students who are moving off-campus understand their rights as tenants and their responsibilities as community members and, lastly, I work with all our faith communities striving to create an inclusive, welcoming community for students of all faith traditions.
Favorite Memory 
There are so many memories to choose from, including getting to attend student organization events. Islam Awareness Week is a favorite memory of mine. This event happens every spring semester since 2006. The Muslim Student Association sets up a tent on Brower Plaza for a week and invites the community in to learn more about Islam. It's a beautiful event, completely student run. I try to bring my kids every year to check it out!
Fun Fact
 I love Broadway! I've been a seat filler at the Daytime Emmys and the Grammy Awards.
Aramis Gutierrez, Building Student Success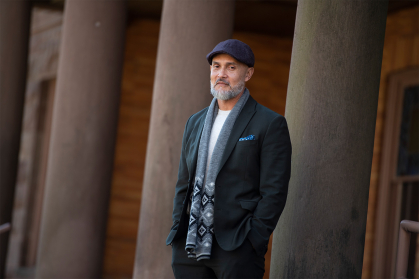 Title: Assistant Vice President for Educational Access and Success 
Unit: Office of the Executive Vice President for Academic Affairs 
How Long Have You Worked at Rutgers: 18 years (approaching lifer status) 
What I do  
I helped launch three initiatives that aim to transform young people's lives. First,  through the Career Equity Resource Center where teens explore nontraditional careers in education, the trades, and STEM. Then, at Rutgers Future Scholars which provides mentoring and services starting in middle school and a full scholarship to college to 3,000 extraordinary students who dare to dream big and realize it. Now, I'm kicking off the Educational Equity & Excellence Collaborative (E3C), which is designed to expand first-generation access and success at Rutgers and showcase our excellence. Rutgers is the place where students of limited means reach their unlimited potential. 
Favorite Memory  
Welcoming the first class of Future Scholars to Rutgers, along with their families, teachers, and staff. Seeing 200 seventh graders with their college graduation year on the back of their scarlet red T-shirts was unforgettable. It's still one of my favorite events. Fifteen classes of Scholars later, I've been to their quincenaeras, graduations, new jobs, weddings, and even held their children (that doesn't make me a grandpa does it?). So many special moments shared with me. It's been an honor to have been invited into their lives and play a small part in it. 
Fun Fact 
I love music; it's playing all the time in my office, car, home, everywhere. I tried to learn to play instruments but to no avail, so I'll stick to pressing play. I'm a rec basketball legend (at least in my mind) and still surprise folks from time to time on the court. I've had artwork and photography exhibited in galleries in the past. 
Sebastian Nieto, Rutgers' Master of Fine Dining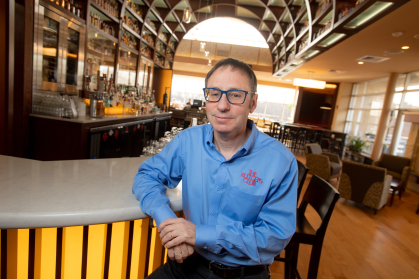 The Basics
Title: Manager, The Rutgers Club
Unit: Dining Services
How Long Have You Worked at Rutgers: 20 years in March
What I do
I am currently the manager of The Rutgers Club - a fine dining restaurant with an impressive bar since it relocated from College Ave to a renovated space above Livingston Dining Commons. I also oversee athletes' meals prepared at RWJBarnabas Health Athletic Performance Center. Before this position I was the manager at Henry's Diner, leading the team that opened that concept in 2014.
Formally trained as a chef, I've been working for Dining Services serving the Rutgers community for the last 20 years. I started my career in the catering department, where I was assigned to many events, including cooking at the president's house, Rutgers University Foundation galas and taking care of meals for the football team. 
Favorite Memory
After 20 years it is hard to choose just one. The Rutgers Club has hosted so many special events, from the Dr. Maki Mandela visit to the always fun Holiday Sing Along with club members and their families.
But the one I will never forget is when I had the honor to represent Rutgers and win the 2005 NACUFS National Culinary Challenge, the proudest moment of my career and the only time this was achieved by a Rutgers chef. 
Fun Fact
I am an avid soccer fan and I also referee different levels of soccer, from club to college. It's very interesting to see the reaction of some of the new Scarlet Knights when they realize that the person feeding them is the same one they've met before on a soccer field.
Joshanna Holyfield, Helping Students Celebrate Black Joy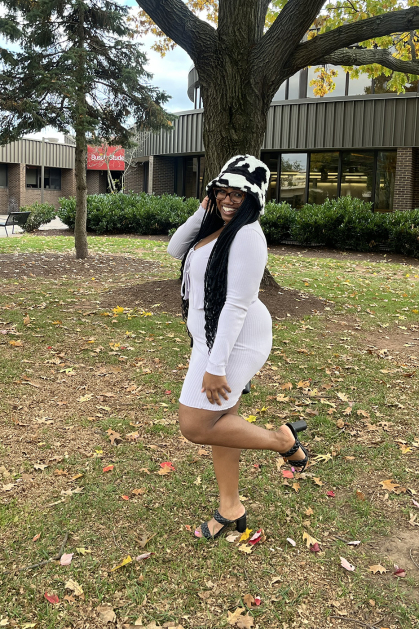 The Basics
Title: Senior Program Coordinator, Paul Robeson Cultural Center
Unit: Student Affairs-New Brunswick
How Long Have You Worked at Rutgers: 1 year
What I do
I curate unique experiences that center Black joy, community, education and empowerment for students by drawing on my knowledge of Black history, Black culture, current events and trends. These experiences lead to Black students finding a sense of belonging at Rutgers and creates meaningful college memories for them. Additionally, I highlight our beautiful Black community engaging in Black student life through the Paul Robeson Cultural Center's social media and other communication channels,  communicate available resources and share culturally relevant programs.
Favorite Memory
The "Nicki Minaj Appreciation Day" event I coordinated for Women's Herstory Month! This was one of the first events I coordinated at Rutgers, and it received significant buzz. Some students challenged why we were appreciating Nicki Minaj, who tends to be a controversial figure, but I enjoyed the critiques while realizing my keen marketing skills were working. The event had little to do with Nicki Minaj and was really about all the Black women that paved the way for her. To this day, students still tell me how much they enjoyed the event.
Fun Fact
I collect fortunes from fortune cookies and store them in a piggy bank. My last name is Holyfield, but I have never met the boxer Evander Holyfield, and I have no clue if there is any relation.
Megan Lotts, Teaching the Value of Play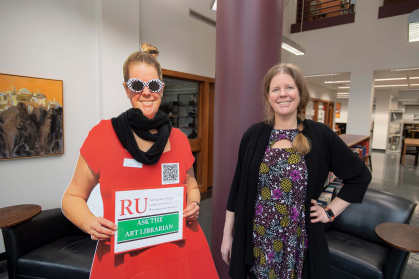 The Basics
Title: Art Librarian
Unit: Rutgers University Libraries 
How Long Have You Worked at Rutgers: 10 years
What I do
In the spring semesters, I teach a Byrne Seminar titled "Playing to Learn in Higher Education," which opens students' eyes to the importance of play, engagement and how we learn from and share with each other. You might also find me catering to the holistic needs of Rutgers community members, including handing out snacks, water and educational stressbusting kits for Welcome Week. Or maybe you'll find me walking my dog, Woody, on the Cook/Douglass campus, brainstorming with students about their classes and research.
As a faculty member on campus, my research looks at creativity, play, and the work of library liaisons.
In 2021, the American Library Association published my first book, Advancing a Culture of Creativity in Libraries: Programming and Engagement, and my second book on play will be out in print in the summer of 2024.
Favorite Memory
One moment that really stands out for me was when the Rutgers Spanish and Portuguese department faculty visited the Art Library for a LEGO workshop and to learn more about how they could work together to advance the mission of their department. A few years back, I attended an event at the Zimmerli Art Museum where I got to meet TWO members of the artist collaborative Guerilla Girls, which is something I dreamed of while attending art school in the Midwest but never thought would happen. Yet still to this day, some of my favorite Rutgers moments include impromptu lunches at Blake Hall or in the Civic Square Building lobby, where I answer research questions, share library swag and learn more about what the Rutgers communities are creating and working on to advance their lives and scholarly goals.  
Fun Fact
I spent the best $90 ever getting full-sized cutouts of myself, made to be strategically placed in buildings around campus. When people see me in their lobbies, they are reminded of the libraries, and all that we can do for them. I often get emails saying, "I saw cardboard you in the lobby and it reminded me I needed to contact you for help." I also get fun selfies. 
Alex Sawatzky, Feeding Rutgers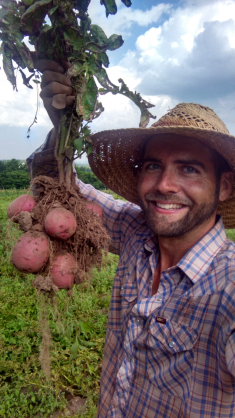 The Basics 
Title: Student farm manager and part-time instructor in agriculture and food systems 
Unit: Rutgers Gardens, School of Environmental and Biological Sciences 
How Long Have You Worked at Rutgers: 4 years 
What I do
I work with Rutgers students to grow and distribute nutrient-dense veggies to our local communities. I manage the summer internship program and also work with paid students, experiential learners and volunteers. More than half of the food we grow is donated to local food emergency organizations, including the Rutgers Student Food Pantry. Our aspiration is to showcase an example of small-scale farming that is simultaneously ecologically sound, socially just and economically viable – the three pillars of sustainability. I want to help change the way that food is produced and consumed in our world. 
Favorite Memory  
My favorite memories so far are when I have seen students become passionate about food and/or farming. I hope to inspire them to be changemakers and active citizens in their communities, so if they become engaged as stakeholders in our food system, I feel as though I have succeeded as a teacher. 
Fun Fact 
I played volleyball as an outside hitter competitively for 10 years, beginning in high school. I went on to play collegiate club volleyball at Eastern University and in men's leagues. Both school teams I played on reached a top 5 ranking. 
Cassandra Oliveras-Moreno, Promoting the Arts and Social Justice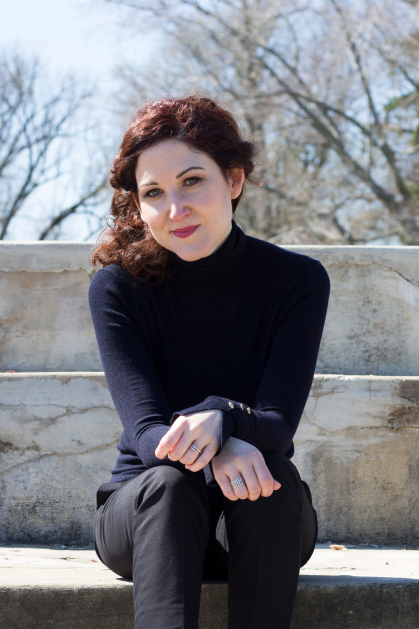 The Basics 
Title: Administrator, Communications and Collaboration 
 
Unit: Mason Gross School of the Arts  
How Long Have You Worked at Rutgers: 10 Years 
What I do
I am a cat herder. I create internal and external communications for the Department of Art and Design and manage artistic partnerships across the university and broader community. Much of everything that doesn't fall neatly under an academic umbrella finds my desk. I cofounded Windows of Understanding (which kicked off this month) as a way of shedding creative light on the social justice strides being made by colleagues here at Rutgers and around the area. 
Favorite Memory
When the renowned artist Kara Walker began her time with us as an endowed chair, she requested an outdoor BBQ with students in lieu of an investiture; no pomp or circumstance. We delivered, sprawling out in the backyard of our sculpture building with a rock band set up in the foundry. Kara wailed lead vocals on the tune "Summertime" with our student musicians. It was magic. 
Fun Facts
I love to sing boleros (Spanish love songs). My toddler son hates my singing. The best vacation I ever took was a one-week silent retreat with 20 nuns on Cape Cod. I went to Rutgers for both grad (School of Communication and Information) and undergrad (Douglass Residential College).