One thing that can help make a big place like Rutgers feel like a community is getting to know the people around us. We are asking Rutgers employees to share their stories and tell us what they do and who they are as individuals in our new series. If you would like to share your Rutgers story or nominate someone to be featured, click the button below.
Saskia Leo Cipriani (left), Supporting Rutgers Latinx community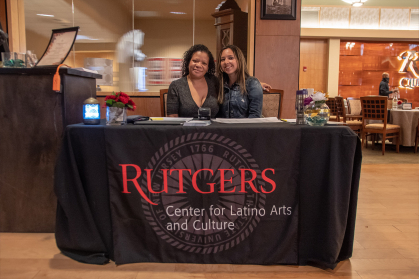 The Basics
Title: Assistant Director, Center for Latino Arts and Culture
Unit: Student Affairs-New Brunswick 
How Long Have You Worked at Rutgers: 14 years
What I do 

 
I serve as the assistant director for the Center for Latino Arts and Culture, one of four cultural centers at Rutgers University-New Brunswick. In this role, I support the well-being of all students who come to our door through deepening identity development and offering programs centered on students' academic, career and leadership journeys. We provide guidance and advisement, resource sharing, referrals, community service, mentorship and more! My passion and purpose is to empower students and equip them with the tools that they need to succeed at Rutgers and beyond. 
Favorite Memory 
My favorite moment at Rutgers was during my student years. I decided I wanted to belong to a Greek organization that would provide a long-lasting and rich network for women in New Jersey and around the country. I pursued Lambda Theta Alpha Latin Sorority, Inc., Epsilon Chapter at Rutgers University-New Brunswick in 2001 and have been able to sustain relationships with wonderful leaders after 20+ years! We've been to each other's weddings, seen our children grow up, and most importantly lean on each other for mentoring and support. I am the woman I am today because of this community. 
Fun Fact
Many people ask how I know so much about the New Brunswick/Piscataway campus. My response is running the Rutgers Unite Half Marathon three times. When you see this campus on foot, it helps you realize how truly big Rutgers is! 
Explore More People of Rutgers
Rajnarind Kaur


Sikh Student Association Founder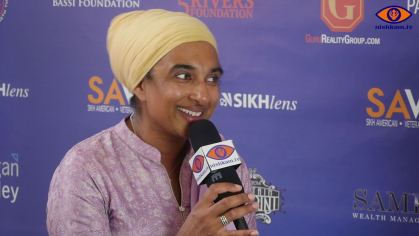 The Basics
Title: Part-Time Lecturer
Unit: Rutgers Business School-Newark and New Brunswick  
How Long Have You Worked at Rutgers: I started teaching in Fall 2022.
What I do 

 
This semester I am teaching Business Policy and Strategy. My approach to teaching is primarily scenario-based with corporate business examples coupled with student applied learning. For example, in a recent class we reviewed Harvard Business School's case study on LEGO, by  playing with LEGOs and experiencing the creativity and pleasure of unstructured time as mentioned in the case.  In addition, I provide several opportunities for the students to develop their presentation skills focused on delivery as well as content.
Favorite Memory 
There are so many favorite moments and amazing memories while I was a student here (I graduated in 1995 with a double major in economics and psychology and a minor in mathematics) but to now be presented with the opportunity to have an impact and make a difference directly with the students is an all-time high on the contentment-satisfaction scale.
Fun Fact
In the Spring semester of 1992, I started the Rutgers University Sikh Student Association (RU Sikhs) which has flourished on the New Brunswick campus and expanded to both the Newark and Camden campuses. I am proud of the legacy that is represented by strong Rutgers leaders of the younger generation who are inspiring, empathetic and ambitious.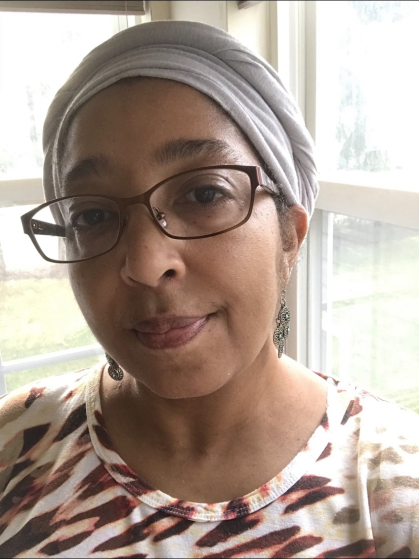 Dail A. DeSouza, The Art of Scanning in Maternal Care 
The Basics 
Title: Ultrasonographer 
Unit: Obstetrics and Gynecology, Robert Wood Johnson Medical School  
How Long Have You Worked at Rutgers: 27 years 
What I do  
I am a perinatal sonographer with the Division of Maternal Fetal Medicine. I perform detailed evaluation of the unborn fetus, from head to toe. The information gathered from the sonographic evaluation and the collection of clinical data enables the physician to formulate a diagnosis and provide comprehensive patient care. 
In addition, I mentor future sonographers, medical students, residents, fellows and physicians in the "art of scanning" and impart the knowledge that I have gained over the last 37 years to the future generation of practitioners. 
Favorite Memory  
One of my most prized memories was being asked by a former ultrasound student to scan her daughter, who was pregnant. What was so special about the request is that 30 years ago that daughter was someone I evaluated in utero. Coming face to face with a former "fetus," now a pregnant mom-to-be, and having the honor to evaluate her baby was such an amazing feeling, an experience I will always treasure. 
I have since had the pleasure and privilege to evaluate additional former "in utero patients" and continue to reap the rewards of my profession. 
Fun Fact 
I worked on Wall Street at a security trust firm when I was in high school.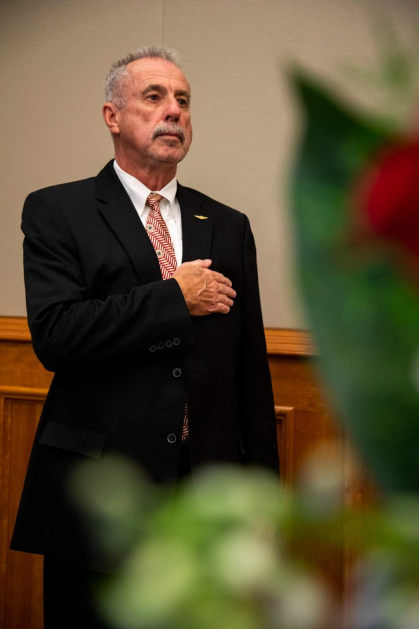 Frederick Davis, Serving Student Veterans
The Basics 
Title: Campus Director
Department: Office of Military and Veterans Affairs, Rutgers University-Camden
How Long Have You Worked at Rutgers: 14 years
What I do 
I am the immediate and first point of contact for incoming student veterans at Rutgers-Camden. The Office of Military and Veterans Affairs has established three endowed scholarships and established an emergency fund to assist student veterans when they would encounter a hardship. We also bring veteran service officers from nearby counties, the state and federal government to enable quicker responses to a veteran's requests to the VA. This makes it possible for student veterans to have issues with the VA addressed on campus instead of having to travel to a regional hub. I established and applied for Purple Heart designation and have established numerous partnerships with corporations for employment opportunities for student veterans.
Favorite Rutgers Moment 
When Rutgers-Camden was designated the First Purple Heart University in New Jersey in recognition of our efforts to provide services to student veterans and their families. 
Fun Fact 
I am an avid Lionel Postwar train collector. I write articles about model trains and I am a research expert for Kalmbach Media's publications for model train collectors. I am proud of my four years with the U.S Navy, serving and attaining the rank of 2nd Class Petty Officer and as a Flight Crew Chief. I retired from the Camden Police Department as a Detective Sergeant after 29 years.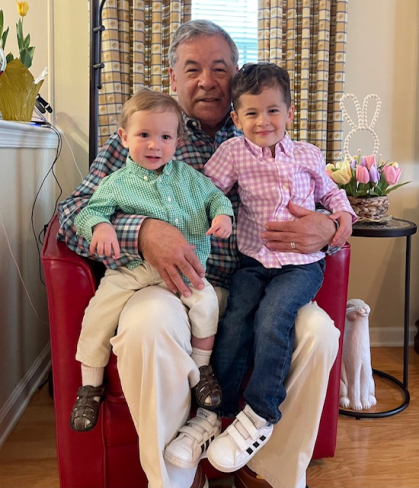 Joe Charette, Feeding Rutgers 
The Basics 
Title: Executive Director, Dining Services  
Department: Student Affairs-New Brunswick 
How long have you worked at Rutgers: 33 years 
What I do 
I am responsible for food service to well over 13,000 students on meal plans, as well as operating 12 retail operations and three food trucks on campus. In addition, we serve over 5,000 catered events a year. We also operate a full bakery, laundry, warehouse, truck fleet and accounting offices, and employ facilities mechanics, food buyers, two nutrition counselors and the university sanitarian. Dining Services also manages the RU Express card system and makes RU ID cards for incoming students. 
Favorite Rutgers Moment 
"Pandemonium in Piscataway" – Seeing a sea of scarlet cover our football field after defeating Louisville was an unforgettable moment. The joy it brought to a stadium full of loyal sons and daughters was a highly emotional moment for our entire Rutgers community.  
Fun Fact 
While in high school I applied to Rutgers CAES (College of Agricultural and Environmental Science). When I arrived on campus in the fall of 1973, it had officially been renamed Cook College. I was in the first four-year class that graduated from Cook College in 1977.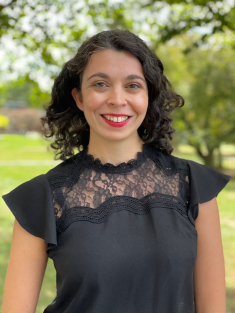 Jessica Ronan-Frisch, Getting out the Youth Vote 
The Basics 
Title: Program Manager, Center for Youth Political Participation  
Department: Eagleton Institute of Politics, Rutgers-New Brunswick 
How long have you worked at Rutgers: 5 years 
What I do 
I am the Program Manager of the Eagleton Institute's Center for Youth Political Participation (CYPP). I am responsible for implementing the RU Voting and RU Ready programs. In this role, I recruit and work with a team of interns and students, develop materials for each program, facilitate the center's event series during the semester and curate CYPP's social media and website content. Additionally, I serve as the administrator of the Rutgers-Eagleton Washington Internship Award program, a donor-supported award program supporting undergraduate students interested in interning in Washington.
Favorite Rutgers Moment 
One of my favorite moments from my time at Rutgers University was when Rutgers University-New Brunswick was awarded the Greatest Growth in Student Voter Turnout in the Big Ten Voting Challenge in November 2018. It was the first time I led voter registration and outreach on our campus and it was incredibly fulfilling to see Rutgers-New Brunswick's voter turnout rate increase from 11 percent in 2014 to 44 percent in 2018.  
Fun Fact 
It's a goal of mine to visit every state in the United States (currently have visited 24). 
Yohanna Alcantara
Bringing Unlimited Energy to Her Job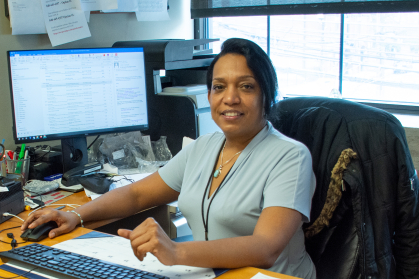 The Basics 
Title: Assistant director  
Department: Office of Institutional Planning and Operations
How long have you worked at Rutgers: 16 years 
What I do 
I oversee Newark-IPO finance with a budget of $14 million, custodial needs and service desk needs for the Newark community. I also oversee the environmental department and manage the work control center for Newark Legacy and Rutgers Biomedical and Health Sciences (Newark). 
Favorite Rutgers Moment 
Every moment at Rutgers-Newark is my favorite. If I must pick one, it would be the recent IPO kickball game and barbecue. It wasn't just the food or the game, but it gave me a chance to relax and really get to know my coworkers' true light through jokes in a carefree atmosphere. 
Fun Fact 
A fun fact for some is that all the energy I display is without coffee or any energy drinks. 
Larry Jacobs, founder of New Jersey's largest playground 
The Basics
Title: Program Director, Career Interest Communities 
Unit: Office of Career Exploration & Success   
How long have you worked at Rutgers: 26 years and counting! 
What I do:  
As program director, I oversee career interest communities (which give students a chance to explore their career goals) in food, animal, agriculture, natural resources, and environment and sustainability. I provide tailored programming and career advising services, including medical school personal statements, resumes targeted to your career field, winning interview skills, successful internship and job search strategies and how to plan your career path. I manage a campus partner advisory board and connect students with exploration and networking through alumni mentorship and engagement.  
Favorite Moment:   
The Animal Science Department in the School of Environmental and Biological Sciences invited me to observe a field experience at the barn - to deliver pigs. Learning about what students observe with pregnant animals was an amazing experience. The mother laid on her side and started giving birth. Like a catcher, I crouched down and I actually caught a piglet. 
Fun Fact
As the founder of Kidstreet, the largest playground in New Jersey, he coordinated 2,500 volunteers and fundraised over $130,000 to build the park in 1995. "If you build it, they will come!" As a result, he was honored to carry the U.S.A. Olympic torch for the 1996 Olympics and give two TED Talks on inspiration and volunteering.
Born deaf, yet living life to the fullest, Larry encourages you to plan for your dreams, to be the problem solver and to be the very best you can be.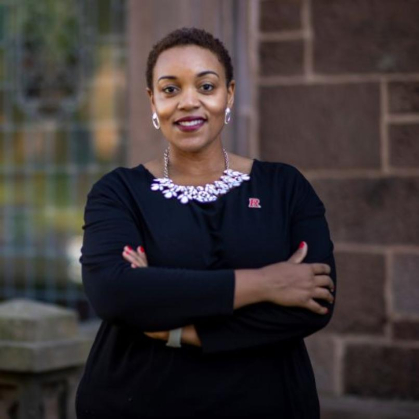 Joan Collier
Champion for Diversity, Equity and Inclusion
The Basics 
Title: Assistant Vice President for Equity and Inclusion 
Unit: University Equity and Inclusion 
How Long Have You Worked at Rutgers: 4 years 
What I do  
I colead universitywide efforts to realize Rutgers' commitment to fostering an inclusive learning and working environment. I also lead universitywide diversity efforts that aim to improve cultural competency, reduce bias and promote understanding and engagement on issues related to diversity and bias prevention such as the Speak Up! bias prevention campaign and workshop, the Diversity Education Network (DEN), the Virtual Learning Community Book Group and the Holding Space podcast. 
Favorite Memory  
As an affiliate member of the Ph.D. in Higher Education program in the Graduate School of Education, I cherish the memories of supporting doctoral students develop as scholars and successfully defend their dissertations. I'm proud of each of them. It's a joy to affirm and cultivate their brilliance and to witness them excel in their professional and academic careers.  
Fun Fact 
I recently completed training to be a community birth doula. I'm thrilled to gain the skills and knowledge to better serve pregnant people across New Jersey, particularly those in communities with disparities in birth outcomes. 
 
Neela Patel
Executive Director of Student Centers and Activities
Amateur Baker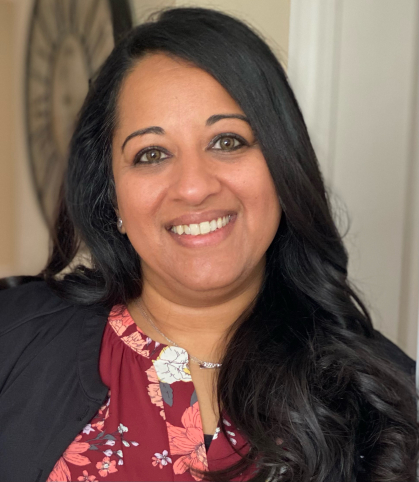 The Basics
Department: Student Affairs-New Brunswick
How long have you worked at Rutgers: 24 years
What I Do  
I oversee all the student centers, campus programming, student involvement and leadership, the meetings and events office, along with Esports Center, WRSU radio station and technical services.  We are responsible for advancing a sense of community through programs, involvement and employment opportunities, leadership and community service and gathering spaces.  Our centers provide formal and informal gathering spaces for community engagement.  Through these diverse opportunities we provide a space for all Rutgers students.  As a "student union" professional, it is my responsibility to keep advancing campus community at the center of my work. 
Favorite Rutgers Moment
I have a lot of favorite moments at Rutgers University. I have to say professionally a moment that stands out to me is the renovation and expansion of the Livingston Student Center. Discussion of the project was in progress for many years, however I had the opportunity to serve as lead for the day-to-day project management, from program planning to furniture selection. Watching the building go from what it was when it opened in 1986 to what it is today was a memorable moment. The student center was transformed to a new space for the community.
Fun Fact
In my free time, I enjoy baking and cooking and in most cases I don't follow recipes.  I find these activities to be relaxing, which allows me to disconnect from the world.  Some of my signature recipes are chocolate chip cookies, peanut butter thumbprints, blueberry muffins and apple pies. I have been told by several people, including family members that I should open up a bake shop. I have even started to dabble in doggie treats.    
 
Marie Melito
Former Assistant to Ruth Bader Ginsburg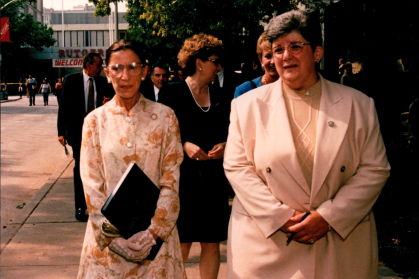 The Basics 
Title: Justice Ruth Bader Ginsburg Associate Dean Emerita 
Unit: Rutgers Law School 
How long did you work at Rutgers: 48 years 
What I Do
I retired in 2015 after 48 years at Rutgers Law School in Newark. I started in 1967, serving as a secretary to then Associate Professor Ruth Bader Ginsburg, working my way up to associate dean for finance and administration. I was only 18 years old when I began my career. Justice Ginsburg was one of the first faculty members for whom I worked. She was very patient with me. I made many mistakes, but her kindness when correcting me touched me in a very positive way. As she moved on in her career, I moved on in mine. Working with her was a rewarding and enriching experience. 
Favorite Memory 
Serving as a guide for Supreme Court Justice Ruth Bader Ginsburg when she returned to Rutgers for the dedication of the new law school in 1999. Upon retirement, I was named by the law school the Justice Ruth Bader Ginsburg Associate Dean Emerita, an honorary title, because of my relationship with Justice Ginsburg over the years. This was certainly a highlight of my career at the law school.  
Fun Fact
Since retirement, I have been volunteering two days a week at my church, assisting the pastor in preparing the weekly bulletin, entering into record books information on baptisms, communions, confirmations, weddings and funerals. I also serve as the president of my parish's financial council. Having lunch with my former colleagues at Rutgers Law School is also on my agenda. 
Nick Romanenko
University Photographer/Bass Guitarist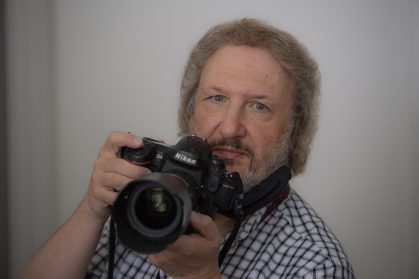 The Basics
Title: University Photographer
Department: University Communications and Marketing 
How long have you worked at Rutgers: 36 years
What I Do
As the university photographer, I cover all three major campuses, plus occasional people and activities all over the state and beyond. I am called upon to document important events, produce creative portraits of faculty, staff, students and alumni, plus produce an archive of all our great campuses during the four seasons. Many photo shoots are designed for specific marketing campaigns. Duties 'beyond the field' include helping to tag, catalog, archive and deliver images to clients in the university sphere.
Favorite Rutgers Memory
I have too many stories to choose from. A favorite though is being sent many years ago by Rutgers Focus (a black and white print weekly that was a precursor to Rutgers Today) to photograph a local band called The Professors, which was (surprise, surprise) a bunch of our professors and Ph.D. candidates. Over the course of the next year, I sat in for a few tunes and eventually became the permanent bassist when the original member left for a tenure position at West Virginia. I still play in that band now - for over 25 years. 
Fun Fact
Besides serving on the board of directors of the University Photographers' Association of America, Raritan Headwaters Association and Central Jersey Trout Unlimited, I also play bass in about six bands in my "spare time."
Lauren Neitzke Adamo
Geology Expert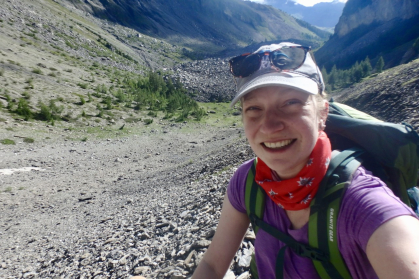 The Basics
Title: Associate Teaching Professor in the Department of Earth and Planetary Sciences; Director, Rutgers Geology Museum
Unit: School of Arts and Sciences, Rutgers University-New Brunswick  
How long have you worked at Rutgers? I came to Rutgers 22 years ago as an undergraduate geology major and have worked at the university as a student or faculty member ever since. I started as a teaching professor in the Department of Geological Sciences (now called Earth and Planetary Sciences) and as associate director of the Geology Museum in 2009.  
What I Do 
As the director of the Rutgers Geology Museum – the oldest geology museum in the country founded in 1872 – I am responsible for overseeing our outreach and educational programs including K-12 school tours, "Late Night at the Museum" events, the Ask a Geologist online lecture series and our annual open house. I also work with departments across the university to develop collaborations among undergraduates, researchers, and teaching faculty and teach introductory geology courses in the Department of Earth and Planetary Sciences, such as Dinosaurs, Planet Earth and Earthquakes and Volcanoes. I just recently took on the role of undergraduate program director within the department.
Favorite Moment  
I love the reaction of students or teachers when they see the New Jersey fossils we have on display at the museum. They tell me they didn't know there was so much interesting geology in New Jersey, like how when Pangea split up, it formed the rocks right outside Rutgers. Or that we had mastodons and woolly mammoths walking right around our backyard in South Jersey during the last Ice Age.   
Fun Fact
I am an FAA registered drone pilot. My research focuses on using drone and 3D modeling technology to create high-resolution topographic maps of geologic features. I have traveled all over New Jersey and up and down the Jersey Shore to create these maps and models of beach erosion. Recently I traveled to Costa Rica to drone map some features of a dormant volcano outside the capital city of San José. Additionally, in 2018 I spent four weeks in the Swiss Alps conducting drone surveys for a study to assess the changing sliding rate of glaciers due to climate change.