When the No. 1-seeded Scarlet Knights take on No. 2-seeded Arkansas Friday for the opportunity to advance to the College Cup final four in Santa Clara, Calif., they won't just be taking the field as a team – they will take the field as a family.
That approach has been the defining measure of success for the No. 5-ranked women's soccer team as it continues to chase history.
"There's really good team chemistry," said head coach Mike O'Neill, who shepherded Rutgers to the national semifinals once before in 2015 during its current string of 10 straight NCAA Tournament berths. "They go about it the right way, every day, to get better. They're a special group to be around."
When we talk about being a family that's very real. This team is truly sisters. Not only do we rely upon one another, we push each other to get better.

Gabby Provenzano

Two-time team captain
A Kearny (N.J.) native who played collegiately at Seton Hall, O'Neill is in his eighth season at the helm after serving as associate head coach from 2004-13. This season, he led the Scarlet Knights to a 10-0 conference record and the school's first Big Ten team championship in any sport, as nine players earned all-league honors and O'Neill was named coach of the year.
"We talk about habits and details," O'Neill said about preparing for the matchup. "We understand how we want to play on both sides of the ball. The key is that we do it as a team."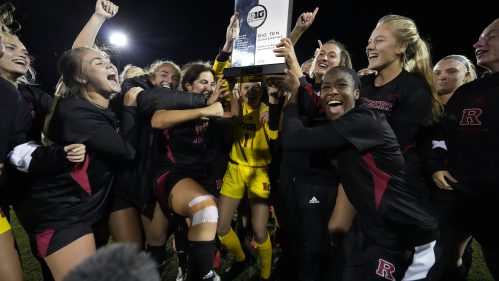 With 335 universities sponsoring Division I women's soccer, maintaining a successful program is an everyday process. For the 2021 Scarlet Knights, that winning mentality began on day one of the preseason.
"It started the moment we came back for training camp in July," said two-time team captain and Big Ten Defender of the Year Gabby Provenzano. "Everyone bought in from the start. When we talk about being a family that's very real. This team is truly sisters. Not only do we rely upon one another, we push each other to get better."
Touting team as family is common in sport, but it's much more than a theme or concept to this group.
"We have a lot of individual talent, but that's not what makes us a good team," said Big Ten Freshman of the Year Riley Tiernan, whose older sister Madison starred for the Scarlet Knights and now serves as an assistant coach. "We're incredibly comfortable with one another. We live and share our core values every day, whether it's training or a game."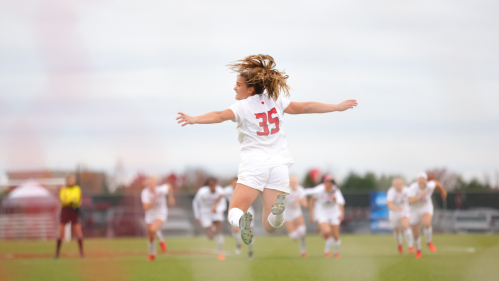 For those attending matches at Yurcak Field, that family feeling is quickly apparent, as it extends into the stands and adjacent parking lots before, during and after the games. With 23 of the roster's 28 players hailing from the Garden State, home field advantage is that and more. A facility-record 5,103 fans attended the Big Ten Tournament Championship game against Michigan on Nov. 7.
"The atmosphere is awesome," said Tiernan, who is one of 13 Scarlet Knights to score a goal this season. "I've always loved playing in front of an audience. It motivates us even more."
The 2,900 fans at Sunday's third-round game against No. 8-ranked Texas Christian University witnessed the Scarlet Knights advance to Friday's match via a penalty kick shootout that followed a 1-1 double overtime draw. Rutgers senior goalkeeper Meagan McClelland stopped the Horned Frogs' final three attempts, as sophomore forward Allison Lowrey provided the decisive take to secure the victory.
"One of our slogans is 'we bend but we don't break,' and that was certainly the case with our win over TCU," said sophomore midfielder Sam Kroeger. "We're a resilient team that's here to make a statement for Rutgers."
The opportunity to make that statement happens this Friday at 7 p.m. on the Busch Campus in Piscataway. General admission tickets can be purchased through the athletics ticket office with free event parking available via online registration.