Rutgers Robert Wood Johnson Medical School (RWJMS) welcomed its incoming class on Friday, as 165 students put on their new white coats and recited the Hippocratic Oath to signify the start of their professional journeys before a large crowd at the State Theater New Jersey.
"As you don your white coats for the first time, remember that the coat represents the respect you have for yourself, for others, and for our noble profession," said Robert L. Johnson, who was celebrating his final major event as interim dean. "It is a symbol of the oath you will take at the end of today's program, in which you choose to uphold the honor and privilege of caring for all our patients."
The class of incoming medical students participating in the ceremony included Alexa Pisciotti, whose reason for pursuing medicine is very personal. It can be traced back to the time when she and her little sister would accompany their mother to chemotherapy treatments in her battle against breast cancer.
"The caregivers were so kind in a tumultuous time," said Pisciotti, who earned her undergraduate degree in neuroscience from the University of Pennsylvania. "I remember playing in the little care center for kids and the nurses bringing us brownies. The doctors on the team not only cared for the patient, but the family. Ever since then I wanted to take on that role."
Pisciotti is undecided about the medical specialty she will pursue. Oncology was the original goal, but the discovery that her mother's cancer is hereditary, and that she also carries the gene, resulted in an inflection point that is still to be explored through her studies.
"It's a lifelong dream in my family for someone to become a doctor, and I'm the first one," Pisciotti said. "The community is amazing here and I'm really excited to be part of it."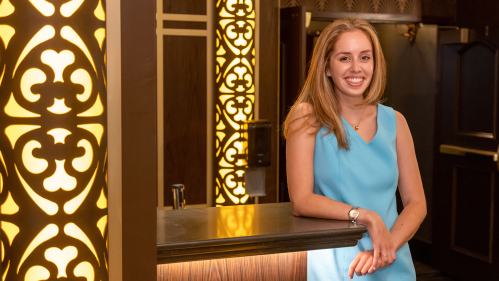 For some, like Camden native Viktor Diaz, the ceremony marked the start of a second career. Diaz had followed in the footsteps of his father and grandfather working as a police officer before embarking on medical school.
Diaz, who completed his undergraduate degree in linguistics at Rutgers in 2021 through the Louis Stokes Alliance for Minority Participation, is confident that working those 16- and 20-hour patrols will serve him well when managing the rigorous coursework ahead. A Latino who never experienced the care of a Hispanic physician, he is also proud to pursue those studies at RWJMS.
"It means everything to me, it's a dream come true," Diaz said. "There was a time when it seemed that becoming a doctor just wasn't going to happen. I kind of gave up on myself for a few years. Having this coat put on me is testament that if you believe in yourself, anything is possible."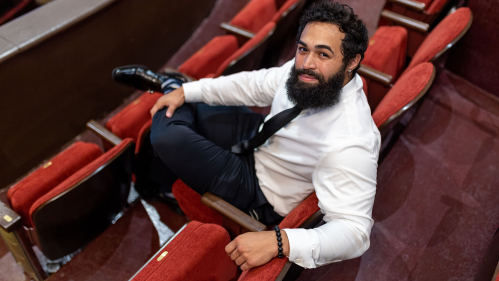 Initiated in 1994 as one of the first in the country, Rutgers RWJMS's White Coat Ceremony began the year after the Arnold P. Gold Foundation created it to not only welcome students to health care practice, but to elevate the value of humanism as the core of health care. Today, nearly all medical schools across the United States have adopted this tradition, and it remains a cherished rite of passage for students nationwide.
Rutgers New Jersey Medical School, which was also one of the first to the tradition, expects to welcome more than 170 students at the Barbara and Norman Seiden White Coat Ceremony on Aug. 4.
Amy Murtha, an accomplished researcher and specialist in maternal-fetal medicine who begins as the RWJMS dean on Aug. 15, gave the keynote address Friday.
"A career in medicine is full of amazing highs and challenging lows, but your ability to make a difference and have an impact is immeasurable," she told her first class. "To become the best physician and best version of you, soak up every experience to develop your skills as a doctor. Appreciate what you love, whether it's a person, a project or a skill.
"Remember the moments, like this one, that bring you joy, pride, fulfillment, and you will find what brings you passion. That passion will give you the ability and the drive to achieve and make an immeasurable impact on the world around you."
The RWJMS class is diverse, representing a variety of cultures and ethnicities. Thirty-six percent is Asian, 30 percent white, 13 percent Black or African American, 13 percent Hispanic/Latinx and 8 percent other or undeclared. Sixteen percent is international, with 27 born abroad and more than half speaking another language at the advanced or native level, including 17-plus languages other than English.
Regarding gap years, nearly three-quarters of the class took one or more years off before starting medical school, with 26 percent having just graduated and 25.5 percent graduating three or more years ago. Of the 63 institutions represented among the class's undergraduate degrees, 31 percent were earned at Rutgers, while 17 percent were granted by Ivy League schools.
Twenty-five percent of the class already has a master's or doctoral degree.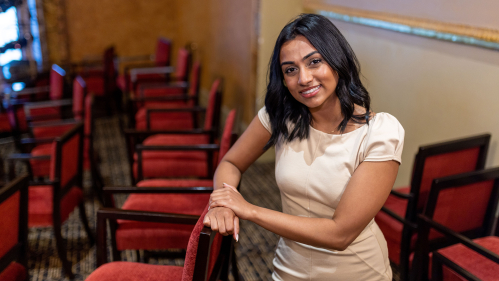 Neha Pareddy came to RWJMS after she was inspired by an introductory course in women's health at the University of Michigan to volunteer as a doula, a labor assistant who provides physical and emotional support during pregnancy, childbirth, and the postpartum period. She credits the experience with solidifying her ambition to become a physician.
"I absolutely fell in love with medicine through that experience," said Pareddy. "It was scary at first, but when I listened to the mothers and was able to apply my training to help them, I really, really enjoyed that feeling. I realized that it's a career where you continue to learn, and you integrate that knowledge with research."
At the ceremony, the Parsippany resident reflected on what it means to join the community of medical students.
"So many of us have gone through similar stages during our journeys here," said Pareddy. "Everyone has had times they have struggled, and maybe times that they didn't believe in themselves. We share these experiences and this community. Having the white coat placed upon you symbolizes a lifetime of learning and service for me and for my peers who have worked so hard."
Watch a recording of the 2022 RWJMS White Coat Ceremony.