Classes are over, finals are coming to an end and the start of another semester is weeks away. Wondering what to do with your free time over winter break? Rutgers Today asked faculty and staff across the university for some recommendations.
Here are some suggestions to fill your free time.
Explore New Jersey's Natural History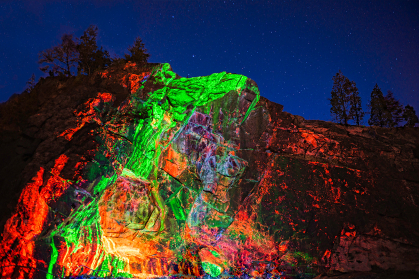 On a balmy winter day, take a stroll along one of New Jersey's many beautiful hiking trails.  A hike along the Watchung Reservation trails take you past 200-million-year-old lava that erupted when North America separated from Africa during the break up of the supercontinent Pangea. Be transported over 500 million years into the past while traversing trails around the Delaware Water Gap to view the spectacular display of rocks created during the formation of the Appalachian Mountains. Or pack a lunch and spend a few hours hiking around some of my favorite New Jersey trails in Cheesequake State Park. This unique location allows visitors to see several natural ecosystems juxtaposed with the Jersey Shore, including saltwater and freshwater marshes, a cedar swamp and a pine barrens habitat.  
If outdoor winter hikes are not your style, check out some of New Jersey's unique natural history museums. Here is a little-known fact: New Jersey is world-famous for its fluorescent minerals. Many of these brightly glowing and colored rocks can be seen on display at the Sterling Hill Mining Museum in Ogdensburg, NJ. Visitors can take a tour through the now-defunct zinc mine and see a staggering array of beautiful minerals, rocks and ores on display in the mineral museum. Even more indoor natural history fun can be had at the NJ State Museum or the Raritan Valley Community College Planetarium. The Rutgers Geology Museum is closed during winter break, but it will reopen at the end of January for tour groups, causal visits, and our Annual Open House and Mineral Sale on Jan. 28.
Lauren Neitzke Adamo
Director of the Rutgers Geology Museum 
Associate Teaching Professor, Department of Earth and Planetary Sciences
School of Arts and Sciences, Rutgers-New Brunswick
Add Wellness to the Top of Your To Do List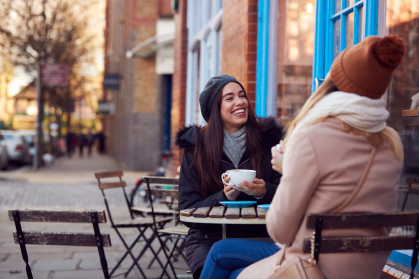 Over the break, resist the urge to oversleep or binge watch shows to recover from a stressful semester. People usually feel less restful and more depressed after choosing the couch as a daily plan. Instead, find new ways to engage during the day with leisure, fun and include physical activity. Mindful walks around the neighborhood, meet ups with friends at the coffee shop, no-score ping pong tournaments in the home, and visits to local art museums can help recharge the battery and prepare you for the new semester.  
The practice of psychological wellness helps us to develop emotional resiliency and return energized for the spring semester. When we actively participate in each day and show up "as is" with self-compassion and kindness, we notice that it is easier to find meaning (big and small) in our lives. Press pause, slow down the moment, we will be back on campus soon enough!  
Deirdre Waters
Assistant Teaching Professor
Graduate School of Applied and Professional Psychology
Rutgers-New Brunswick
Check Out Neighborhood Christmas Lights and Learn About the Jersey Connection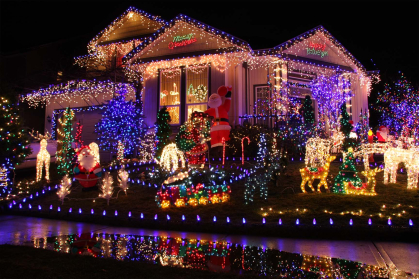 If you are looking for an affordable winter break activity nearby, how about packing the family into your car after dinner and driving a short distance to admire an over-the-top house and yard decorated with Christmas lighting? You can do an Internet search for "Christmas lights near me." Nearly every town has at least one spectacular holiday lighting display.  It's chilly, of course, if you get out of the car for a better view.  But you can always go home afterward for a nice warm-up drink.
How did the tradition of holiday lights get started? History tells us that the medieval church identified the candle with Christ, the light of the world. Candles were placed about the house, especially in the windows. In turn, the smoke from the candles seemed to be rising up to heaven. How did the transition from holiday candles to decorative electric lighting take place? Most historians credit Thomas Edison for the first strand of electric lights. It all started during the Christmas season of 1880. He decorated his Menlo Park Laboratory with a strand of those lights.  So, we New Jerseyans take pride in the fact that it all got started here.
Angus Kress Gillespie
Professor of American Studies, School of Arts and Sciences
Rutgers-New Brunswick
Visit a Museum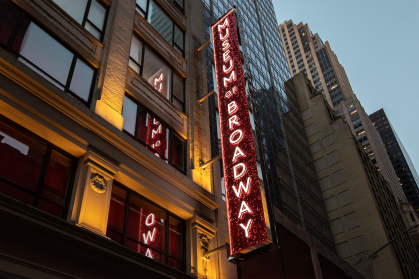 Being a creative artist, no matter what the medium, can be draining. The drive to make, write, compose or, draw something depletes us. There is an almost constant need to fill and refill our creative tank. On breaks, I like to feed my insatiable curiosity and refuel my creative tank, by spending time in museums — all types of museums. Here are a few museums and exhibits, mainstream, offbeat, and interactive, to catch this winter.   
The Museum at FIT
Designing Women: Fashion Creators and Their Interiors is the first show to delve into and celebrate the intersection of interior design and fashion design.   
The Museum of Broadway 
Just opened and the first museum of its kind in the city, celebrating the art and design and great moments in Broadway's history.   
The Skyscraper Museum  
A beautifully designed museum that examines the history of these buildings and the perpetually changing skyline of the city. So many things to see there! It is a great place to visit, and it's free. 
The Silverball Museum, Asbury Park, NJ  
Nearly 600 vintage pinball machines and games, from the 1950s to today, right on the boardwalk.   
Morris Museum
The Guinness Collection of Automata at the museum is one of the world's best collections of mechanical musical instruments and automata (robotic figures).   
The Mütter Museum/The College of Physicians of Philadelphia   
The museum of medical history displays exquisitely preserved collections of anatomical specimens, models, and medical instruments in a "cabinet museum" setting. Very interesting and not for the faint of heart.   
Valerie Marcus Ramshur
Head of costume design
Mason Gross School of the Arts  
Rutgers-New Brunswick
Get Moving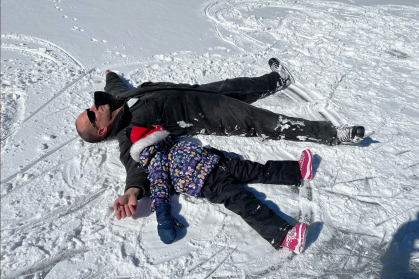 The best way to beat the winter blues is to get moving. Challenge yourself to get outside for a walk every day. Those few minutes of sunlight are beneficial to your mind and body. Be sure to keep your brain active with a new hobby or explore an interest that has long been on your to-do list. Trying something new and different can be just what you need to spark your energy level. Seek out an adventure by visiting a historical site that seems so far away yet so close to home. Check the Visit NJ website for terrific seasonal ideas to keep you and your family active. Don't let winter's cold weather get you down, instead embrace it as your motivation to try something new and different. Go out and have some fun. 
A few other healthy habits you can try would be to start a stretching routine each morning at you begin your day or increase your water intake because it's easy to forget in these colder months, be sure to make time to move more each day and be physically active, bundle up and get outdoors for some sunshine when you can and don't forget to eat those fruits and veggies to keep your immune system strong. All these things will help you stay healthy and keep you on your wellness path. 
Rachel Tansey and Joanne Kinsey 
Department of Family & Community Health Sciences 
Rutgers Cooperative Extension  
Visit Camden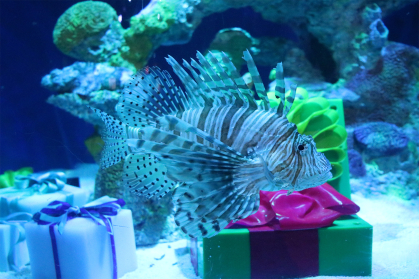 For those looking to get out and find some local entertainment over the break, the Camden waterfront offers a wide variety of attractions. Make a day of visiting Adventure Aquarium or the Battleship New Jersey. Get out of the house and spend time in one of the city's parks. If you're looking for some light exercise, go for a walk, run, or bike ride along the beautiful waterfront path. Don't forget that the IMPACT Booth in the Campus Center offers discounted tickets to many local attractions. 
Winter break may be a time to rest, but Rutgers-Camden student-athletes will be busy competing. All four Scarlet Raptors winter-season athletic teams will be in action over the holidays. If you find yourself taking in the seasonal festivities in New York City, both the women's and men's basketball teams have games in the Big Apple the week after Christmas. The New Year will bring new opportunities for victory, with the basketball teams returning to New Jersey for conference play and the indoor track and field teams opening their 2023 season.  
If you're looking to make more of an impact with your time off, volunteering with one of the many local organizations that serve the less fortunate is a great way to give back to the community. 
Office of Marketing and Communications 
Rutgers-Camden
Take a Short Trip to Baltimore, Beyond the Inner Harbor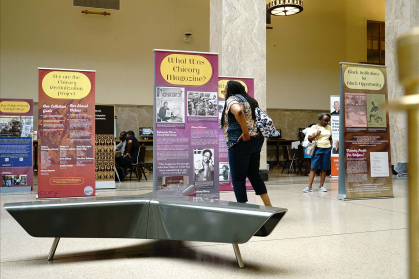 Baltimore may be most famous for hard crabs, John Waters and the Inner Harbor, but the city is rich in African American arts and culture to explore. You can get some historical grounding in how Black artists and writers have used their art as activism through the exhibit "Soul of the Butterfly: Chicory Magazine and Baltimore's Black Arts Activism," which is on view at the Pennsylvania Avenue branch of the Enoch Pratt Free Library until Jan. 20. The exhibit, created through a partnership with Rutgers-Newark and several Baltimore organizations, is traveling through August. Check here to find out where it will be next. 
If the exhibit whets your appetite for more poetry and art, I've got a couple of suggestions. DewMore Baltimore is an organization that supports civic engagement by youth through poetry. Follow them on Instagram @dewmorepoetry to find upcoming poetry events in the city. The Peale, housed in the oldest museum building in the US (made famous in this painting), is a cultural center with tons of exhibits and events celebrating Baltimore culture. Follow it all up with a lump crab cake at Faidley's and you've had a perfect Baltimore experience.  
Mary Rizzo 
Associate Professor of History 
Rutgers University - Newark 
Go on an Art Walk in Newark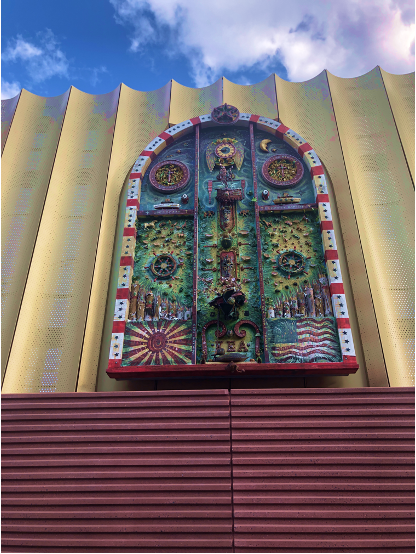 The Fairmount Heights Art Wall is a hidden gem featuring 14 monumental examples of public art by international and local artists. The wall and grand adjoining civic "agora" or public space was designed by Sir David Adjaye, one of the greatest architects practicing today who is primarily known for celebrated projects such as the National Museum of African American History and Culture and a luxury New York City condominium project in conjunction with designers from Aston Martin automobile company. During the opening of the Art Wall in 2018, Adjaye spoke of how rewarding it is to use his creativity toward the common good stating, "One  gets opportunities to work in amazing places, but it is actually much more rewarding to work in places where people think design will not come to." As he continued his speech under the towering columns that defined the "agora" it was clear that Adjaye meant what he said. The opportunity to bring art and architecture to an often-ignored part of the city and to celebrate its people had been a deeply meaningful experience for him. 
Anne Englot
Professor of Practice, Architecture & Humanities
Department of Arts, Culture & Media
Rutgers-Newark
Go to a Game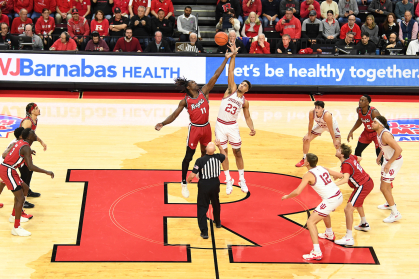 You've already read about the Scarlet Raptors, but all Rutgers' NCAA sports programs will be active during the winter break - providing ample opportunity to support the Scarlet on the New Brunswick, Newark and Camden campuses.
Members of the Division I Big Ten Conference, the Scarlet Knights host competitions in men's and women's basketball and women's gymnastics at Jersey Mike's Arena. The men's team hosts Coppin State on Friday, Dec. 30 (8 p.m.), Maryland on Thursday, Jan. 5 (6:30 p.m.), Iowa on Sunday, Jan. 8 (12 noon) and Ohio State on Sunday, Jan. 15 (TBD), while the women's team welcomes Maryland on Monday, Jan. 2 (2 p.m.) and Nebraska on Saturday, Jan. 7 (2 p.m.). Fans can secure men's and women's basketball tickets by calling 866-445-GORU (4678) or by visiting the Official Ticket Page. Admission is free for gymnastics, which hosts Ball State, Wisconsin-Oshkosh and Towson in a quad meet on Saturday, Jan. 14 (2 p.m.). 
The Rutgers-Newark Scarlet Raiders and the Rutgers-Camden Scarlet Raptors compete in the Division III New Jersey Athletic Conference. Both have basketball doubleheaders during the break.   
Rutgers-Newark welcomes William Paterson on Wednesday, Jan. 4, with the women's game at 6 p.m. and the men's at 8 p.m., before hosting Montclair State on Monday, Jan. 9, with the women tipping-off a 1 p.m. and the men at 3 p.m. On Saturday, Jan. 14, Rowan is the opponent, with the women playing at 6 p.m. and the men at 8 p.m. General admission tickets are $5.00 at the Golden Dome Athletic Center door. 
At home, Rutgers-Camden welcomes New Jersey City on Wednesday, Jan. 11, with the women's game at 3 p.m. and the men's at 5 p.m., before hosting William Paterson on Saturday, Jan. 14, with the women tipping-off at 1 p.m. and the men at 3 p.m. General admission tickets are $5.00 at the Athletic and Fitness Center door. 
Winter Break Home Athletics Schedule
December 30, 2022
Men's Basketball vs Coppin State | 8pm at Jersey Mike's Arena, Rutgers-New Brunswick
January 2, 2023
Women's Basketball vs Maryland | 2pm at Jersey Mike's Arena, Rutgers-New Brunswick
January 4, 2023
Women's Basketball vs William Paterson | 6pm at Golden Dome Athletic Center, Rutgers-Newark

Men's Basketball vs William Paterson | 8pm at Golden Dome Athletic Center, Rutgers-Newark
January 5, 2023
Men's Basketball vs Maryland | 6:30pm at Jersey Mike's Arena, Rutgers-New Brunswick
January 7, 2023
Women's Basketball vs Nebraska | 2pm at Jersey Mike's Arena, Rutgers-New Brunswick
January 8, 2023
Men's Basketball vs Iowa | 12pm at Jersey Mike's Arena, Rutgers-New Brunswick
January 9, 2023
Women's Basketball vs Montclair State | 1pm at Golden Dome Athletic Center, Rutgers-Newark

Men's Basketball vs Montclair State | 3pm at Golden Dome Athletic Center, Rutgers-Newark
January 11, 2023
Women's Basketball vs New Jersey City | 3pm at Athletic and Fitness Center, Rutgers-Camden

Men's Basketball vs New Jersey City | 5pm at Athletic and Fitness Center, Rutgers-Camden
January 14, 2023
Women's Basketball vs William Paterson | 1pm at Athletic and Fitness Center, Rutgers-Camden

Women's Gymnastics vs Quad Meet | 2pm at Jersey Mike's Arena, Rutgers-New Brunswick

Men's Basketball vs William Paterson | 3pm at Athletic and Fitness Center, Rutgers-Camden

Women's Basketball vs Rowan | 6pm at Golden Dome Athletic Center, Rutgers-Newark

Men's Basketball vs Rowan | 8pm at Golden Dome Athletic Center, Rutgers-Newark
January 15, 2023
Men's Basketball vs Ohio State | TBD at Jersey Mike's Arena, Rutgers-New Brunswick
Kevin Lorincz
​​​​​​Director of Communications
University Communications and Marketing