Vice Chancellor of Student Affairs at Rutgers–New Brunswick Is Named a Senior Aspen Index Impact Fellow
Salvador Mena is among 90-some leaders and educators selected by the Aspen Institute to help develop a leadership development index
Salvador Mena, vice chancellor for student affairs at Rutgers University–New Brunswick, has been named one of the Aspen Institute's inaugural Senior Index Impact Fellows.  
Founded in 1949, the Aspen Institute is a Washington, D.C.-based nonprofit policy and research organization committed to "realizing a free, just, and equitable society."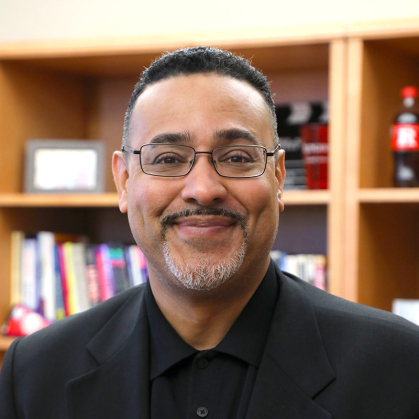 Mena joins 90-some other Impact Fellows – including college presidents, senior leaders, educators and youth from throughout the United States – who will advance an "urgent agenda focused on the research, interventions and strategies necessary to accelerate the access to, and quality of, youth leadership programs nationally," institute officials noted in a statement. 
Mena – who has been at Rutgers–New Brunswick since 2014 when he was named the associate vice chancellor for student affairs – said he feels fortunate to be selected as an Impact Fellow.  
Together, the Aspen Institute is working with Impact Fellows to create a movement of greater access to and quality of youth leadership programs.

Salvador Mena

Vice chancellor for student affairs at Rutgers University–New Brunswick
"The study of leadership is something that has tremendous potential to inform how we develop college students and how they see themselves being citizens of the world and how they begin to reflect and think about their leadership identity in the college setting," said Mena, who oversees a division of more than 900 employees across 11 areas that provide a variety of student-focused services. 
Driving the work of the Impact Fellows is the Aspen Institute Leadership Development Index (Aspen Index), a digital tool that measures core leadership capacities to accelerate personal and professional growth. The Aspen Index will help to increase youth access to leadership development as well as improve program quality, institute officials said. 
"I'm going to get the opportunity to be part of this robust conversation that's going to help shape this particular tool that will eventually be launched," Mena said. "We'll have the opportunity to represent Rutgers to inform the conversation and the shaping of this project." 
The goal is to lift youth exposure to high-quality leadership programs above 50 percent during the next five years, institute officials said. 
"This work dove-tails with major reports to be released on the future of youth leadership research and practice," institute officials said. "Together, the Aspen Institute is working with Impact Fellows to create a movement of greater access to and quality of youth leadership programs."