Green process for producing concrete, software for managing big data earn prestigious honors
NEW BRUNSWICK, N.J. — Two technologies developed with contributions by professors and graduate students at Rutgers have been selected for R&D Magazine's R&D 100 Awards.
The honors, given for revolutionary technologies newly introduced to the market, span industrial, academic and government-sponsored research.
One winner is a Rutgers technology licensed to Solidia Technologies of Piscataway that dramatically reduces carbon dioxide emissions in the production of cement and concrete products. The inventors are Richard Riman, Rutgers distinguished professor of materials science and engineering and Solidia's founder, and Vahit Atakan, Solidia's R&D director and a former doctoral student in Riman's lab.
The second winner is ADIOS: Adaptable I/O System for Big Data, developed by a group including Manish Parashar, director of the Rutgers Discovery Informatics Institute and professor of electrical and computer engineering, and four of his graduate students.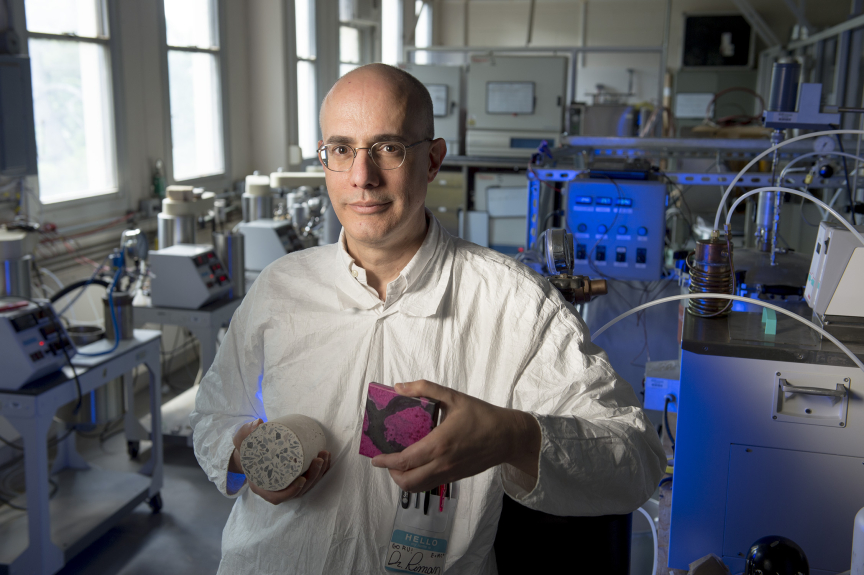 Solidia's patented technologies have the potential to reduce greenhouse gas emissions from cement and concrete industries by up to 70 percent. Requiring only modest changes to current processes, the technology makes solids out of packed powders without using a high-temperature kiln or furnace. The process also has broad applications in the ceramics industry, producing innovative materials that offer greater strength and durability.
"This is very much a green process for numerous reasons, particularly because it requires far lower temperatures than the conventional method and it provides a new means for carbon sequestration," said Riman.
Solidia is marketing its process in the global $1 trillion concrete market and the $300 billion cement market. The company has raised financing from Kleiner Perkins Caufield & Byers, Bright Capital, BASF and BP.
ADIOS is a collection of software services to manage big data for extreme scale computing in research areas such as combustion, fusion and sub-surface modeling in oil and gas exploration. Rutgers' primary contribution is "DataSpaces," a framework that provides essential services for managing and processing data produced by large-scale simulations, while addressing issues related to scale, performance and energy costs. It essentially enables scientists to examine and query data while their large-scale simulations are producing it. ADIOS and DataSpaces are being used by a large number of applications in business and academia.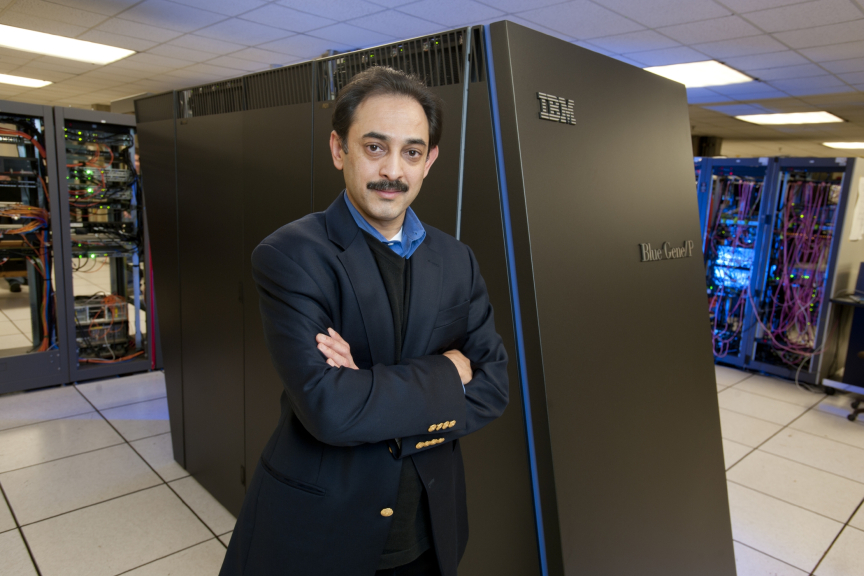 "While it's fun to do the research, it's good to see the work having an impact, and that's why this recognition is extremely satisfying," Parashar said. "It provides evidence that the research we're doing at Rutgers is enabling new science and new insights in important areas."
Parashar has collaborated with the project lead, Scott Klasky of the Oak Ridge National Laboratory, since they were post-doctoral fellows in 1994 at the University of Texas, Austin. Georgia Institute of Technology and North Carolina State University also contributed to the development of ADIOS. The Rutgers team working on ADIOS with Parashar includes Hoang Bui, a post-doctoral fellow, and doctoral students Tong Jin, Qian Sun, and Fan Zhang.
"We are thrilled to see two technologies tied to Rutgers appear among the R&D 100 for 2013, particularly given the impressive nature of the scientific breakthroughs chosen this year and the history of previous winners succeeding in the marketplace," said Kenneth J. Breslauer, Rutgers interim vice president for research and economic development and Linus C. Pauling professor of chemistry and chemical biology. "Rik Riman and Manish Parashar are two outstanding Rutgers researchers. We are extremely pleased with this prestigious recognition."