Trading Statistics for Style
Rutgers alumnus and former sports columnist now covers fashion for The New York Times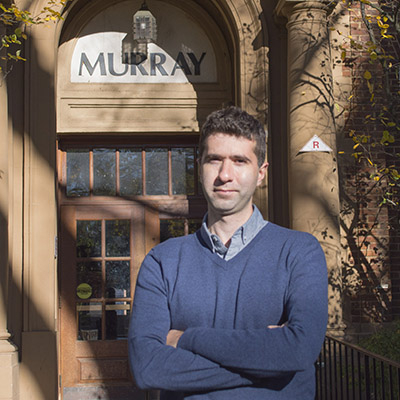 'I most certainly did not see myself covering fashion, and it was a head-spinning move to many who know me' – Koblin
When John Koblin, a 2005 Rutgers graduate, joined The New York Times at the start of 2014, he already knew his way around the office. After interning and stringing at the newspaper and later working as a reporter for multiple publications, he was asked to come back as a style reporter.
"I most certainly did not see myself covering fashion, and it was a head-spinning move to many who know me," Koblin says. But after many beat changes in his wide-ranging career, Koblin, 30, transitioned easily into the style section.
As a reporter at The New York Observer, where he covered commercial real estate and print media, and Deadspin, the sports website of Gawker Media, he wrote about the "big names" – professional athletes and The New York Times itself.
While interviewing for his new job, the Times' style editor, Stuart Emmrich, asked how he could bring the style section to the front page.  "I told him that to get on A1 you need to go big game hunting," Koblin recalls. "Power is a fascinating topic, and it's been covered [by the media] for a very long time.  The public is hungry to read about influential figures and the power they have."
Writing for the style section and interviewing famous fashion designers like Tommy Hilfiger and Diane von Furstenberg doesn't faze Koblin. For him, it's difficult to get star struck. He insists that he manages his high-profile celebrity-type sources the same way he would for any other industry he covered.
But his way isn't the norm. Koblin says when it comes to reporter-source relationships, the fashion press is cozier with its subjects than any other industry. "The New York Times likes to avoid that coziness, which is why they liked that I would be fresh on this beat," Koblin says.
On the fashion beat, the glamour and social events ratcheted Koblin up to a whole different level. The banquet dinners he went to when reporting on real estate became fancier cocktail parties with celebrity guests. Suddenly the baggy suits drinking red wine at dinner turned into fancy dresses more interested in posing for elaborate photo shoots in the corner than conversation and food.
In September, Koblin traveled to Milan to cover fashion week. "It was jam-packed, five days of absolute mania," he says. "You're running from one show to the next, running from shows to parties, from parties to your hotel room, and writing things up, throughout the day if you can."
"I feel like I should enjoy it more. Sometimes I think to myself, 'What am I doing in Paris?' Koblin says.
Covering fashion is far from how Koblin saw himself when he first came to Rutgers. A history and English major, Koblin took his first Victorian poetry class and made the English department his academic home. He worked at WRSU, the radio station at Rutgers, covering sports.
After becoming sports director at the station, he penned at sports column at Rutgers' student newspaper, The Daily Targum, called "The Big East." and enjoyed breaking new ground. During his senior year he wrote a three-part investigative story on gay athletes at Rutgers, which caused a stir at the university and had a big impact on him.
"I thought I had my career figured out, Koblin says. "I was going to be a broadcaster. I was going to do sports. And that changed instantly after I did this piece. I liked asking questions as opposed to declaring what's happening on a field."
After college, Koblin headed to Columbia University Graduate School of Journalism. While the skills he learned in the program helped to prepare him for his career, Koblin attributes much of his journalistic success to the work he did at Rutgers.
"The English department at Rutgers is where I learned how to close read and how to be a critical thinker, which helped me figure out how to navigate new beats, " Koblin says. "When you come in fresh on a beat – and I've made a lot of crazy beat changes – you have to have patience and do a lot reading and be very careful. Rutgers definitely prepped me for that."