Students Pledge to Help Those Without Access to Primary Care
Three in the physician assistant program receive scholarships from the National Health Service Corps in exchange for working in underserved communities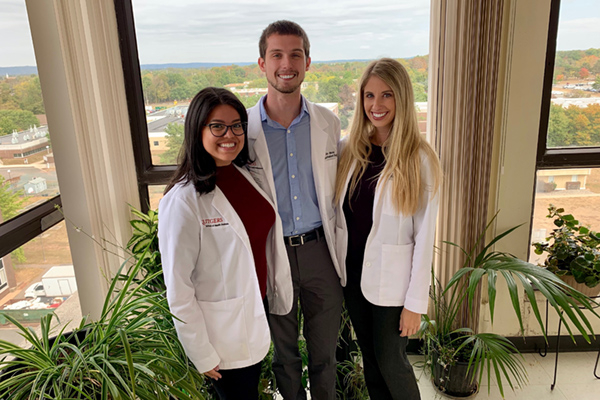 A young mother and stroke survivor from rural Alabama sobbed in the arms of Katie Wenzel, saying she couldn't get follow-up care because her doctor was 45 minutes away. Katie did the only thing she could – she offered gift cards for a taxi.
The experience helped Wenzel, a student in the Rutgers School of Health Professions physician assistant (PA) program, find her calling - working in places where a shortage of primary care providers has left people with little or no access to care.
"No matter where you live, you should have the same access to health care as anyone else," said Wenzel. "That's what drives me."
That commitment is shared by two classmates of Wenzel's - and it has earned all three full scholarships from the National Health Service Corps in exchange for working in underserved communities or with underserved populations after they graduate. Wenzel, Alec Weiss and Lisangi Fernandez - all members of the Class of 2021- received scholarships that cover full tuition and fees, monthly living expenses and equipment such as laptops.
"It is quite a prestigious scholarship, and to have three in one class speaks to the quality of the students in our program and to their passion for helping underserved populations get the health care they need," said Lori Palfreyman, assistant director of PA admissions and program assessment.
Fernandez understands the challenges of underserved communities. She grew up in Perth Amboy, considered a high-needs school district, and got her undergraduate degree with the help of the Educational Opportunity Fund, which provides financial and other assistance to students from educationally and economically disadvantaged backgrounds.  She also volunteered at the PA program's free medical clinic for underserved and uninsured patients in Union County, where she was a translator for Spanish-speaking people for whom the clinic was the only source of primary care.
"I cried when I looked at my bill this semester and it was paid for," she said. "This scholarship was a huge factor in me being able to go into primary care. It is the field that is most fulfilling and creates the largest impact on patients."
The federal National Health Service Corps scholarship program lifts the burden of loans, allowing medical providers to choose primary care rather than higher-paid specialized medicine. Its aim is to build healthy communities in high-needs areas by widening access to primary care.
In 2019, more than 1,800 applicants in physician, physician assistant, dental, nurse practitioner, or certified midwife programs applied for about 200 scholarships. The scholarship winners must agree to practice in an approved medical facility in an urban, rural or tribal area, where health care is inaccessible or unaffordable, for a minimum of two years.
"An external panel determines which of the applicants are the cream of the crop," said Israil Ali, of the Division of NHSC. "The fact that there are currently three in one cohort speaks volumes to the type of students Rutgers is recruiting."
The Rutgers PA program is one of the most competitive in the country, with only 50 seats and nearly 1,500 applicants.
Over the past five years, 73 Rutgers applicants have applied for NHSC scholarships, and eight have received them. Five of those are from the physician assistant program and three are from Rutgers School of Dental Medicine, including Jena Cabrera, a current third-year dental student.
For Weiss, two years of volunteering in a homeless shelter in St. Louis helped to steer him on a path to working with underserved populations. After he performed vision screening on one man, the last patient of his day, he decided the man's eyesight appeared poor enough to qualify him for a free voucher to an optometrist and for a pair of glasses.
Weiss sometimes wondered if the people he screened followed through, and if he was really helping. He got his answer when that last patient of the day came back a few months later, wearing a new pair of black glasses.
"He said he could see now, and because he could see, he could get a job," Weiss said. "That showed me how important it is to address the needs of the underserved, and how access to health services can make a difference in their lives."