Students with Disabilities Meet Challenges with Online Courses, Accessibility Improvements
From using more legible fonts to providing captions for images, new Rutgers guidelines are making curriculums more accessible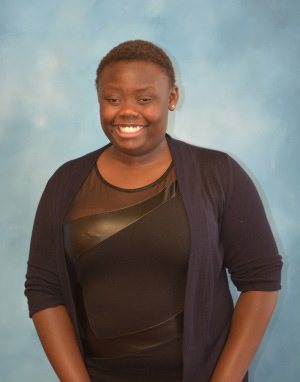 'It is very frustrating when you come to a page that has not been made accessible. It really makes you more disabled than you are because you can't just do the classwork like everyone else. You have to ask for help. I want to handle things on my own because it makes me much more confident for when I have a job someday.'

 

– Laura Etori, Rutgers sophomore
Darkness came suddenly for Laura Etori. 
The rising Rutgers sophomore's once strong eyesight faded to black three and a half years ago – the result of a rare condition known as idiopathic intracranial hypertension.
"It was a total surprise and not something you ever expect to happen," said Etori, an international student from Kenya majoring in math and finance with a minor in computer science.  "My major concern was whether blindness would keep me from pursuing my education.  I had never learned Braille since I had my sight for most of my life."
Fortunately for Etori, mobile and computer accessibility allowed her to continue her education at Rutgers. Through the use of Job Access with Speech (JAWS), a screen reader program, she can listen to the text of her assignments and stay at the front of her class. That is, as long as the text has been made available.
 "It is very frustrating when you come to a page that has not been made accessible," Etori says  "It really makes you more disabled than you are because you can't just do the classwork like everyone else. You have to ask for help. I want to handle things on my own because it makes me much more confident for when I have a job someday."
According to the Americans ​with Disabilities Act, online courses must be made accessible to students with disabilities, but it's up to individual schools to establish their own online standards. At Rutgers, a universal design committee was established to speak with students like Etori and research the best ways to make online courses the most accessible for all students, as well as those with disabilities. 
This universitywide committee, led by Rutgers Center for Online and Hybrid Learning & Instructional Technologies, consists of faculty, staff and administrators in Camden, Newark and New Brunswick who are active in the online education space.
The guidelines created by the committee will help faculty design better online courses, says Antonius Bittmann, associate vice president of online programs. They cover everything from using certain fonts that are more legible on screen to using headings in the correct style for screen readers to be able to decipher the information. All course material should be accessible in different ways, whether through audio or video or text.
Carlie Andrews, senior director of Rutgers' Office of Disability Services and a member of the Universal Design Committee, says universal design doesn't just benefit those with disabilities.
"Video captioning was originally designed for the deaf. But research found that captioning was widely used by all students, such as those for whom English is a second language, or if a student was in a quiet location where the audio must be muted," she says. "Also, reading captions helped with vocabulary retention. Universal design is initially there to assist with a disability, but the larger aim is to increase accessibility for all." 
When she graduates, Etori plans to become an actuary, but to also use her computer science background to design even better software programs and make even more sources accessible.
"I would like to give back by using my skills to make the world of education more accessible for all students with disabilities.  I know what has been frustrating for me and I would like to help eliminate those challenges," she adds.
---
For more information, contact COHLIT at onlinelearning@docs.rutgers.edu or 848-932-4702, or the Office of Instructional and Research Technology at accessibility@rutgers.edu or 848-445-8721.