A ribbon-cutting and reception to celebrate the new space for students was held on Oct. 28 at the Paul Robeson Cultural Center
Rutgers Student Affairs dedicated a reading room of nearly 2,000 books from the personal library of Cheryl A. Wall, a longtime professor at the university and highly regarded scholar of African American literature, American literature and feminist criticism.  
 
The new Dr. Cheryl A. Wall Reading Room is located in the Paul Robeson Cultural Center on Busch Campus. A ribbon-cutting and reception for the room was held on Oct. 28. The center is named after distinguished Rutgers graduate Paul Robeson and serves as the center for Black student life in New Brunswick.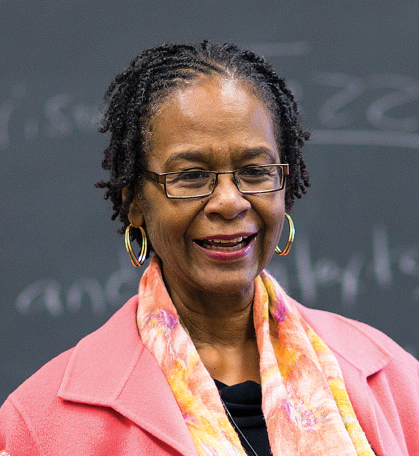 Wall, an English professor at the School of Arts and Sciences at Rutgers University–New Brunswick for nearly 50 years, died in April 2020 at the age of 71.  
"I think [Cheryl Wall] was an incredible role model for Black students on campus, especially at a time when maybe those role models weren't easily available," said Salvador Mena, vice chancellor for student affairs. "She really made herself available to Black students on campus in a very real way – as a human being, as an elder in the community." 
The reading room, part of a renovation project that provides students a usable space where there wasn't one previously, serves as both a tribute to Wall and a source of encouragement and reflection for students "so that they can see that there were others who paved the way, who made a difference," said Mena, adding that the reading room also serves "as a source of inspiration for students to find their way at the university." 
The room, which includes collections of works by Zora Neale Hurston, Toni Morrison, James Baldwin, Gwendolyn Brooks, Octavia Butler and others, as well as books written and edited by Wall, serve as a quiet, meditative space – "I would say almost a retreat for students," said Nicole Williams, assistant director of the Paul Robeson Cultural Center.
It is also a space to hold readings, lectures and other literary events, she said. 
"This is a really beautiful way to honor her legacy," said Ji Lee, executive director for intercultural engagement and inclusion initiatives for the Division of Student Affairs, New Brunswick, adding that Wall "was extremely well respected and a trailblazer in the literary field." 
This is a really beautiful way to honor her legacy.

Ji Lee

Executive director for intercultural engagement and inclusion initiatives for the Division of Student Affairs, New Brunswick
The shelves of the newly constructed reading room are lined with books from Wall's personal collection donated by her daughter, Camara Epps, who founded the Dr. Cheryl A. Wall Memorial Fellowship, which provides $2,500 annually to doctoral students conducting research in African American or Black literature, Black feminism or interdisciplinary studies. 
"I think she would feel a lot of gratitude that Rutgers allowed for this space to be created in her honor," said Epps, adding that her mother's students "really loved and admired her." 
"My mom was a very humble person, so I imagine that she would be somewhat surprised, too, that this was even possible," Epps said. "I think she would be so happy that there is a space for students to go where they could learn more about, not even so much her work, but the work of other African American authors, in the hope that it will foster some inspiration and encourage them to want to become writers as well or pursue whatever they are passionate about." 
The reading room features framed quotes by Wall: 
"Scholarship is a collaborative enterprise."

"Changing words means transforming words." 
In addition, artwork on loan through the spring semester was installed outside of the new space, Williams said. 
Wall, who began teaching at Rutgers in 1972, is known for her writings about African American women writers. Her books include Women of the Harlem Renaissance and Worrying the Line: Black Women Writers, Lineage, and Literary Tradition. She also edited several volumes of literary analysis of Zora Neale Hurston, an author, anthropologist, folklorist and filmmaker. 
A recipient of the Warren I. Susman Award for Excellence in Teaching, Wall received a number of fellowships and awards during her academic career, including being named a Board of Governors Professor of English in 2006 before she was named the Zora Neale Hurston Professor of English in 2008.