Stranger Things Star Gaten Matarazzo Talks About His Rare Genetic Condition With Dental School Dean
Dean Cecile A. Feldman discussed advocacy for Cleidocranial Dysplasia when she met the child star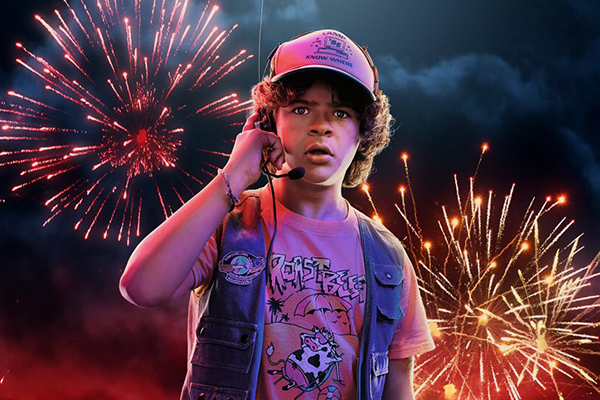 Fans of the Netflix sci-fi series Stranger Things are riveted by battles between the citizens of Hawkins, Indiana, and creatures from the Upside Down.
But Dean Cecile A. Feldman of the Rutgers School of Dental Medicine (RSDM) notices something else: the evolution of child star Gaten Matarazzo's dental work. Matarazzo, 16, has Cleidocranial Dysplasia (CCD), a rare genetic condition that affects bone development, especially cranial bones, collar bones and teeth. Adult teeth often emerge late or not at all.
It's a condition that's referenced in the show's first season, which debuted in 2016. When his nerdy character Dustin is bullied for his lisp and missing teeth, he insists, "I told you a million times, my teeth are coming in! It's called Cleidocranial Dysplasia.''
Feldman met Matarazzo in Washington, D.C., recently on Lobby Day, an annual event when dental students, faculty and professional dentists advocate for oral health care issues. Since the show began, Matarazzo has been a vocal spokesperson for CCD.
"He's a very strong advocate for research in oral health so we can learn more about CCD and also ensure that dentists know how to treat it,'' said Feldman.
During his conversation with the dean, Matarazzo shared stories about growing up with CCD, including details about his treatment over the years. "He said it was strange. Especially when the show began, he was at an age when all the kids around him had all their teeth and he didn't,'' Feldman recalled.
The actor described the difficulty of finding dentists who knew how to treat his condition, which included extra teeth, called supernumerary teeth, in addition to adult teeth that had not yet emerged. "He had a lot of trouble finding someone who could take his case and has had a number of surgeries to remove the supernumerary teeth,'' she recounted.
Feldman has been impressed that the show's creators, The Duffer Brothers, wrote Matarazzo's condition into Stranger Things, allowing his genetic condition to develop along with his character.
"It was interesting to watch him change. In the first season he doesn't have teeth, and he's very open that he has this condition. But in the second season he has teeth and starts talking about his teeth clicking. So it looks like he got prosthodontics,'' observes Feldman, using a dental term for artificial teeth.
By season three, Dustin, who wears dentures in real life, is once again missing his teeth, a plot twist that confused many viewers but might be explained by his romantic relationship with Suzie, a girl he met at science camp. He confides that, according to Suzie, "Kissing without teeth is way better.''
So far, no Season 4 spoilers have emerged concerning Dustin's condition, but the dean believes his presence on the show will continue to serve an important purpose.
"He's raising awareness of the condition and the potential of those who have CCD, and that's a significant achievement,'' she says.