Steven Van Zandt Encourages Rutgers Class of 2017 to Reach for Nothing Less than Greatness
Van Zandt addressed members of Rutgers' largest graduating class ever at the university's 251st anniversary commencement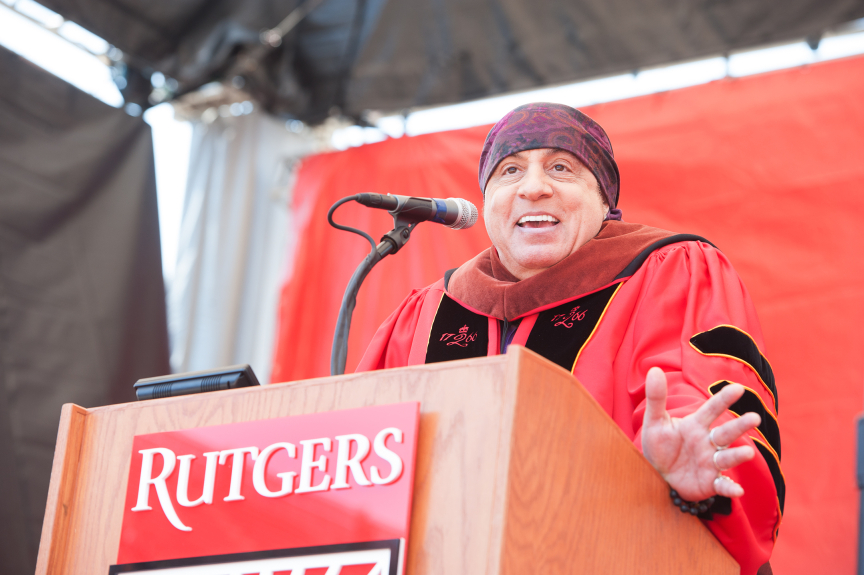 'Greatness isn't born, it's developed. Greatness is a decision that you make, and you make that decision every single day in everything you do, no matter how small.'

 

– Steven Van Zandt to the Class of 2017
Steven Van Zandt, musician, actor and political activist, encouraged the Class of 2017 to strive for greatness and a better future for all as he shared the story of his career highs and lows during Rutgers' 251st Anniversary commencement.
"Greatness isn't born, it's developed,'' Van Zandt told a crowd of about 45,000 at High Point Solutions Stadium during a ceremony for students graduating from Rutgers University-New Brunswick and Rutgers Biomedical and Health Sciences. "Greatness is a decision that you make, and you make that decision every single day in everything you do, no matter how small.''
Van Zandt spoke about his days rehearsing in a garage as a member of Bruce Springsteen's E Street Band before the group earned worldwide fame, his political awakening and work to fight South Africa's apartheid. But he also spoke about the price he paid for his activism, which made it hard to get work for several years before he landed a role on the HBO hit The Sopranos.
The legendary New Jersey rock star and performer also spoke about the importance of art and protecting the environment while sharing his pride in his Jersey roots, a message that resonated with members of the graduating class.
"Can you imagine the faces [at the record company] when Bruce went to discuss the cover of his first album and handed them a postcard that said 'Greetings from Asbury Park?''' said Van Zandt, who received an honorary Doctor of Fine Arts degree during the ceremony. "Embrace your Jersey roots. That authenticity. Jersey strong. It doesn't matter where you are from, you are in the Jersey family now.''
It was a message that endeared him to members of the graduating class.
"I thought Steven Van Zandt was great,'' said Julie Petulla, a finance major at Rutgers Business School- Newark and New Brunswick who will be starting a new job at the Financial Industry Regulatory Authority in New York City in July. "He's gained a fan. I love what he said about embracing your Jersey roots and using it to go forward. It's great advice.''
Van Zandt ended his speech with a list of advice to encourage students to make the best of their future, whatever it brings. A few bits of Van Zandt wisdom: Keep your standards high. Do your homework before you open your mouth. Finish what you start.
"When your ship comes in you will probably be at the airport,'' Van Zandt said. "… You can make all the plans you want, but keep yourself open for unexpected opportunities because that is where most of life comes from.''
He also touched on issues of climate change and pollution and told students the future is green.
"Reach for greatness, nothing less, and make sure you have some fun along the way,'' Van Zandt concluded. "Life should never be boring.''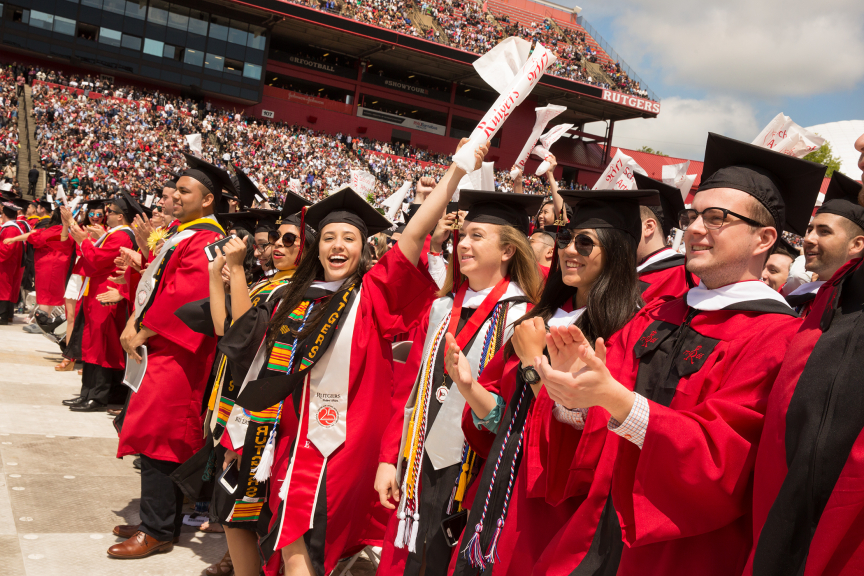 An estimated 17,729 graduates will receive degrees from Rutgers this year, the largest class ever. They include approximately 11,423 baccalaureate degrees, 4,555 master's degrees, 1,750 doctorates (including professional doctorates), one specialist of education degree and two artist diplomas. Since its founding in 1766, Rutgers has awarded 568,128 academic degrees (excluding the 2017 estimated total).
President Robert Barchi spoke to the graduating class Sunday about the value of diversity at Rutgers, a theme president Obama highlighted during his address last year for Rutgers' historic 250th commencement.
"You know that diversity is not simply demographic facts,'' Barchi said. "This diversity has made you stronger. You know what it means to come from very different backgrounds, and to hold different points of view, and yet to recognize in each other the dignity that each and every individual in the community deserves.''
Barchi, who will participate in ceremonies this week at Rutgers University-Newark and Rutgers University-Camden, received applause when he told graduates, "In many cases you are living examples to the importance of immigration to the future of our society.''
The president also presented an honorary Doctor of Science to Harvey J. Makadon, a LGBTQ and HIV health care advocate and professor of medicine at Harvard Medical School. Barchi's comments included a mention of a group of about 55 graduates who are walking with special distinction at ceremonies this week as the first Rutgers Future Scholars to earn university degrees.
Rutgers Future Scholars is a pioneering mentoring program for first generation and low-income students in Newark, New Brunswick, Camden and Rahway that rewards those who get accepted into Rutgers with free tuition.  
"Being the first class of Futures Scholars has been a lot of pressure but good pressure because of the trust, expectations and honor bestowed on us,'' said Jason Gaines Jr., of New Brunswick, who studied communication and human resource management. "I can't imagine my life without the program.''
Yauris Hernandez, an economics major and entrepreneurship minor, was thinking about her father before commencement on Sunday. He had to drop out of high school in the Dominican Republican because he couldn't afford the uniform that was required. Now she is graduating from college and thinking of pursuing a doctoral degree.
"A Ph.D. was completely unheard of in my family,'' said Hernandez, of New Brunswick. "Being part of the first class of Future Scholars made me want to reach higher and want more for myself. We are the role models because other people are going to be walking in our shoes.''
For some graduates, Sunday marked a bittersweet moment for those sad to leave the school they called home for the last four years, although they are excited for the next chapter of their lives.
"It's been the best four years ever,'' said Chris Sylvia, from Ocean Township who is graduating with a degree in criminal Justice. "It's awesome I get to start the next chapter, but, on the other hand, no part of me wants to leave college. Between the fun I had and the friends I made, every turn I've taken I've had a great time at Rutgers.''
Sylvia, who worked as a community service officer for the Rutgers University Police Department, plans to enlist in the U.S. Coast Guard in the fall.
"I am excited to be done, but there are things I will miss,'' said Gabrielle Musso, who is graduating with a degree in psychology from the School of Arts and Sciences. "I will miss my friends the most, and I will miss living on campus and enjoying student life by just walking out the door.''
---
For media inquiries contact Andrea Alexander at andrea.alexander@ucm.rutgers.edu or 848-932-0556