September 11 Inspired Trauma Surgeon to Serve When Disaster Strikes
New Jersey Medical School's Adam Fox worked as a paramedic dispatched to Ground Zero after the attacks on the World Trade Center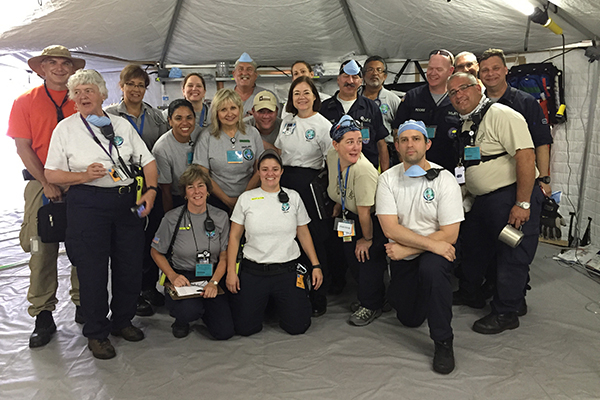 On Sept. 11, 2001, Adam Fox worked as a paramedic on an ambulance dispatched to Ground Zero to respond to the terrorist attack on the World Trade Center. 
Like for so many, it's a day that shaped many things that came after in his life.
"I drove into the city while everyone else was leaving," says Fox, now section chief of trauma for the Division of Trauma Surgery and Critical Care at Rutgers New Jersey Medical School. "Both towers had come down by the time I got there, and I was at the pile when 7 World Trade Center fell. We staged and took care of the firefighters and rescue workers who were digging through the rubble."
Fox stayed in Manhattan that day – traveling between the site where the Twin Towers fell and Chelsea Piers, which had been set up as a receiving hospital for survivors. He returned over the days that followed to help provide medical care to those searching through the tons of rubble left behind.
"I had a feeling in the pit of my stomach that there was no way anyone could've survived the collapse," says Fox. "My first impression was that this looked like special effects from a movie."
Still, despite the devastating loss of life, Fox's inclination to run toward scenes of disasters only grew stronger after that horrific day. In medical school, he says, he was drawn to specialties that required urgent care and rapid decision-making, which is the reason he became a trauma surgeon and critical care doctor.  
He has spent nearly 10 years working with the National Disaster Medical System (NDMS) as a member of the Trauma Critical Care Team. Fox also recently became the first civilian doctor to train alongside the U.S. Air Force Critical Care Air Transport Teams (CCAT) to provide in-flight critical care to victims of disasters.
Through his initial two-week CCAT training at Wright-Patterson Air Force Base, Fox learned the specialized skills needed to care for patients at altitude, on a moving airplane. "One thing we had to learn was flight physiology," he says. "I went in an altitude chamber to see what hypoxia feels like so I would understand what it can do to me and patients."
"To be able to help people suffering from such devastation definitely drives me. I love being able to give something back to my country."
Since then, he has joined two additional Air Force patient mobilization trainings in Savannah, Ga., and Norfolk, Va., to continue practicing for the unpredictability of critical care in the back of a military transport aircraft. "We simulated patients who were injured and needed evacuation," he says. "We would load them on the aircraft and take off, running through patient scenarios and caring for them in flight."
The ongoing work that Fox does with both the Air Force and NDMS haS helped him become one of just a handful of doctors throughout the country who are ready and prepared to help on a moment's notice when events like 9/11 or a devastating natural disaster strike.
"Whether it's an active-shooter event or an earthquake, flood or hurricane, this is a skill set I can take anywhere in the world," Fox says. "To be able to help people suffering from such devastation definitely drives me. I love being able to give something back to my country."