Sen. Menendez Visits Rutgers to Weigh In on U.S. Foreign Policy, Dictators and the Ukraine War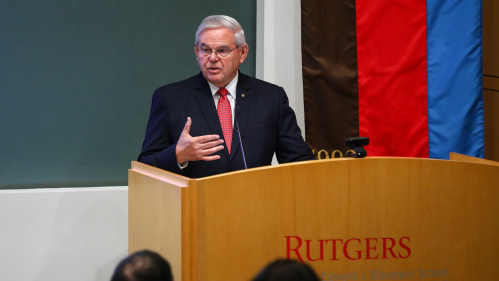 To contend with autocrats, "we must respond with a U.S. foreign policy that prioritizes our highest American values and principles," the Democrat says 
Authoritarians attacking democracies has emerged as one of the central foreign policy struggles of our time, U.S. Sen. Bob Menendez warned Friday during the Gov. James J. Florio Distinguished Visiting Scholar in Public Policy lecture at Rutgers University-New Brunswick. 
Menendez spoke about contending with autocrats and the Russia-Ukraine war as part of his talk "Championing U.S. Foreign Policy and Strengthening our Global Engagement," presented by the Edward J. Bloustein School of Planning and Public Policy. 
"This struggle is playing out, of course, in the headlines in Ukraine," said Menendez, who serves as chair of the Senate Foreign Relations Committee. "It is a struggle between those of us who support individual freedoms and those who imprison their citizens. It is a struggle between rule of law and corruption. It is a fight between those of us who value basic human rights and those who use violence and torture to stay in power." 
"It is a battle, yes for democracy, but it is also a battle to understand whether international rule of law and order – that we, the United States, helped to create after World War II and that has brought us peace and prosperity for the better part of 75 years – can be sustained," Menendez said. 
His speech comes at a particularly fraught moment in foreign relations as the world grapples with its response to the Russian invasion of Ukraine. 
"I will just say that in my 30 years of doing foreign policy between the house and the Senate Foreign Relations Committee, I have never ... seen the confluence of more challenging global events than we face right now," said Menendez, a 1979 graduate of Rutgers Law School in Newark. "Who would have thought that in the 21st century, in the year 2022, that we would be seeing a European war?"  
"But that is what we are in in midst of because of the vicious and depraved actions of one man in the world, Vladimir Putin," he said. 
The simple truth, Menendez said, is autocrats protect each other. "Venezuela gets loans and oil investments from Moscow and Beijing," he said. "Turkey facilitates illicit gold trade in Venezuela. Russia and Iran cooperate in Syria." 
To contend with the forces pushing back against democracy, "we must respond with a U.S. foreign policy that prioritizes our highest American values and principles," said Menendez, who spelled out five priorities. 
"We must come to the defense of human rights," he said. "We must stand up for the truth against disinformation. We must arm ourselves and our allies to defend against attacks. We must prepare for the battlefield of the future that includes economics and technology. And we must take care of our own democracy at home – shoring up our democratic institutions as an example to the world of what a great democracy can be." 
"Now some of the public policy students here today at the Bloustein School of Planning and Public Policy will go on to become public servants," Menendez said. "You'll rise in your careers. Whether you work in constituent services or the state legislature or on Capitol Hill or maybe even someday as the chairman of the Senate Foreign Relations Committee, one day you will be faced with tough choices that will affect people's lives. How will you decide?" 
Menendez added, "All of us must take a stand against the dictators and autocrats who will do whatever it takes to silence their critics. All of us need to speak up." 
In 2015, the Bloustein School partnered with the offices of the law firm Florio, Perrucci, Steinhardt & Fader LLC to recognize the public service career of New Jersey Gov. James J. Florio through the endowment of a high-level visiting scholar who speaks about an issue that was central to their legislative and gubernatorial career.  
Lecture themes have included public service, foreign policy, the environment, transportation, education, welfare reform, health care and gun control.