Rutgers Uses $2.7 Million Grant to Reduce Flooding and Restore Ecosystem in Linden
Rutgers-New Brunswick engineering students' eco-friendly designs will curb stormwater runoff
'I think they [rain gardens] are awesome. They have a lot of benefit to the environment as well as the community around it. I'm glad to see it constructed and our ideas implemented, so that's very rewarding.'

 

– Nikita Patel, School of Engineering
When Superstorm Sandy assaulted New Jersey in 2012, ocean water invaded dozens of homes and the public works department in Linden's vulnerable Tremley Point section, causing an estimated $3 million in damages.

Two years later, an ambitious project aimed at curbing flooding in the low-lying area began taking root, thanks to Rutgers University-New Brunswick engineering professor Qizhong (George) Guo and a $2.7 million National Fish and Wildlife Foundation grant.

The ongoing project features rain gardens and rain barrels to intercept rainwater, an underground stormwater detention basin, ditch dredging, an enlarged culvert and major wetlands restoration. Numerous students, professors and staffers have been involved in designing and fulfilling these solutions.

"They've been fantastic," said George R. Vircik, the city engineer who graduated from Rutgers in 1969 with a degree in civil engineering. "They're very independent. They're doing, we think, a great job. There's great communication back and forth. If they need help, we just cooperate with each other."

This spring, Guo's 17-student senior capstone design class designed three green and/or gray infrastructure projects, including two rain gardens installed recently. The nearby Phillips 66 Bayway Refinery donated $60,000 toward the rain garden work.

Green infrastructure seeks to restore natural processes to handle stormwater and create healthier urban environments. Examples include rain gardens, green roofs and vegetated channels, according to the U.S. Environmental Protection Agency. Gray infrastructure includes storm sewers, detention basins and other conventional engineered structures to cope with stormwater.

The Rutgers plan for Parkway Avenue in Tremley Point includes rain barrels and rain gardens, the underground basin and dredging a ditch. At Madison Avenue, wetlands would be built on Blue Acres land acquired by the state from willing sellers. Dozens of the approximately 275 homes in the Tremley Point area – at the headwaters of the Marshes Creek – were devastated by Sandy. The flood-prone creek flows into the tidal Rahway River, which drains into the Arthur Kill.

The two rain gardens built recently capture and treat stormwater runoff from Memorial Field Park near Tremley Point and can also help ease downstream flooding.

The first is a 50-foot by 40-foot depression in the ground with 500 plants and 30 shrubs. It intercepts and slows down runoff from paved and other hard surfaces, while filtering waste from a nearby dog park, according to Guo, a professor of civil and environmental engineering in the School of Engineering. It features 10 species of plants and six types of shrubs. The 2,000 square-foot garden can handle roughly 2,000 cubic feet of water. That's nearly 15,000 gallons – enough to fill a backyard swimming pool.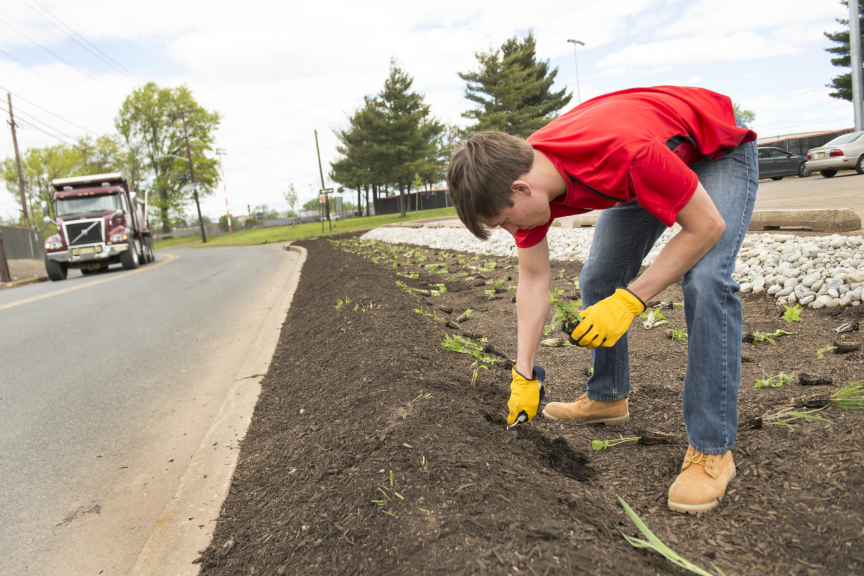 "Rain gardens are a great way to take a little space and use it as productive green infrastructure," said Kyle Boehme, 22, a civil and environmental engineering major from Bridgewater who graduated in May. "They absorb a fairly large amount of water for their size."

The second rain garden – about 200 feet long and 15 feet wide – receives runoff from a parking lot and baseball field in Memorial Field Park. The garden has 10 species of plants (800 overall) and can capture roughly 22,500 gallons of water.

"Maybe it can serve as an inspiration for a community to take care of their environment, maybe build one for their own home," said Hannah Delos Reyes, 21, of Union. She also graduated in May with a degree in civil and environmental engineering.

Nikita Patel, another civil and environmental engineering major, joined Delos Reyes, Boehme and other students in helping to plant the second garden.

"I think they are awesome," said Patel, 23, who is from the Colonia section of Woodbridge and graduated in May. "They have a lot of benefit to the environment as well as the community around it. I'm glad to see it constructed and our ideas implemented, so that's very rewarding."

Several more rain gardens are planned for public lands and private residential properties in the Tremley Point area, Guo said.

"One of the reasons is to try to convince residents to install rain gardens," he said. "It's educational."