Rutgers Trailblazer to Become Nation's First Doctor of Clinical Lab Science
Brandy Gunsolus aims to improve patient care through School of Health Professions' unique program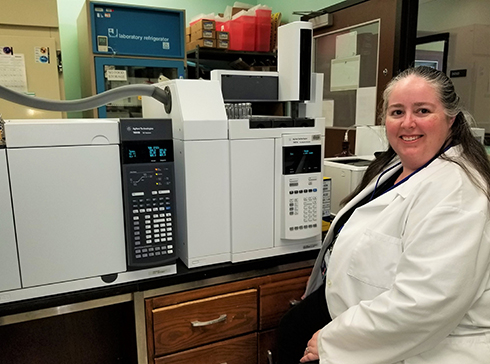 "There is a gap between practicing physicians and labs not understanding the correct tests to order or how to interpret them. For patient safety, we need to fill this gap."

 
The patient, a quadriplegic with an irregular heartbeat, was set to get a pacemaker when a test came back suggesting he had pneumonia, delaying surgery and lengthening his hospital stay.
But when a medical team consulted at his bedside, Brandy Gunsolus, a Rutgers University clinical lab doctoral student and certified medical laboratory scientist, questioned the diagnosis. She noted the man used a breathing tube – and that bacteria found in a test result likely came from the tube, not his lungs. A second test, considered the gold standard in medical care, was clear. The attending physician agreed with her assessment. 
"He got his pacemaker the next day, which saved 10 days on intravenous antibiotics, 10 days on a ventilator and $22,000 in hospital costs," said Gunsolus, who is completing her residency at a Rutgers-affiliated Georgia hospital.
At that moment, Gunsolus felt fully integrated into the health care team. For the past year, the doctoral student has been a pioneer in a new health care model that brings advanced-practice clinical lab scientists to a patient's bedside to work hand-in-hand with physicians and other health care professionals.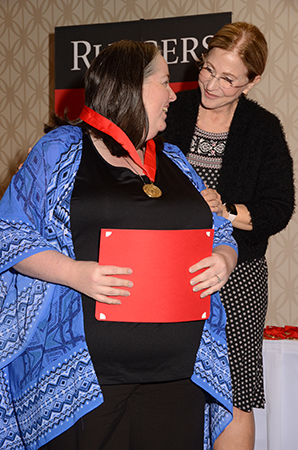 On May 16, Gunsolus will be the first graduate of a doctoral program that is the first of its kind in the nation – Rutgers School of Health Professions' advanced practice doctorate in clinical laboratory science (DCLS). The school launched the program in 2014 to address an ongoing need for greater accuracy and cost efficiency in lab testing.  
Gunsolus saw firsthand the need to integrate lab science into the health care system. A medical lab manager in Louisiana, she was frequently asked what lab tests to order and if she could help interpret the results. Her desire to be fully prepared to answer those questions fueled her decision to get a master's degree in clinical laboratory science at the School of Health Professions in 2013 and then to enroll in the doctoral program.
"There is a gap between practicing physicians and labs not understanding the correct tests to order or how to interpret them. For patient safety, we need to fill this gap," she said.
In addition to performing rounds at the hospital with the medical team, Gunsolus reviews all laboratory test orders and is part of the hospital's diagnostic management team as well as a nationally sponsored consumer information response team that answers patient questions about lab tests. During her residency, she documented nearly $700,000 in savings that came from consulting with clinicians and health care providers about lab tests. But what most excites her is being part of the attending health care team.
"At first it was a bit scary. I didn't know if I'd be accepted, but overwhelmingly there's been a positive result," said Gunsolus, who has written a blog about her journey in the Rutgers doctoral program. "I've had physicians say, 'I want you to do the rounds with me every day.'"
She looks forward to beginning her paid job June 1 at the Augusta, Georgia, hospital as the nation's first doctor of clinical lab science.
"Brandy has become a trailblazer, forging a new clinical career path for medical laboratory scientists and advancing the quality of health care," said Nadine Fydryszewski, DCLS program director and professor in clinical laboratory science.