Rutgers Students Travel to Capitol Hill to Advocate for Financial Aid
Students from New Brunswick, Newark and Camden visit lawmakers seek continued federal funding support for education grants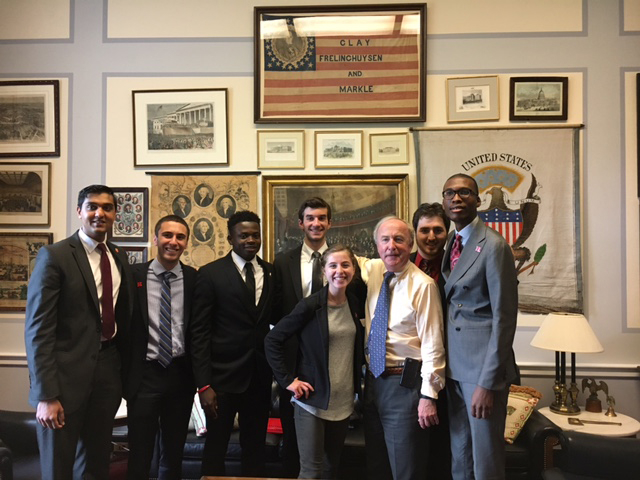 ''This is not some photo opportunity. Actual change comes from these meetings.''

 

– Ryan Berger, a senior at Rutgers-New Brunswick 
When Mimi Mincer graduates from Rutgers University-Camden in a few weeks she will be fulfilling a dream she held on to for 20 years, ever since she dropped out of high school after becoming pregnant with her first child.
And today she plans on delivering an important message in Washington, D.C., to her representative in Congress: Her success story would not have happened without the financial aid that made it possible to go to school while supporting her family.
"I am just one success story among many,'' Mincer said. "By increasing funding for financial aid you are not just changing the trajectory of a student's life. That student might be a single parent. That student might be a father. You are changing the trajectory of a whole family.''
Mincer, 45, of Riverside, N.J., is one of 20 students from across Rutgers traveling to Capitol Hill to put a human face on the need for continued funding of federal aid programs. She is a survivor of domestic violence who will return to school in the fall to complete her master's degree in social work. Her goal is to become a counselor helping other domestic violence survivors.
"I didn't think this is how it was going to turn out when I decided to leave my ex-husband,'' Mincer said. "Financial aid has played a critical role in helping me complete my degree. I can't believe I am here.''
Rutgers students benefit from a variety of federal aid programs totaling more than $400 million, including Pell Grants, Supplemental Educational Opportunity Grants, Federal Work-Study, and Direct Loans.
Nearly 18,000 students – one-third of Rutgers undergraduates – receive Pell Grants, which provide $77 million toward their educational costs. As of last year, Rutgers University-New Brunswick ranked in the top five of all public universities for Pell funding.
Students traveling to Washington will meet with the 14 members of the New Jersey Congressional delegation and their staff to thank them for providing robust funding for financial aid. Congress overwhelmingly rejected deep cuts in aid that President Donald Trump had proposed for the 2018 fiscal budget. Students plan to ask for a modest increase in the Pell Grant maximum award as well as ask for continued support for the Federal Work-Study program and federally subsidized loan program.
Students also will ask members of Congress to reject proposals that would eliminate the federal Supplemental Educational Opportunity Grant Program, which provides additional funding to Pell grant recipients with the greatest financial need.
"Our student advocates take this opportunity very seriously, as they represent the interests of thousands of fellow Rutgers students who rely on federal student aid," said Francine Newsome Pfeiffer, Rutgers' Vice President for Federal Relations. "This visit to Washington allows them to show their gratitude to our members of Congress for approving large increases to key student aid programs in 2018, and I fully expect they will make the case for maintaining this increased funding in 2019."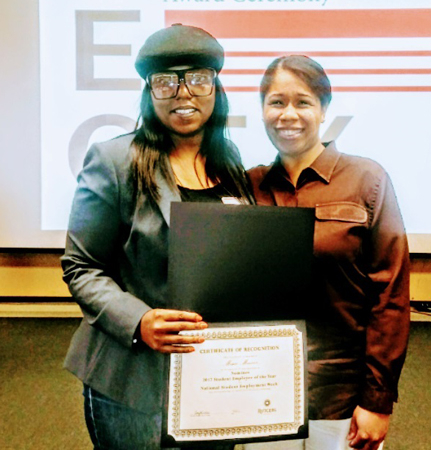 Rutgers students have made the annual trip to Washington for more than 15 years. Some this year were traveling as part of Big Ten on the Hill, an advocacy trip organized by the Association of Big Ten Students.
The students are scheduled to meet with Sen. Bob Menendez, Rep. Donald Norcross (D-1st), Rep. Josh Gottheimer (D-5th), Rep. Albio Sires (D-8th), Rep. Bill Pascrell (D-9th), Rep. Donald Payne Jr. (D-10th) and Rep. Rodney Frelinghuysen (R-11th) and the offices of Sen. Cory Booker, Rep. Frank LoBiondo (R-2nd), Rep. Tom MacArthur (D-3rd), Rep. Chris Smith (R-4th), Rep. Frank Pallone, Jr. (D-6th), Rep. Leonard Lance (R-7th), and Rep. Bonnie Watson Coleman (D-12th).

Ryan Berger, a senior majoring in political science and history at Rutgers-New Brunswick, is making the trip for the second time. Last year he met with Rep. Rodney Frelinghuysen (R-11th), chair of the House Appropriations Committee, when significant cuts to student loans were still on the table. At the time, he wasn't sure how much of an impact the trip would have. But Congress rejected the cuts and instead increased funding. Lawmakers also made Pell Grants year-round to help students who take classes during the summer and winter break, a change Rutgers students had advocated for during their meetings.
"This is not some photo opportunity,'' said Berger, of Teaneck. "Actual change comes from these meetings.''
Prosper Delle, a junior majoring in public administration at Rutgers University-Newark, said he saw an increase in his federal work-study aid following the trip last year and he is returning to show his appreciation.
"It is only right that I go back and thank them for actually listening to us and not cutting the budget – showing they care about residents,'' Delle said.
Berger said students should continue to make their voices heard, even though Congress has so far rejected cuts to financial aid, because without putting a face to the need, Congressional action could change.
"We have to keep coming back every year to remind them that we still care, we are still here and, if there are any changes, we will come back next year even angrier and even stronger,'' Berger said. "We will vote with this in mind, so don't forget about us.''