Rutgers Students Make Their Mark at U.N.
Five graduate students selected to intern with U.N. agencies this semester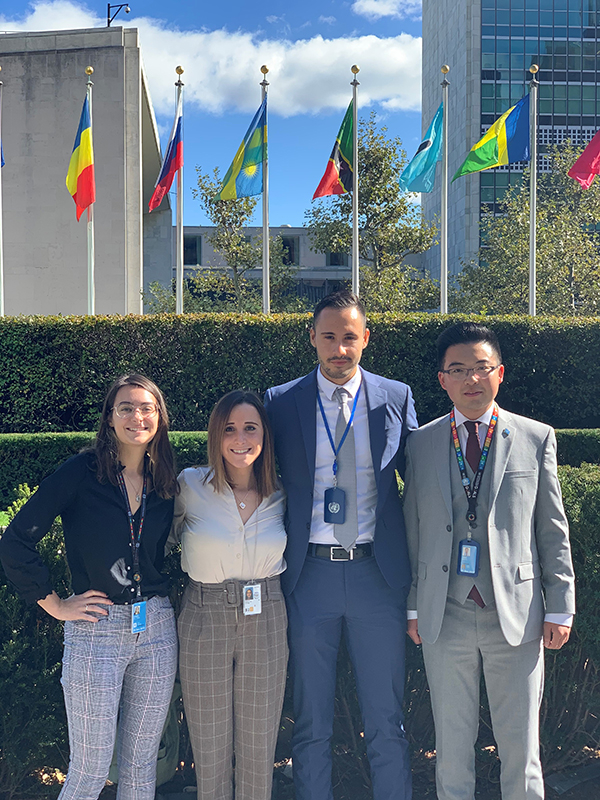 Rutgers University-New Brunswick's M.A. Program in Political Science - Concentration in the United Nations and Global Policy Studies (UNMA) at the School of Arts and Sciences has five students interning at the United Nations headquarters in New York City this semester. It is the largest group since the program's inception in 2014.
Rutgers is one of the few universities to offer a fully developed U.N. studies program at an advanced level, said Eric Davis, the program's executive director. Being aware of transnational issues is crucial because global trends influence everything, he added. One course is "Research Internship in United Nations and Global Policy Studies" for students who want hands-on experience.
"The internship processes for the U.N. and U.N. agencies are rigorous and competitive. Openings vary, so a significant Rutgers presence speaks volumes," said Roland Rich, a professor, internship adviser and former executive head of the U.N. Democracy Fund.
For the students selected, their determination and hard work was worth it.
Camilla Bober, an intern with the International Labour Organization (ILO), has seen the program's coursework influence her day-to-day. "The 'Public Health Infrastructures and National Security' course taught me to think about how technology, cybersecurity and health care systems can be intertwined with gender, labor and economic empowerment," she said.
Her assignments include a joint project with the ILO, U.N. Women and the European Union Partnership Instrument on women's economic empowerment in G7 countries. She is researching illustrative practices of women's economic empowerment in companies and government policies within these countries.
Bober, who travels to New York from Marlboro, received her B.A. at Rutgers in psychology and women's and gender studies. She was awarded the Henry Rutgers Scholar Award and is bilingual in English and Polish.
Briana Venditto, an intern for the U.S. Mission to the U.N. for the Management and Reform section, described attending some of the General Assembly debates and welcoming the new U.S. Ambassador to the U.N. Kelly Craft to the U.S. Mission. "I saw firsthand how the U.N. can impact the world in real-time," Venditto said. She wants to focus her career on helping as many people as she can with a long-term goal to work as a Foreign Service officer for the state department.
Venditto interns four days a week. Her daily tasks vary but include sitting in on Fifth Committee, responsible for administrative and budgetary matters, meetings to help staff take notes, and draft summary reports.
While interning, UNMA students are also offered a valuable benefit.
The UNMA program is the first academic unit in New Jersey to receive a New York State Board of Regents permission to operate in New York. With that, UNMA students can take Rutgers classes through a unique partnership with Marymount Manhattan College. The college, a 20-minute walk from the U.N., conducts classes through a two-way video wall that saves time, energy and money. It also gives students more ability to finish their degree quickly, Rich said.
Yasin Bennane works for the U.N. Office for the Coordination of Humanitarian Affairs in the Policy Analysis and Innovation section and interns fulltime. "The partnership has made juggling my internship, commuting and academic studies easier. The video wall feels like I'm in the classroom in New Brunswick without having to hop on the train."
Prior to his internship, Bennane worked with NGOs in the U.S. and Greece, where he volunteered with Echo100plus. Specifically, he worked at shelters and refugee camps teaching English, swimming and basketball to asylum seekers from several war-torn countries. He was drawn to the UNMA program because its students and faculty come from a wide variety of disciplines and areas of work experience.
Yizhong Yang, an international student from China, is interning at the U.N. Environment Programme with career aspirations to be an international civil servant at the U.N. He assists the head of communications and supports their social media platforms and events. Yang reflected on his part in a high-level political forum on sustainable development where he compiled the report on events that took place alongside the larger discussion. "I could feel the frontline of the diplomacy," he said. "It was an unforgettable moment."
Yang lives in New York City and enjoys taking his classes nearby.
He received his B.A. in diplomacy from the School of International and Public Affairs at Jilin University in Changchun, China. Yang credits the internship with helping him understand how the U.N. collaborates with intergovernmental affairs because of the work he has done with other interns across the office. 
Tamara Lazarus, an intern with U.N. Ombudsman and Mediation Services, just finished her placement. The office deals with grievances U.N. staff members have regarding their employment and workplace.
"Our students want to understand the issues roiling the world and work toward solutions," Davis said. "We're thrilled they are getting experience at the U.N. as well as at nonprofits across the world. Their work is an important contribution to society and will benefit future generations."