Ben Chin helped found Young People in Recovery, a national nonprofit celebrated by the White House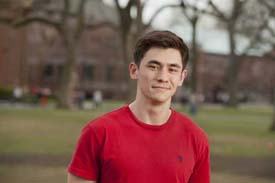 All his life, people told Ben Chin he had potential.
He didn't believe them until he was behind bars.
"It was a reality check for me. Every morning I had to confront what I'd done, and why I'd done what I'd done, and the way I was living my life," said Chin, who by 19 had been in an out of treatment centers for alcohol and drug addiction and incarcerated at the Mountainview Youth Correctional Facility in Clinton Township on an assault conviction.
"I started to take action to make fundamental changes to understand who and what I was, and what I did, and what I wanted to become."
What he's become is Rutgers University's ninth Truman Scholar – the second consecutive Rutgers student to receive the honor and the second to come to the university through its Mountainview Project, which helps ex-offenders transition from incarceration to higher education.
"This means a lot not only to me, it means a lot to the Mountainview Project and the fact that education initiatives in terms of prison reform can do this," said Chin, 24, of Cresskill, citing 2012 Truman recipient Walter Fortson and himself as powerful examples of the program's success. "Of course the same goes for the importance of Rutgers Recovery Housing and how it supported me. If it weren't for these two programs, I wouldn't be a Rutgers student."
Chin, a junior in the School of Arts and Sciences, is among the 62 students selected by the Harry S. Truman Scholarship Foundation from 54 colleges and universities who will receive Truman scholarships. The scholarship provides up to $30,000 for graduate study to college juniors with "exceptional leadership potential" who are committed to careers in public service. Scholars also receive priority admission and supplemental financial aid at some premier graduate institutions, leadership training, career and graduate school counseling and internship opportunities within the federal government.
Chin said he is "ecstatic" about the announcement, as is his family, including his Midwestern mom, who he calls his "biggest fan" and his Chinese-born father, who recently was diagnosed with an advanced stage neck and throat cancer.  "What I know about family I learned from my dad's side of the family and being Asian-American," he said of the close bond he shares with his father's five brothers and sisters who all live in New Jersey and New York. "When I told him I won, it's the most animated I heard him in a long time. So that was good."
The  linguistics and public health major said he plans to pursue either a law degree or master's in public policy. Chin  is hopeful his success will put the issue of youth recovery "on the map."
Typical teenage experimentation led the former football, baseball player and runner to his first experiences with alcohol and drugs at 14. By 15, Chin completed his first stint at a substance abuse treatment center, followed by three more his senior year of high school. The problem wasn't the treatment programs, he said, but the lack of a support network when he returned to high school.
"I was back in the same environment," he said. "There was no peer group, no one also in recovery." Had there been, said Chin, perhaps he wouldn't have repeatedly relapsed or wound up in prison after a "fist fight gone wrong."
While serving 85 percent of his three-year sentence, Chin got sober and enrolled in a college course through the mail. That's when a few of his fellow inmates told him about Rutgers' Mountainview Project, which was "a more realistic college experience," he said. "I could take those courses at no cost and professors were coming in."
One was veteran Rutgers history professor Don Roden who has been volunteering as a tutor in prisons for more than a decade and worked with corrections officials at Mountainview to start the pilot program in which former inmates can get admitted into Rutgers.
Roden said he is thrilled for his former student and called the back-to-back selection of Truman Scholars from the Mountainview Project "stunning."
"Ben Chin is much more than an exceptionally bright student; he is also a young man who cares deeply about the world around him.  As a student mentor and leader, he has contributed so much to the success of the Mountainview Project at Rutgers," Roden said.
Before being released in February 2010, Chin earned 19 credits through the program. The thought of matriculating at Rutgers both excited and terrified him. "I was very, very nervous with all the drinking and partying," he said.
That's when two students from Rutgers Recovery Housing and recovery counselor Frank Greenagel visited Mountainview and eased his mind. Chin moved into Recovery Housing in September 2010 and spent two years there. "I just felt like I belonged," he said.
At the end of his first semester on campus, Chin joined 40 students from the nation's other college recovery communities for forums sponsored by the Substance Abuse Mental Health Services Administration. Inspired by those meetings, Chin and 12 other recovering youth founded Young People in Recovery (YPR), a national nonprofit dedicated to improving access to adequate recovery support services for young drug and substance abusers. YPR now has chapters in 15 states and has been celebrated by the White House.
This winter, Chin and another YPR member from Texas Tech University launched the consulting firm PTR Associates – Prevention Treatment Recovery – which is working on a contract from SAMHSA to help with that federal agency's BRASS ("Bringing Recovery Services to Scale") initiative. This September, during National Recovery Month, Chin was a speaker at the National Press Club when SAMHSA released its report on drug use and health in the United States.
Though he is honored to be a Truman scholar, Chin said his public service efforts were motivated not by a desire boost his credentials, but to reach back and extend a hand to others who came from a situation similar to his. "If you want to see more young people be successful after treatment, you have to support us," he said. "We shouldn't be exceptions to the rule, it should be available to everybody."
Arthur D. Casciato, director of the Office of Distinguished Fellowships said that the Truman Scholarship is one of the most competitive awards available to U.S. students. "That Ben Chin was named a Truman Scholar is no surprise," Casciato said. "He is perhaps the most deserving candidate I have encountered in my 13 years of helping undergraduates apply for distinguished fellowships.
---
Read our story about Walter Fortson