Largest scholarship award in Oxford's history bequeathed by widow of Atlantic Records founder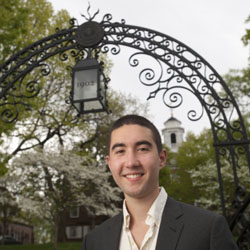 Credit: Nick Romanenko
Click here for a high resolution version
Read more profiles of the Class of 2012
You might say that Kevin Tobia is a Renaissance man. He graduates from Rutgers next month with degrees in philosophy, cognitive science and mathematics and is then off to the University of Oxford in England after being named one of only 15 students in the world to receive a full two-year graduate school scholarship bequeathed in the name of the founder of Atlantic Records and his wife.
Tobia, a 22-year-old Chatham resident whose parents both graduated from Rutgers in 1982, was thrilled to find out he was selected. "I've never lived outside of New Jersey so this will be quite different," he said. "It is going to expand my vision of the world, and I think it is going to be an incredible experience."
Tobia received the scholarship – which will cover tuition and living expenses – after being accepted into the philosophy program at Oxford. He was recognized for his academic achievements at Rutgers by a committee of Oxford's humanities division that reviews the academic records of all those accepted into the program before making its final selection.
The scholarship is named for the late music mogul Ahmet Ertegun who helped shape the careers of music legends like Ray Charles, Eric Clapton, Led Zeppelin and the Rolling Stones and his widow, Mica.
"My dream is that one day, Ertegun Scholars will be leaders in every field – as historians, philosophers, as archaeologists and literary scholars, as writers and composers, as statesmen and theologians," said Mica Ertegun, who instituted the scholarship to help provide financial support to the best humanities scholars in the world.
Tobia, a classical pianist who works as a DJ in his spare time, wasn't aware of the $26 million gift to Oxford – the biggest donation for humanities students in the university's 900-year history.  He finds it is somewhat ironic that he received the scholarship from the estate of a man whose life was centered on the music industry.
 "I've been playing the piano since I was in first grade," said Tobia, whose experience as a musician led to his selection as the musical director for a Livingston Theatre Company production his junior year. "In high school I played every week at church, and when I got to college I played in the dorm. Although I didn't major in music, whenever I want to unwind and relieve some stress, I play the piano."
When Tobia entered Rutgers four years ago, he wasn't certain what direction his academic career would take. He was always a good math student and enjoyed politics. Then he took his first philosophy courses and became interested in the role ethics plays in both social and political decision-making.
Last year, the School of Arts and Sciences student was selected as an undergraduate associate at the Eagleton Institute of Politics, where he sought to combine his interest in philosophy, ethics and politics. He said that although his ultimate goal is to teach at a university, he would like his academic work to have some influence on the ethics of political discourse.
Looking back on his time at Rutgers, Tobia said one of the best decisions he made was to join the social fraternity Chi Psi, where he has been involved in a variety of fundraising efforts and met people he hopes to be friends with for life.
"When I came to Rutgers, I couldn't believe how big it was, I was just amazed," said Tobia, who credits several professors with providing the academic guidance he needed to succeed. "But I have to say that looking back over these last four years and ahead to the next two, this was the best decision I could have made."