As a first-year student, Marina Ford remembers staying up at night, crying with a friend and trying to provide comfort after the young woman was sexually assaulted.
That experience haunted the Brooklyn resident, influencing her choice of courses and causes during the rest of her years at Rutgers University-New Brunswick.
"I know a lot of sexual-abuse survivors, and as an undergraduate woman I have experienced and seen a lot of things that make me uncomfortable," says Ford, a student in the School of Arts and Sciences who expects to receive a bachelor of arts degree in women's, gender and sexuality studies this month, with a double minor in comparative and critical race and ethnic studies, and creative writing.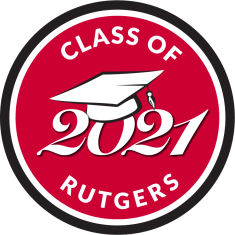 While searching for ways to make a difference on campus, Ford enrolled in a two-year honors certificate program offered by the university's Institute for Women's Leadership (IWL), while also serving as a peer teacher for the institute's course on women and work, and as a social media intern, among other activities.
She also has worked as an intern for Rutgers' Center for Women's Global Leadership this year, in addition to completing an internship with Day One, a New York-based agency dedicated to survivors.
This spring, as a result of her time at IWL, she was appointed to the Campus Sexual Assault Commission for New Jersey, a new panel convened to evaluate responses to sexual assault on the state's college campuses.
 "As the only student on the commission, I see my role as that of a someone who knows the undergraduate experience, and as someone who will be an advocate for my peers," says Ford, who grew up in Little Egg Harbor Township and who was appointed to the commission by New Jersey Assemblyman Jon Bramnick, R-21.
The group's mandate includes evaluating existing policies, helping colleges and universities implement campus climate surveys, and guiding administrators as they develop institution-specific action plans based on the surveys' findings.
Bramnick says his warm relationship with the Institute for Women's Leadership, and particularly with Lisa Hetfield, associate director and director of development for the institute, prompted him to reach out when he was seeking an appointee to the commission.
 "I was looking for a woman leader, and in Marina Ford I found an honors student who is a perfect match," the Republican Assembly leader says. "For me, the most important aspect is to have transparency, and to find out what's really happening on college campuses. That's why a student is the perfect choice."
Sarah McMahon, director of the Rutgers Center on Violence Against Women and Children, is also an inaugural member of the commission. The Rutgers representatives join educators from William Paterson University, Ramapo College and Drew University, as well as Donna Chiera, president of the American Federation of Teachers New Jersey, among others.
The state's Department of Children and Families and the Office of the Attorney General also assigned representatives.
Ford believes she brings a unique eye to the commission, which held its first meeting earlier this year.
"Human rights are being violated every day. This is a problem not just women are experiencing, but men too," says Ford, who hopes to pursue a master's degree in social work eventually, and sees herself working at a Title IX office on a campus, or for a non-profit agency.
Although Rutgers has a robust system in place to support students who experience sexual assault, she fears that too few students are familiar with these resources. Others feel uncomfortable reaching out.
Years into the modern women's movement, and deep into the #MeToo era, Ford says, too many women continue to be blamed for an unwanted sexual experience. She cited a rape trial in which the defense attorney displayed a young victim's underwear in the courtroom as "evidence" of his client's innocence.
As part of her certificate program's required social action project, Ford organized and moderated a webinar last December titled "We Believe You: An Introduction to On and Off-Campus Resources for Survivors at Rutgers."  
Reaching out to friends and classmates through social media and word of mouth, she also contacted more than 50 student organizations campuswide to promote the Zoom event.
The 65-plus students who signed on heard from panelists representing the Office for Violence Prevention and Victim Assistance-New Brunswick, and the Middlesex Center for Empowerment. Rutgers' Center for Social Justice Education and LGBT Communities, and Manavi, an organization supporting South Asian survivors of sexual and domestic abuse, also sent speakers.
Participants learned about counseling services, legal services, hotlines and programs available to them so, as Ford stressed, "They will never have to feel as if they are alone when dealing with this trauma."
They also shared conversations about consent, inclusive sexual assault education and healthy versus unhealthy relationships.
The effects of sexual trauma are often deep and long lasting, she notes.
Many survivors report experiencing mental health problems such as anxiety, depression, insomnia and drug dependence. Physical and reproductive health, education and even career aspirations often suffer, as both class attendance and grade point averages plummet.
Hetfield says both she and Sasha Taner, who directs the IWL Leadership Scholars Certificate Program, knew immediately that Ford was the ideal candidate for the commission.
"I've gotten to know Marina over the past three years, and I'm impressed with the ways she steps up to challenges, goes beyond what is required, and takes her many activities outside the classroom seriously," Hetfield says.