Rutgers Physician Assistant Studies Among Top 10 in Latest U.S. News and World Report Graduate School Rankings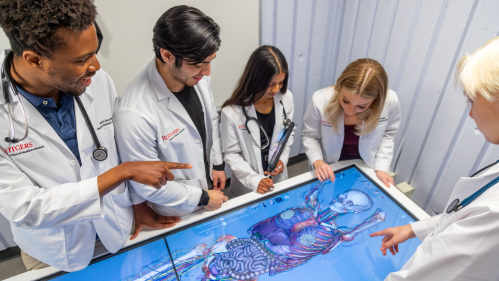 Rutgers School of Health Professions' Physician Assistant program ranks best in New Jersey and top-ranked nationally

 
The Rutgers School of Health Professions' Physician Assistant program has been ranked No. 7 in the country by U.S. News & World Report Best Graduate Schools, continuing the program's long reputation as one of the nation's best.
Recognized alongside renowned universities such as Duke, Baylor, and Stanford, Rutgers moved from No. 21 in 2019 to one of the top 10 this year. The upward trajectory represents the highest ranking in the program's history, marking Rutgers School of Health Professions as one of the leading institutions in the country for students to pursue a physician assistant graduate degree.
School of Health Professions interim dean Alma Merians congratulated the Department of Physician Assistant Studies, saying, "We're honored to have our physician assistant graduate program recognized again as one of the best by U.S. News & World Report. The top 10 ranking is a testament to our faculty and students and the hard work that goes into achieving such wonderful recognition. Congratulations, we are extremely proud of you."
According to U.S. News and World Report, the graduate schools rankings are based on peer assessment surveys completed by deans, other administrators or faculty at accredited degree programs or schools. To gather peer assessment data, U.S. News asked academic experts from 211 accredited physician assistant programs to judge the academic quality of a school's faculty, research, and students on a scale of 1 (marginal) to 5 (outstanding). The statistical and reputation surveys were conducted in the fall of 2022 and early 2023 and the results were released by U.S. News & World Report on April 25.
 "We have high standards for preparing future healthcare providers. But we also provide a supportive environment to help students succeed. The rankings, I believe, are reflective of all those factors which our peers recognize," said Matthew McQuillan, associate professor, and department chairman.
Shaping the Next Generation of Physician Assistants
As part of Rutgers Biomedical and Health Sciences, the School of Health Professions Physician Assistant program is highly competitive and accepts 50 students per cohort, typically receiving around 1,500 applications for those spots. "Our students apply to the program for various reasons, including our long-established history, exceptional exam pass rates, and dedicated faculty. They also tell us our mission resonates with them, as does the supportive environment they experience and hear about from other students and alums," McQuillan said.
For the past five years, 99 percent of those who graduated from the Rutgers program have passed the Physician Assistant National Certifying Examination (PANCE) exam. This ranks them second highest among the U.S. News top 20 ranked schools.
"As one of the longest-standing PA Programs in the nation, we never rest on past achievements. Our excellence is derived from staying dynamic and current through data-informed assessment and quality improvements, said program director Lori Palfreyman. "Innovative teaching techniques, a commitment to diversity, equity, and inclusion, and student wellness strategies are a few of the ways we stay true to our mission to graduate competent healthcare providers."
The physician assistant profession is among the fastest-growing professions in America. Physician assistants serve as an essential component of the medical team. Nationally certified and licensed by the state, physician assistants work in collaboration with doctors to provide primary care and specialized services, including histories and physicals, writing prescriptions, ordering diagnostic studies or outpatient therapies, and more.
Rutgers physician assistant students participate in various professional organizations, interprofessional activities, and social learning opportunities, promoting educational advancements, networking, and the ability to collaborate with other healthcare professionals. "Through our partnership with RWJ-Barnabas Health, New Jersey's largest academic healthcare system, our students gain hands-on clinical experience, working in teams and honing the skills and knowledge learned in the classroom. In addition, through the H.O.P.E. Clinic in Plainfield, NJ students develop into socially responsible, humanistic healthcare providers while providing primary healthcare needs to underserved populations," said Palfreyman.