Rutgers-Newark 2019 Commencement Speaker: Dorothy Roberts
Social justice advocate, scholar joins jazz legend and Newark native Wayne Shorter to receive honorary degrees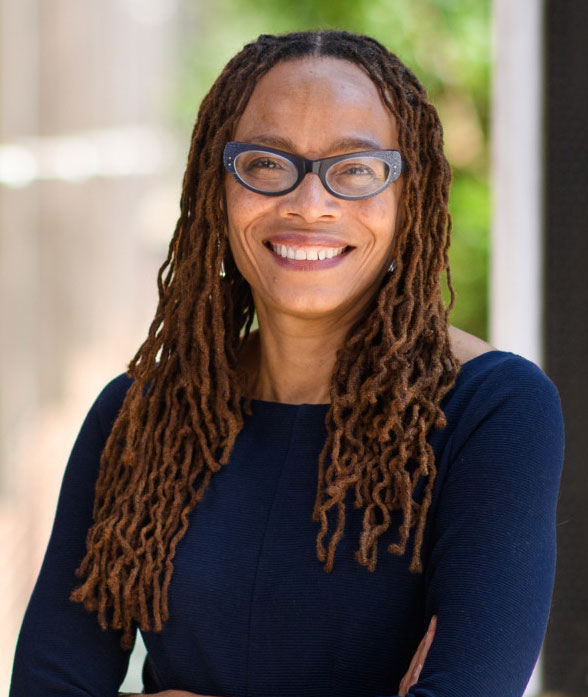 The Rutgers University Board of Governors confirmed today that interdisciplinary scholar, public intellectual and social justice advocate Dorothy Roberts will deliver the keynote address at the Rutgers-Newark Commencement ceremony on May 22 at the Prudential Center. Selected for this honor by a committee of students, faculty and staff, Roberts also will receive an honorary Doctor of Laws degree.
In advancing the committee's recommendation of Roberts to the board for this honor, Rutgers-Newark Chancellor Nancy Cantor stated, "Dorothy Roberts is one of the nation's leading voices striving to expunge deeply embedded discriminatory ideas and practices from the American social fabric, embodying principles that Rutgers-Newark holds most dear as an institution that is not just diverse, but committed to leveraging our diversity as a partner in lifting up our community, our nation, and our world, especially by lifting up its people."
The board also approved jazz legend and Newark native Wayne Shorter to receive an honorary Doctor of Fine Arts degree at the Rutgers-Newark Commencement in May. In advancing his nomination to the board, Cantor observed that from his early training at Newark Arts High School, an incubator of renowned jazz talent including Sarah Vaughan, he went on to become "recognized globally as one of the great musicians of our time," having won multiple Grammy Awards and making him "an inspiration to people around the world, especially here in his hometown of Newark."
A Voice for Justice
As a scholar, teacher and activist whose work appears in both scholarly and popular venues—including myriad television and radio shows and a wildly popular TED Talk viewed by more than a million people to date—Roberts has aimed in her work to sharpen perception of discriminatory assumptions and practices woven into our everyday lives. She advocates for realizing a vision of the world in which human beings of all backgrounds, genders, religions and abilities actually are valued as equal.
Following undergraduate study at Yale and law school at Harvard, Roberts clerked in the U.S. District Court of the Southern District of New York, later joining Paul, Weiss, Rifkind, Wharton and Garrison LLP, before launching on an academic career that started notably at Rutgers Law School, Newark, where she served on the faculty for a decade starting in 1988. During her time at Rutgers-Newark, she achieved national renown, publishing a landmark article on black women's reproductive rights in the Harvard Law Review in 1991, then under the editorial leadership of future President Barack Obama. She also completed her first book, Killing the Black Body: Race, Reproduction and the Meaning of Liberty, widely acclaimed as one of the most enduringly important books on the topic. She went on to successive faculty appointments at Northwestern University and the University of Pennsylvania, where she remains and is the founding director of the Penn Program on Race, Science and Society.
Genius Cultivated in Newark
Born and raised in Newark, Shorter switched from playing clarinet to saxophone while a student at Newark Arts High School and began playing in jazz ensembles and big bands. After graduating from New York University in 1956 with a Bachelor of Music Education degree, he was drafted into the U.S. Army. Upon leaving the military two years later, he played with Maynard Ferguson's big band, then joined Art Blakey and the Jazz Messengers, establishing himself as one of the premier saxophonists in the world over the next five years, during which he became the legendary band's music director. He subsequently played with the cutting-edge Miles Davis Quintet, proving to be one of the ensemble's most productive composers, while also striking out as a solo artist, recording numerous albums that included enduring jazz classics such as "JuJu," "House of Jade" and "Yes and No."
While his brilliant work in counterpoint to Joe Zawinul in the innovative jazz group Weather Report remains some of his most popular with audiences, including the crossover 1977 hit "Birdland," he continues to push the boundaries of improvisation through new compositions. A National Endowment for the Arts Jazz Master and 10-time Grammy Award winner, the now 85-year-old Shorter was named a 2018 Kennedy Center honoree.