Three centers of excellence are combining for new approaches to detection, treatment and prevention
NEWARK, N.J. – Three Centers of Excellence at Rutgers New Jersey Medical School – the Public Health Research Institute (PHRI), the Center for Immunity and Inflammation and the Center for Emerging Pathogens – will combine to form a new institute to pursue novel approaches to detect, treat and prevent a wide range of current and emerging diseases caused by infectious agents and harmful inflammation. 
The institute, to be known as the Institute for Infectious and Inflammatory Diseases (I³D), is expected to act as a springboard to further develop this already strong area of research excellence at Rutgers. It will be located within the Rutgers International Center for Public Health, an advanced research facility for infectious disease research on the Rutgers Biomedical and Health Sciences Campus in Newark.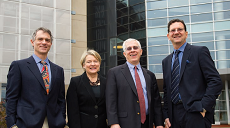 Research at I³D will focus on the breakthrough field that examines the link between infectious and inflammatory diseases.  Dysfunction of the immune system has recently been implicated in diseases that include AIDS, malaria, tuberculosis, influenza, inflammatory bowel disease (IBD), cardiovascular disease, diabetes, autism, asthma and obesity.  Studies have suggested that dysfunction of the immune system is an important common basis for many of these diseases. For example, estimates by the National Institutes of Health indicate that up to 23.5 million people in the U.S. are afflicted by autoimmune diseases such as IBD and Type 1 diabetes, and for unknown reasons their prevalence is increasing. 
In other diseases and conditions, including cardiovascular disease and metabolic disorders, studies indicate a significant contributing role for harmful inflammation.  It is now anticipated that understanding interactions between infection, inflammation and the immune system will lead to novel treatments and advanced diagnostics for a wide range of current and emerging diseases.
The I³D researchers will collaboratively tackle the development of disease from new perspectives, with rapid detection of infectious agents and control of harmful inflammation as a principal focus. These multidisciplinary teams will include members with expertise in pathogenesis, diagnostics, host defense and inflammation, and include researchers working in the laboratory and the clinic.  Working in the same building will enhance interactions and the development of new collaborations – a significant advantage over teams in disparate locations.
Christopher Molloy, interim chancellor of Rutgers Biomedical and Health Sciences, said, "We are establishing this institute, which brings together more than 250 scientists – many of them prominent in this field – to pursue a greater understanding of how the immune system and inflammatory responses contribute to a wide range of diseases.  We anticipate that their successes will produce dramatic progress against some of these diseases and keep the institute growing at a significant pace."
Recent discoveries by I³D scientists are leading to novel approaches that use the body's immune response to combat inflammation and help patients manage both acute and chronic diseases.  Currently, there are limited effective treatments for inflammatory diseases besides steroids, which can have harmful side effects.  Research teams will focus on new approaches to regulate harmful inflammatory responses, in some cases harnessing immune regulatory pathways that prevent tissue-damaging inflammatory responses.
Other groups will focus on improved detection of diseases at the earliest stages of infection when targeted treatments may be most effective.  Recent studies by researchers at Rutgers New Jersey Medical School already have led them to develop breakthrough technologies in molecular biology that are now used for more rapid detection of tuberculosis.   Working together, these research teams will share state-of-the-art methodologies and conceptual breakthroughs leading to more rapid translation of basic discoveries into novel and improved diagnostics and treatments.
The more specific goals of the new institute include:
       ·  Developing new treatments, diagnostics and preventive measures for infectious and inflammatory diseases;
       ·  Moving new therapies and treatments from bench to bedside more quickly;
       ·  Helping to break the cycle of poverty and disease in impoverished communities locally and worldwide;
       ·  Offering continuing education to all health professionals as well as science writers and health educators; and
       ·  Sharing research and information with the public through publications, blogs, social media and video.
William C. Gause, senior associate dean for research at Rutgers New Jersey Medical School, said, "Dysfunction of the immune system is increasingly recognized as contributing to a broad spectrum of infectious and noninfectious diseases.  The specific focus of our new institute provides a unique opportunity to build an innovative and significant program of biomedical research excellence for Newark and the State of New Jersey. It provides the opportunity to develop innovative perspectives and insights for the development of new treatments and diagnostics that can be rapidly translated to the clinic."
In addition to Gause, other lead members of the research team at I³D will include David Perlin, executive director of the Public Health Research Institute; David Alland, director of the Center for Emerging Pathogens; and Sally Hodder, director of HIV/AIDS Programs and the New Jersey Medical School Adult Clinical Research Unit and vice chair of research, Department of Medicine.
Established in 1766, Rutgers, The State University of New Jersey, is America's eighth oldest institution of higher learning and one of the nation's premier public research universities. Serving more than 65,000 students on campuses, centers, institutes and other locations throughout the state, Rutgers is the only public university in New Jersey that is a member of the prestigious Association of American Universities.