Rutgers' Medical School Students Match to Residencies
The percentage of students who matched to programs of their choice exceeded the national average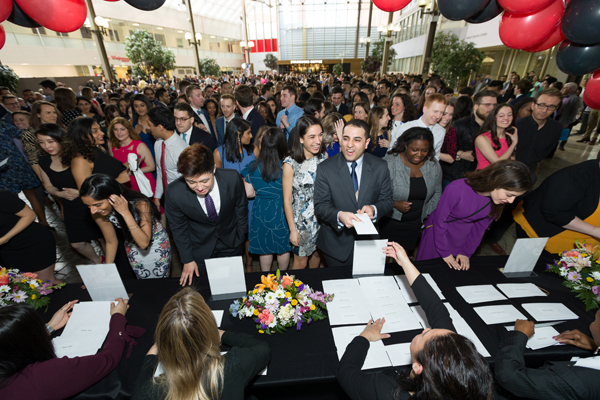 With shouts of excitement and some tears of joy, medical school students in the Class of 2019 tore into the envelopes that held the key to their futures in medicine.
Robert Wood Johnson Medical School and New Jersey Medical School students opened envelopes recently during what is known nationally as Match Day to discover the name of the residency program to which they "matched," and where they will spend the next three to seven years training in the medical specialty of their choice.
"This is a very important event for our students and their families," Robert L. Johnson, interim dean of Rutgers Robert Wood Johnson Medical School (RWJMS) and dean of Rutgers New Jersey Medical School (NJMS), told the impending graduates, who were joined by family and friends at today's celebration.
"I am very proud to announce that 96 percent of Robert Wood Johnson Medical School's students matched to the residency program of their choice, exceeding the national average of 94 percent and an impressive 46 percent of the class chose primary care as their specialty," he said during the RWJMS event. 
At New Jersey Medical School the numbers were equally impressive with 98 percent of students matching to their residency programs. The Class of NJMS 2019 is made up of 158 graduating students who matched to several prestigious institutions including Yale, Johns Hopkins University, Stanford, University of Pennsylvania, New York University and New York Presbyterian Columbia/Cornell while about 20 percent of the class will remain at Rutgers to complete specialized training.
The RWJMS Class of 2019 – the largest in school history with 189 soon-to-be physicians – will join more than 5,500 Robert Wood Johnson Medical School alumni worldwide following the school's Convocation ceremony on Monday, May 20. Ten percent of the graduating students will remain at the school to complete specialized training as residents. They are part of 18 percent of the class that matched to programs in New Jersey, including four students who matched to programs at Rutgers New Jersey Medical School.
"I am very proud to announce that 96 percent of Robert Wood Johnson Medical School's students matched to the residency program of their choice, exceeding the national average of 94 percent." – Interim Dean Robert L. Johnson
Lauryn Adams, who grew up in Scotch Plains, opened her envelope surrounded by family, to learn she matched to NewYork-Presbyterian Hospital/Weill Cornell Medical Center in New York City to complete a residency in obstetrics/gynecology. Adams participated in the dual-degree program at RWJMS, earning a master's in public health from the Harvard T.H. Chan School of Public Health. In the master's program, she interned at the United Nations Population Fund, where she honed her skills by working on an initiative to reduce teen pregnancy, improve access to reproductive health care for underserved communities and lower the rate of obstetric complications in 11 different countries.
"After residency, I intend to do a fellowship in reproductive endocrinology and infertility. Given the fact that more women are delaying pregnancy until later in life, I foresee an increase in the need for these specialists in the future," Adams said. "I would like to work on a model to provide less expensive care and increase the accessibility of these services to all women who desire them."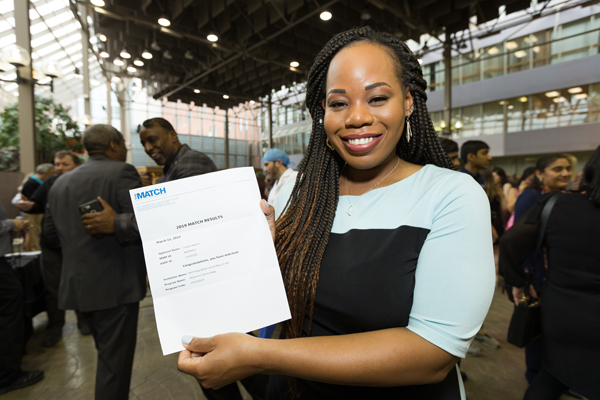 Improving the lives of underserved communities also is a goal of Piscataway native Akanksha Arya. "I most enjoyed the support and encouragement I received from Robert Wood Johnson Medical School to pursue my unique and diverse interests in medicine, including public health, health management and community service," she said.
Arya, who holds an MBA from Northwestern University Kellogg School of Management, will employ the diverse experiences she has already accomplished, including a two-year Public Health Associate Program with the Centers for Disease Control and Prevention, during her residency in internal medicine at Thomas Jefferson University in Philadelphia.
Carol A. Terregino, RWJMS senior associate dean of education, noted in her remarks during the event that more students chose to enter primary care fields – 46 percent of the class – including family medicine, internal medicine, pediatrics, and obstetrics/gynecology. In addition, many members of the class earned spots in some of the country's most prestigious residency training programs.
"This class has been such an extraordinary group, as evidenced by the programs you matched into," Terregino said. "Highly selective residency programs choose our students because they know from working with our alumni that you are committed to achieving a high level of success. We are proud to have students who have earned placement in competitive residencies, including a program at Massachusetts General Hospital in Boston, that offers only one open spot each year, and this year went to one of our soon-to-be physicians. We are very proud of the achievements of the Class of 2019."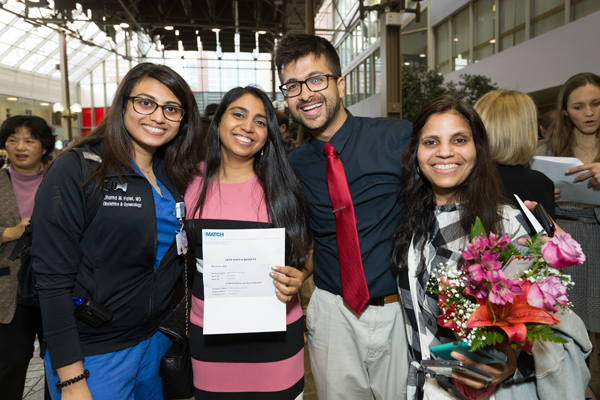 Travis Kling participated in the early match conducted for those entering residencies that are part of military service branches. He will enter a residency program at The University of California, Davis in emergency medicine as a commissioned officer in the United States Air Force. Kling is one of three graduating students from RWJMS who participated in the military match.
"As a medical officer in the United States Air Force, I hope to one day use my skills as an emergency medicine physician to serve the men and women of our Armed Forces and civilians throughout the world," he said. "I aspire to become a member of the Critical Care Air Transport team to deliver high-quality, critical care to the battlefield and beyond."
Kling, of Little Egg Harbor Township, will graduate in May with a Distinction in Bioethics, one of seven rigorous programs at the medical school that require exceptional involvement, accomplishment and scholarship in specialized areas of medical education. Kling is one of 28 students in the Class of 2019 who will be recognized for the achievement.
Joshua Gilens of Princeton, who discovered today that he will train in a family medicine residency program at the University of Colorado School of Medicine in Denver, explained what he and his classmates were feeling today. "The match and graduation are a culmination of a lifetime of hard work, mentoring, decisions (good and bad), and support from family, friends and community," he said. "We've spent the last two years of medical school training in the hospital and clinic. Every day it drives home what a sound and important decision it was to walk this path. We are stepping into our new roles in society at the start of residency and it is altogether terrifying and exhilarating."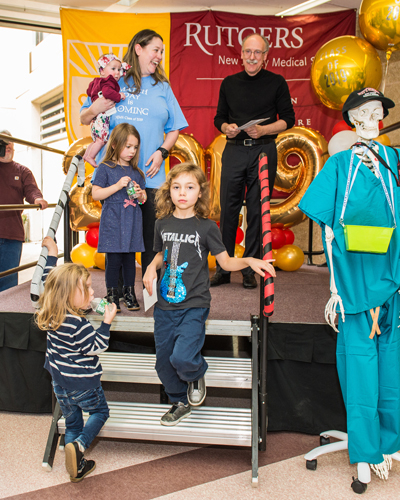 At NJMS, success stories include Lauren Berrol, who worked as a medical malpractice and personal injury trial attorney before applying to medical school and gave birth to four children while studying to be an anesthesiologist. On Match Day, she celebrated not only her success when she learned she matched into the anesthesia program at Hackensack University Medical Center, but the success of women in general in the medical field.
"I was able to accomplish this because women before me made such sacrifices and pushed boundaries and fought for their roles and proved themselves as capable colleagues and brilliant physicians,'' Berrol said. "I can only hope that by refusing to make some of those same sacrifices, but maybe making different ones, that other women no longer have to choose between a career in medicine and a family.  And that having a family can inform your decisions as a physician and inspire you to be an even better physician for your patients.''
Graduating students from Rutgers Robert Wood Johnson Medical School will attend residency programs at Columbia University, Cornell University, Dartmouth University, Hospital of the University of Pennsylvania, Johns Hopkins Hospital, Massachusetts General Hospital, Mayo Clinic School of Graduate Medical Education, Stanford University, University of Chicago, University of Maryland, University of Southern California, Yale University, and Weill Cornell, among many others.
According to the National Residency Matching Program, which coordinates the matching process, 38,376 applicants, a record number, participated in the 2019 Match.
---
Read a version of this story that appeared on MyCentralJersey.com