Rutgers Joins National Collaborative to Reduce Sexual Harassment
National Academies of Sciences, Engineering, and Medicine's action collaborative brings universities together to change the culture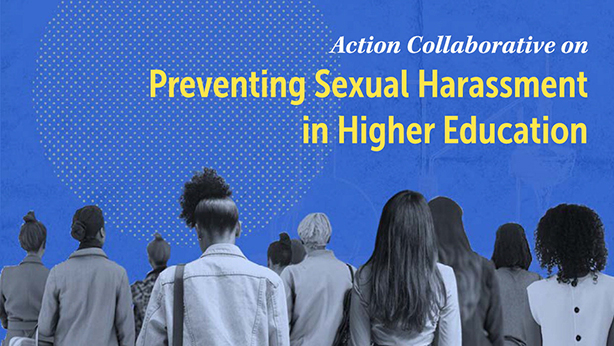 Rutgers University is one of the initial 28 founding universities, colleges and research institutions to join with the National Academies of Sciences, Engineering, and Medicine on an initiative to reduce sexual harassment in higher education.
The Action Collaborative on Preventing Sexual Harassment in Higher Education aims to increase sexual harassment awareness and foster collaboration among universities on policies, research and ways to measure progress.
The collaborative builds on the National Academies' 2018 report Sexual Harassment of Women: Climate, Culture, and Consequences in Academic Sciences, Engineering, and Medicine, which found that between 20 percent and 50 percent of female students and more than 50 percent of female faculty and staff experienced sexually harassing behavior while in academia.
"The point of the action collaborative is for us to tackle this as a group rather than individually," said Karen Stubaus, vice president for academic affairs at Rutgers University. "As a group, we hope to help change the culture and greatly reduce the incidence of sexual harassment at our institutions and, nationally, to help change the climate."
The four main goals of the action collaborative are to:
raise awareness about sexual harassment and how it occurs, the consequences of sexual harassment, and the organizational characteristics and recommended approaches that can prevent it
share and elevate evidence-based institutional policies and strategies to reduce and prevent sexual harassment
contribute to setting the research agenda, and gather and apply research results across institutions
develop a standard for measuring progress toward reducing and preventing sexual harassment in higher education
The action collaborative will also deal with the issue of sexual harassment in the context of other damaging behavior, including incivility, bullying, and other forms of harassment such as racial harassment.
Rutgers joins Dartmouth College, Duke University, Harvard University, Michigan State University and Northwestern University among the founding institutions. A total of 43 colleges and universities have joined since the launch last month.
"It's exciting to see academic institutions come together to address sexual harassment in a collective, structural approach to ending long-standing patterns of discrimination," said Elizabeth Hillman, president of Mills College, a member of the action collaborative's leadership group, and a member of the study committee that wrote the 2018 report.