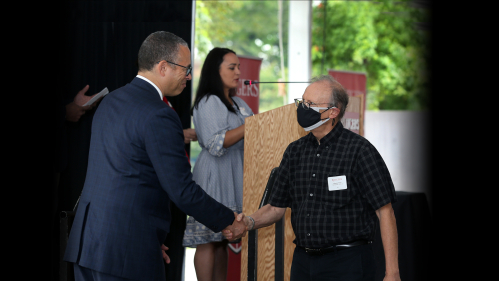 Rutgers Honors Its Longtime Faculty
The university recognized more than 600 faculty members who celebrated decades of service – from 10 to 50 years at Rutgers

No matter what your career goal or curiosity, odds are you'll find a class to pursue it at Rutgers.
In its 255-year history, the university has put hundreds of thousands of students on the path to success, whether in human resources or health care, environmental science or engineering, art history or animal science, and myriad disciplines in between.
But none of it would be possible without the wisdom imparted by Rutgers' dedicated faculty. Year after year, this team of accomplished scholars provide their students with the academic rigor and encouragement they need to reach their full potential.
On Sept. 17, the university recognized more than 600 faculty members who celebrated decades of service – from 10 to 50 years at Rutgers – in 2020 and 2021 with gatherings at the President's Tent on the College Avenue campus. The events were organized by University Human Resources and emceed by Vivian Fernández, senior vice president for human resources and organizational effectiveness.
"Honoring the decades of service by our talented and dedicated faculty is a joy as this long-awaited fall semester gets under way," said President Jonathan Holloway. "Academic excellence abounds at Rutgers, and it is demonstrated by the work across disciplines and in the classrooms of the faculty we are proud to recognize for their years at Rutgers."
To mark the celebration, Rutgers Today spoke with five longtime faculty to find out what brought them to Rutgers and why they continue to devote many years of their careers to The State University of New Jersey.  
James W. Hughes
University Professor
School of Engineering Center for Advanced Infrastructure and Transportation
Director, Rutgers Regional Report
Former dean of the Edward J. Bloustein School of Planning and Public Policy
Start Date: July 1971
50 Years
Over the last 50 years, James W. Hughes says he has taken a Forrest Gump approach when it comes to his career, believing that he needed to have an open mind and expect the unexpected if opportunities were going to fall in place.
"It worked out," said Hughes, a University Professor and former dean of the Edward J. Bloustein School of Planning and Public Policy who has spent more than 50 years at Rutgers and was cited in 2019 by The Star-Ledger as one of the 25 most influential people in New Jersey. "Whenever I even thought of leaving, Rutgers made me a better offer."
The last and only living Rutgers undergraduate to receive a degree in planning engineering in 1965 before planning became its own discipline, Hughes then became the first to receive a master's degree from the university in city and regional planning in 1969 followed by the first Ph.D. in urban planning and policy development in 1971.
A faculty position followed the same year. Then came his appointment as the Bloustein dean in 1995. In between and since, he has authored numerous articles, regional reports and books on housing, demographics and economic development and provided policy briefings in Trenton and Washington, D.C.
"Planning is such a broad field because everything is important whether it is the job market, economic trends, demographics, municipal finance, development and marketing forecasts," said Hughes, who is in the process of completing two new books, one on population trends in New Jersey and another about the building of the Rutgers-New Brunswick campus. "I can't imagine doing anything else."
Still, the professional accolades Hughes has received over the past five decades are not the most rewarding part of his long academic career. Rather, it has been watching the achievements of his former students who have gone on to become leaders in planning and public policy that bring him the most satisfaction.
That's due, in part, to a long-ago mentor, Edward B. Wilkins – "Doc Wilkins" to his students and colleagues – who shared his passion with students that the study of engineering, architecture and design should rely on law, economics and political science. Wilkins, who retired in 1976 after a 35-year career at Rutgers, died in 1985.
"I've developed so many good relationships and have been so happy to see how well students have progressed in their careers," said Hughes. "That is the most rewarding part of any faculty member's job."
– Robin Lally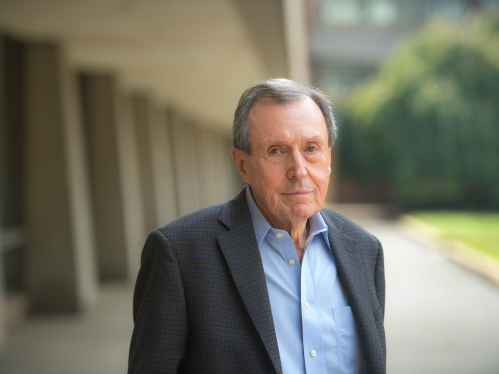 Gene S. Hall
Professor of chemistry and chemical biology 
School of Arts and Sciences, Rutgers–New Brunswick
Start Date: July 1979
42 years
If you asked Gene S. Hall at 5 years old what he wanted to be when he grew up, he would have told you, "a chemistry professor."
Hall's journey to Rutgers chemistry professor began early in life in his Plainfield, N.J., basement playing with the chemistry set given to him by his parents. As an adult, sick of his 9-to-5 job in a pharmaceutical device company, Hall saw an opening for a chemistry lecturer at Rutgers, got the job and has been with the university ever since.
Forty-two years later, the professor of analytical chemistry says he's living his wildest dream.
"I used to wear bowties a lot in high school, so everyone called me 'Professor Hall.' It was always my dream and once I got here, I couldn't see myself leaving," said Hall, who recalls being convinced to apply for college by a new guidance counselor at his high school, after being pushed towards auto mechanic work. "If it wasn't for Mr. Leach, I would not be teaching here at Rutgers," he said.
In his work at Rutgers as an analytical chemist, Hall regularly receives precious materials from collectors, like million-dollar diamonds and paintings, for chemical analysis, and assists local municipalities to evaluate the level of lead in their drinking water. He has been instrumental in lead-based paint litigation against companies whose products reduced IQs in children who had ingested lead-based paint chips.
"Helping the lead projects is something that I take a lot of pride in because it feels like I'm giving back to the communities." Hall said. "Being situated in New Brunswick allowed me to work with a lot of municipalities, and it feels good to contribute some community service in that way, especially when lead and related low IQs are found more in urban communities."
Hall is currently working on a team to analyze hair care products for Black women and prenatal dietary supplements to see if they actually contain everything that's on the product labels.
In his tenure through several university presidents, Hall says one of the main factors keeping him at Rutgers is the diversity. He is committed to bringing in more underrepresented groups into analytical chemistry and works with the Douglass Residential College to increase representation of women in science, technology, engineering and math (STEM).
"Seeing the campus grow and diversify over the years and working with some amazing colleagues is really what keeps me here," he said. "So much important work is being done and elevating students to impact the world is a privilege."
Hall plans to continue his work until he retires – if he ever does.
"There is nowhere like Rutgers. I love my job," he said.
– Evie Duvert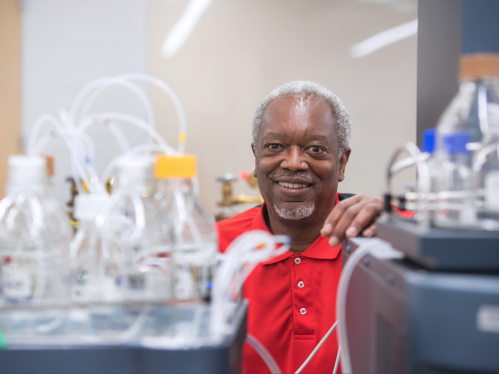 Sangeeta (Gita) Lamba
Vice president for faculty development and diversity
Start Date: July 1990
31 years
When Sangeeta (Gita) Lamba joined Rutgers in 1990 as an internal medicine resident at the former UMDNJ she thought she would complete her medical training at University Hospital in Newark and work at another hospital or clinic.
Instead, she stayed, completed a second residency in emergency medicine, and today, 31 years later, can't imagine being anywhere else but Rutgers.
"Anytime I felt that I needed to spread my wings and go elsewhere, opportunities have opened up at Rutgers," said Lamba, who immigrated to the United States from India in 1988 after following her now husband here. "There has been so much growth for me at Rutgers that I have never seen the need to leave."
Lamba nourishes her soul by teaching and working shifts in the emergency department at University Hospital each month, and said what she has enjoyed the most over the past three decades are the people and relationships she has developed at work.
 "Whether with staff, students or mentors, they have been so rich and satisfying," said Lamba. "On hard days particularly, such as in the last two years when there has been so much stress due to the pandemic, the people I have met here have truly become my support and family."
Lamba became an attending physician in the emergency department in 1993 and is part of the Rutgers New Jersey Medical School faculty. She spent seven years as the associate dean of medical education, was then named vice chancellor for diversity and inclusion at Rutgers Biomedical and Health Sciences and recently became the vice president for faculty development and diversity for the university.
Faculty development, particularly promoting the importance of attracting more women and those for historically underrepresented backgrounds into the field of science, technology, engineering and math (STEM) has been one of her top priorities. Lamba felt that there were people who mentored her throughout her career, and she wanted to give back to ensure others can similarly thrive at Rutgers.
"If you had asked me 10 years ago or even five, if I would have been in this role, I wouldn't have thought that would happen," said Lamba. "But it gives me the opportunity to create an inclusive environment for meaningful work and allows me to help support our faculty, physicians, health workers and the larger community."
Her new job will allow her to help build programs targeted to meet the needs of a diverse faculty at the entire university, a charge she hopes will continue for at least the next two decades.
"I am so committed to this and looking forward to moving the dial in this important work," said Lamba. "I have a lot of energy, so I hope I'm here for another 20 years." 
– Robin Lally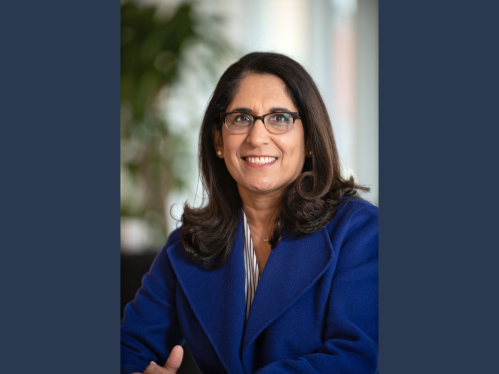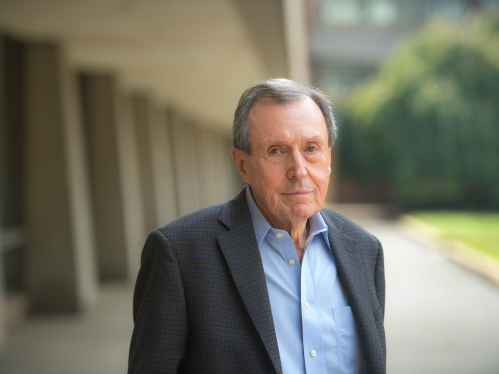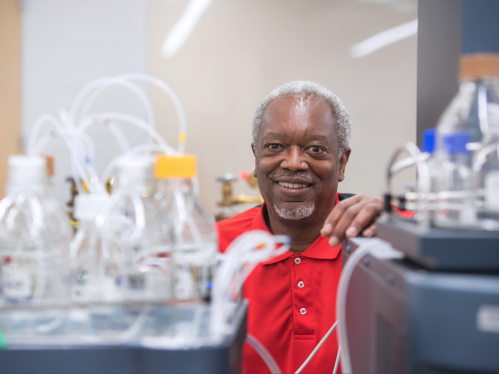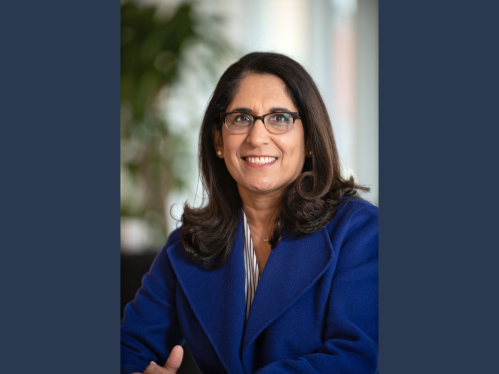 I used to wear bowties a lot in high school, so everyone called me 'Professor Hall.' It was always my dream and once I got here, I couldn't see myself leaving.

Gene S. Hall
Randi Mandelbaum
Distinguished Clinical Professor of Law
Annamay Sheppard Scholar and director of the Child Advocacy Clinic
Rutgers Law School-Newark
Start date: August 2000
21 years
When Randi Mandelbaum began her law school career, she knew she wanted to serve the public – but she wasn't exactly sure how. Having always had a passion for working with children, she began doing legal and advocacy work on behalf of children and families, finding herself first at the Legal Aid Bureau in Baltimore, Maryland, before beginning her teaching career in Washington, D.C., at Georgetown and then in San Francisco at Hastings Law School.
Ultimately, serendipity landed her back on the East Coast at Rutgers Law School in Newark.
"The law school had just received some external funding to create the Child Advocacy Clinic to focus specifically on the legal and advocacy needs of children. The timing was perfect," Mandelbaum said.
As director, she has been advocating for children and families in Newark and beyond for more than 20 years, handling an average of 30 to 40 children's cases in a 12-month period, and sometimes many more. With a colleague, she also oversees a project that represents all children in New Jersey's foster care system who need an immigration attorney. Additionally, she works to educate lawyers around the state on the best practices for representing children and trains attorneys on how they can help undocumented immigrant children navigate family court so that their clients can access a form of immigration relief called Special Immigrant Juvenile Status.
During Mandelbaum's tenure with the Child Advocacy Clinic, the program has represented children in foster care in New Jersey, assisted low-income children with disabilities to secure public assistance, such as Supplemental Security Income, spearheaded a statewide community education project that informs older youth transitioning out of foster care about their rights and entitlements, and helped create a law that preserves sibling rights for children in foster care.
With unaccompanied minors fleeing countries like Guatemala, Honduras and El Salvador in record numbers, the clinic's work is in more demand than ever.  She credits the clinic's network of dedicated colleagues and law students who step up to make sure these children receive the assistance they need.
"The sense of community around Rutgers-Newark and working with faculty and students has allowed the clinical program to really grow and meet both the educational goals of students and the legal needs of the community," she said.
In addition to her passion for her advocacy, mentoring and training law students who want to better the Newark community is what keeps Mandelbaum going.
"I love working with the students," she said. "For me, it's really being able to combine research, scholarship, practice and teaching. That combination has been something I've really cherished over the years."
– Evie Duvert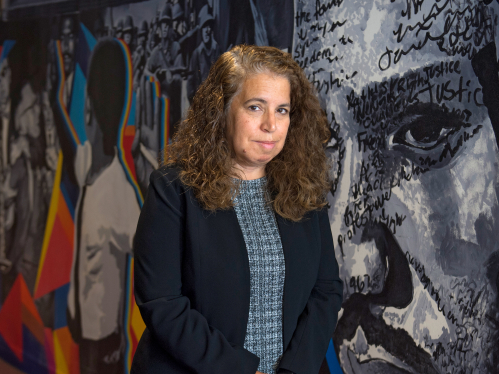 Kevin Emmons
Associate dean for interprofessional practice, education and innovation and clinical associate professor
School of Nursing-Camden
Start Date: September 2010
11 years
What brought Kevin Emmons to Rutgers-Camden is no secret.
A Woodlynne native, Emmons followed in the footsteps of his brother and stepsisters when studying for his undergraduate degree.
"It's like a family institution for us," he said of Rutgers-Camden. "We are all the first generation to go to college."
When it came time to start his career, it was the sense of community instilled in him by his alma mater coupled with encouragement from a former professor that brought him back to Rutgers-Camden, where his brother Robert Emmons is a teaching associate professor of theater.

"The philosophy of our nursing school revolves around social justice and providing opportunity. Those opportunities helped my success, so I can continue that mission with the current student body," said Emmons, who returned to Rutgers-Camden in 2009 as a part-time lecturer. "I also had a great mentor in Dr. Kathleen Frame, who has since passed. She used to tell me, 'You're going to be a professor,' and I kept thinking: 'Am I even going to survive as an undergrad?' She really guided me along that path."
His mentor was right. Teaching feels second nature to Emmons – and even more so at Rutgers-Camden, where he feels fortunate to work in a state-of-the-art Nursing and Science Building with colleagues and administrators he gels with, including Dean Donna M. Nickitas.
"The building and the change of administration all happened at the same time and it just created new opportunities and reinvigorated me to expand my responsibilities," he said. "I began to think of myself as more than a professor in the traditional sense of teaching and more of a facilitator of knowledge and community engagement."
More than a decade into his career, Emmons finds himself mentoring a new generation of nurses during a pandemic as an associate professor and associate dean with School of Nursing-Camden. Coordinating student and alumni volunteers at Camden area COVID-19 vaccination sites while teaching and serving as associate dean has been physically and emotionally exhausting, but ultimately, an incredibly rewarding experience. It's one that solidifies his decision to remain at Rutgers-Camden.
"It definitely reinforces our mission of working in the community," said Emmons, whose students also worked this spring and summer educating residents about the importance of being vaccinated in Camden area neighborhoods with low vaccination rates. "That's what's so unique about the nursing program at Rutgers-Camden. You don't just put students in the hospital. We get to work with students thinking about Camden and the impact they can have on their community."
– Lisa Intrabartola