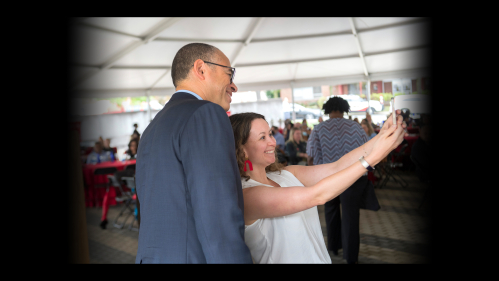 Rutgers Honors Its Longtime Employees
Rutgers recognized more than 1,400 employees who celebrated decades of service 
It takes a village to run Rutgers.
Delivering a world-class education to generations of students requires more than a dedicated, accomplished faculty. It depends on a staff of thousands who often work behind the scenes to support the university and its students from orientation to graduation and beyond.

These are the people who process admissions and financial aid; write course catalogs and manage websites; schedule classes; hire and train staff; drive buses; keep students active, involved, fed, safe and healthy; clean lecture halls, labs and offices; mow lawns, trim hedges and line the fields; keep the heat humming, the toilets flushing and the lights on.
On Sept. 9, the university recognized more than 1,400 employees who celebrated decades of service – from 10 to 50 years at Rutgers – in 2020 and 2021 with gatherings at the President's Tent on the College Avenue campus organized by University Human Resources and emceed by Vivian Fernández, senior vice president for human resources and organizational effectiveness.
"It's a great tradition – honoring the hard work of all our staff employees by specifically celebrating those reaching key 10-year milestones," said President Jonathan Holloway. "This cross-section of our dedicated staff also provides a glimpse at the myriad ways in which they contribute every day to our excellence and our shared goals."
To mark the celebration, Rutgers Today spoke with five long-time employees to find out what brought them to Rutgers and why they continue to devote many years of their professional lives to The State University of New Jersey.  
Linda Groce
Manager, Employment Services for University Human Resources
Rutgers Biomedical and Health Sciences, Newark
Start Date: September 1969
52 years
When Linda Groce started as an HR specialist with the former UMDNJ, she assisted with benefit issues, union grievances and new hires. Today, the mother and grandmother oversees employment services for Rutgers Biomedical and Health Sciences' Newark campus. 
"I've hired everyone from a person doing environmental services to directors of departments and famous researchers," she said of her role with Rutgers. "The goal is to make sure people are doing their best work and getting a lot of satisfaction from their jobs."
After five decades, Groce said she still finds it gratifying to connect the right people with the right positions, knowing those placements will lead to important research and patient care. Working in a medical setting comes with a sense of urgency that she's never considered trading for a corporate career. 
"I wanted to have a meaningful job where I felt I wasn't just sitting in an office looking at the financials and the bottom line. It is just the best challenge. I've never had a boring day after all these years. I continue to learn," she said. "You deal with all kinds of people from all kinds of countries coming here to do research, and at the same time doctors who are spending their days doing surgeries or curing diseases like they have been during the pandemic."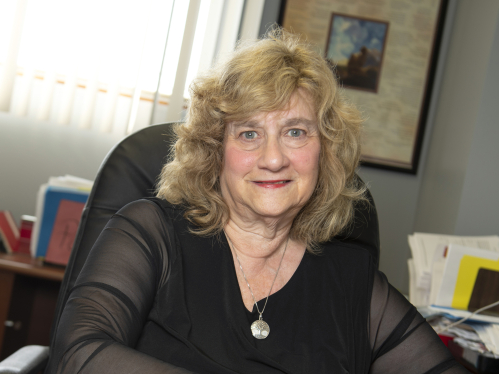 Neuza Maria Serra
Student Health Director, Rutgers-Camden.
Start Date: September 1989
32 Years 
More than three decades ago, Neuza Maria Serra applied for the first full-time staff psychologist job at Rutgers-Camden. Now she is one of five psychologists on staff. As director of Student Health and Rutgers-Camden's student food pantry, Serra has helped shape Rutgers-Camden's policies and protocols for counseling services.

It is a role she feels personally vested in.
"I was very interested in the student population here. We have a lot of first-generation college students. I'm one of them," said Serra, a Rutgers-Newark alumna and the mother of two Rutgers-New Brunswick graduates. "I knew we had students coming from very disadvantaged backgrounds. It was inspiring to me to help that set of students and to see students achieving despite all odds."
During her career, Serra has welcomed more proactive approaches to mental health taken by Rutgers to improve students' well-being. That includes increasing the number of mental health staff on campus and making operational adjustments – such as offering more walk-in hours and opening a student food pantry – to better meet the needs of nontraditional students.

"Since I stepped on campus there has always been a huge need. Some of our students are working two jobs and raising families," she said. "Counseling centers used to be more insulated and isolated. We are now an integral part of the college. We are included, committed and have a voice on what is going on with students."
When it comes to Serra's dedication to Rutgers, she said her commitment to the students and their success is only half the equation. Her appreciation for her tight-knit staff also cemented Serra's roots here.  
"I like my job, and I really love the people I work with. It feels like home," she said. "I like the idea that I am in an urban campus with students who may have difficulty finding good services somewhere else.  I have students who email me 10 years later and say, 'Look what I've done so far.'"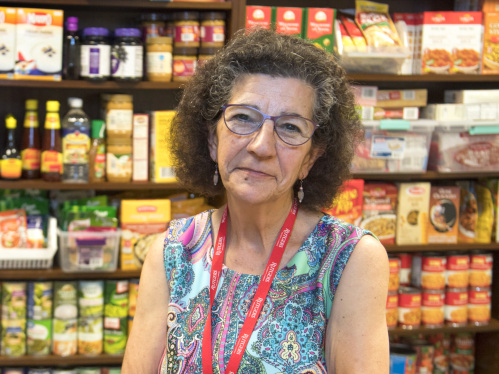 Clyde Zackery
Senior Plumber/Steamfitter/Maintenance Mechanic
Institutional Planning and Operations
Busch Campus, Rutgers-New Brunswick
Start Date: September 1989
32 years
Clyde Zackery was back home in New Brunswick during summer break from California Northstate University, when he took a seasonal job at Rutgers-New Brunswick and left a lasting impression on his supervisor.
"The person I worked for liked me so much, he told me, 'If you decide to move back, I have a job for you anytime,'" said Zackery. "When I relocated back, I knocked on his door."
He started in surplus operations, a year later moved to grounds operations, and shortly after applied to the university's apprenticeship program in plumbing.

"My uncle was a plumber and my soon-to-be father-in-law was a plumber, so I thought if I took that trade and had trouble, I had people outside the university to ask for help," he said.
He never needed to call on family for a favor finding work. After his three-year apprenticeship, Zackery remained at Rutgers-New Brunswick, rising to the role of senior plumber/steamfitter and maintenance mechanic during his more than 30-year career here – working primarily in research facilities.
"Being that I came from studying psychology in college, and now I'm working in research areas, I felt I had a connection with the students," he said. "I stayed on to provide the best service for them."
Sometimes that meant going above and beyond, like the time he and his colleagues stayed on campus on the eve of the new millennium to ensure all systems were go once the clock struck midnight and 1999 turned to 2000.
"For Y2K we took all these precautions with the equipment. No one knew what to expect," said Zackery. "Once the new year hit, we had to go through all of our buildings to make sure all was alright. It was. At 2 a.m. we went to Brower and they had a nice dinner for us to celebrate."
He was among the Institutional Planning and Operations employees who kept Rutgers running through the pandemic, and takes great pride in knowing his work helped researchers fight COVID.
"One of the buildings we had was Nelson Biology Laboratories. That's where they came up with the saliva test," he said. "Now they are working on one that can detect it in your breath."
Zackery plans to retire on May 1, 2022, and move south to be closer to his son, who is expecting his first child.

"I'm going to Georgia to be a grandfather," he said.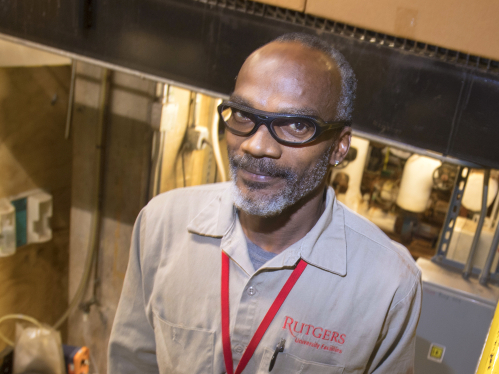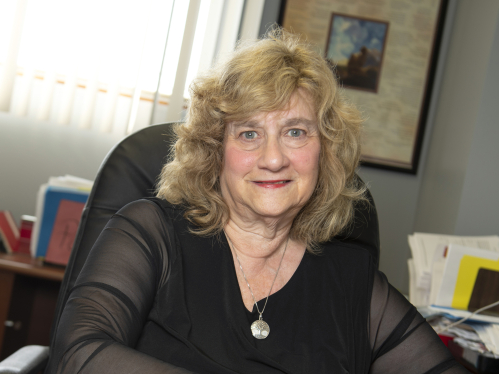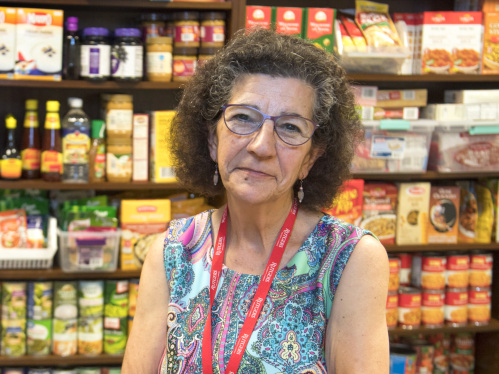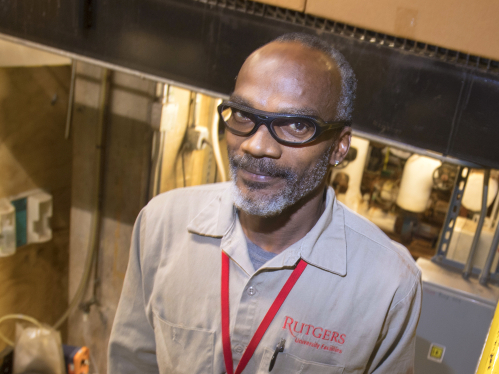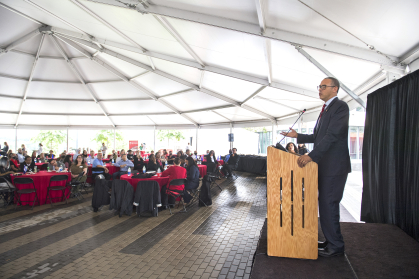 It's a great tradition – honoring the hard work of all our staff employees by specifically celebrating those reaching key 10-year milestones. This cross-section of our dedicated staff also provides a glimpse at the myriad ways in which they contribute every day to our excellence and our shared goals.

President Jonathan Holloway
LaToya A. Battle-Brown
Assistant Chancellor of Enrollment Management and Dean of Admissions
Office of Graduate and Undergraduate Admissions, Rutgers-Newark
Start Date: August 1999
21 years
LaToya Battle-Brown never intended to hitch her wagon to Rutgers for the long haul.
But 21 years into her career here, she can't imagine her professional life outside the university.
The double alumna (Douglass College and Graduate School-Newark) started off on Wall Street securing intern sponsorships for students of color. Her decision to return to her alma mater, working as an academic advisor to Rutgers Business School students, was fueled by her personal commitment to give back to the institution that molded her. It was intended to be a pitstop, but before long, she was hooked.

"Two years in I really developed great relationships with the students. Every student reminded me of some part of myself," said Battle-Brown. "It was very difficult to make a decision to leave. I felt as if I would be abandoning them."
She stayed with the business school for 15 years before being tapped by Rutgers-Newark Chancellor Nancy Cantor to serve as provost and dean of admissions at Rutgers-Newark. Today, Battle-Brown is assistant chancellor of enrollment and dean of admissions. It's a role the Newark resident said she feels she was meant for.

"Most Rutgers-Newark students are first-generation college students, as was I," she said. "Many coming through my office have no one to talk to about their academic aspirations. I've become very attached to all my students."
And not just the ones who make it into Rutgers-Newark. For Battle-Brown, honoring Rutgers-Newark's mission to be "of Newark" means she and her staff care enough to counsel the students who were not accepted, help them understand why and guide them to other avenues, including community college, that can one day lead them back to Rutgers.
"Every supervisor feels they have the hardest working team on campus, and I'm certainly in that category," she said. "I've enjoyed everything about my time here. I'm definitely going to retire from Rutgers."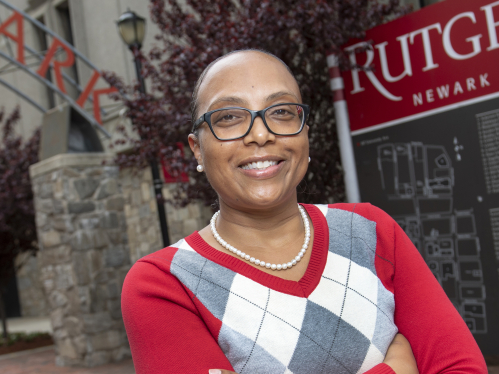 David Giffler
Dentist, Eric B. Chandler Health Center
Start Date: May 2010
11 Years 
David Giffler had 30 years under his belt as a private practice dentist in Brooklyn, N.Y., and New Jersey before he landed at RBHS's Eric B. Chandler Health Center in New Brunswick a decade ago.

"I wanted to do something a bit different for the last 10 to 15 years of my professional career," said Giffler, who now makes his home with his husband in Freehold. "I wanted to do something to give back to the community, and I thought there is nothing better than a community health center."
He saw an ad for the position, applied, hit it off with his director and hasn't looked back. 
"I love it on a lot of different levels. I love helping people who probably would not have been able to find quality dentistry and afford it," he said. "I'm also working with a bunch of great people. I've made a lot of great connections and friends."
The dental needs of insured patients who can afford to prioritize their dental health tend to be quite different than those of uninsured patients who have had to forgo dental care for years at time. But Giffler makes it his mission to help each patient at the Chandler Health Center find their smile.
"We do whatever we can to help our patients. We get a lot of children who just came to this county. A lot are older and a lot come with mouths that have been totally neglected their entire lives," he said. "We try to make up for lost time and give them a bright future."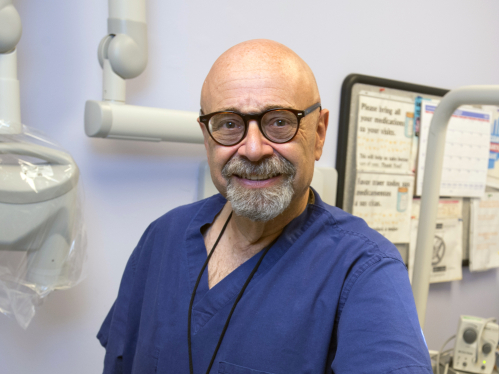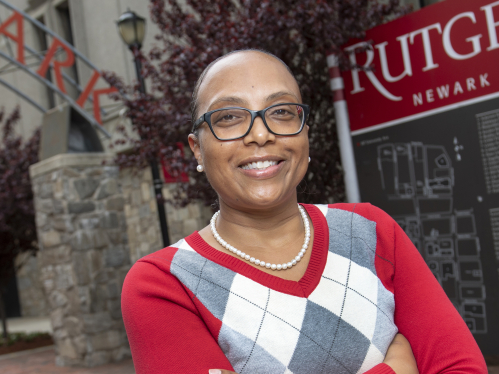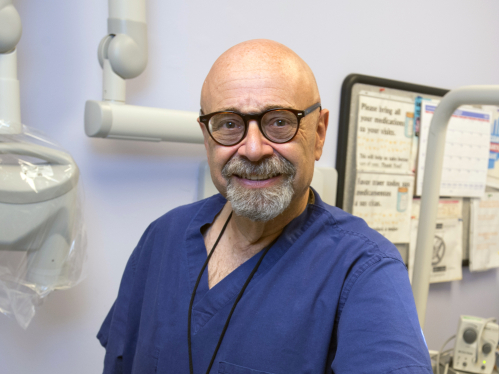 Story written by Lisa Intrabartola
Photos by Nick Romanenko/Rutgers University