Rutgers Graduate Serves as Role Model for Muslim Women in STEM
Safa Abdulhai plans to apply to medical school after graduating with a degree in biotechnology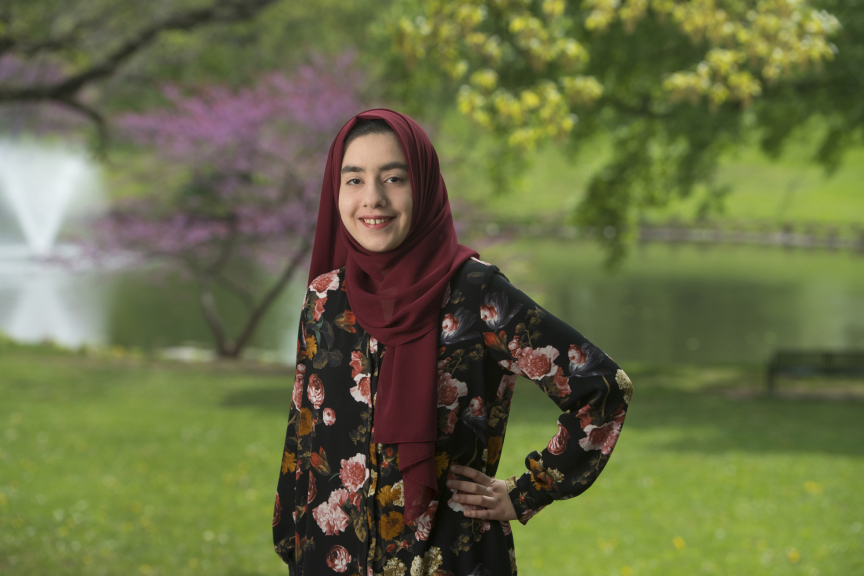 "At Rutgers, people did not judge me because of my nationality, they were so accepting and excited to learn about me and my experience living around the world. I am hopeful the future is going to be welcoming of people regardless of their backgrounds and religion.''

 

– Safa Abdulhai
A driving force behind most of the decisions Safa Abdulhai made during her time at Rutgers was to tear down misconceptions about her faith and encourage more representation of Muslim women – and women in general – in fields where they are still few in number.
It's one of the reasons why she chose to study biotechnology, decided to share her story as part of Muslim Feminists for the Arts and why she became a tutor and mentor to others.
"I feel it is so rare for Muslim women to get out of their comfort zone,'' said Abdulhai, who graduated summa cum laude this month from Rutgers-New Brunswick's School of Environmental and Biological Sciences. "Everyone thinks that Muslim women are oppressed, that we don't know how to study or communicate, but they don't understand we are tough, we get things done and we can pursue the same fields guys can. Despite all the negativity around us we are showing everyone we can do it.''
Abdulhai's pride in her heritage grew in response to the bullying and Islamophobia she faced living around the world while growing up.  She was born in India and lived in Dubai, Qatar, the United Arab Emirates and different parts of the United States before her family moved to Holmdel, New Jersey, when she was in high school.
Abdulhai didn't have an easy start at Rutgers. She wanted to get involved in research during her freshman year but was rejected for every position she applied to. Then a friend invited her to a STEM symposium at Douglass Residential College, and it opened a door to research opportunities. She applied to the Douglass Project for Rutgers Women in Math, Science, and Engineering, which enabled her to take a class where she learned how to write scientific papers and produce research posters.
Through Douglass, she was placed in a research position her sophomore year that provided an opportunity to study the gene that regulates breast cancer. But on her way to her first day in the lab at the Rutgers Cancer Institute of New Jersey, she was struck by a car crossing Nichol Avenue in New Brunswick. Luckily, she walked away with only a hand injury, but for a few weeks she wasn't able to write or carry her books. Her parents drove her every day to school to limit the amount of time she would miss in class and she was able to regain use of her hand following surgery.
"The accident is part of the reason why I want to be a doctor,'' Abdulhai said. "I like doing research, I like being in the lab, but it's amazing how the doctors fixed me up and I was able to go back to school.''
Despite setbacks, Abdulhai's time at Rutgers is a story of success and achievement. She earned a 4.0 the semester of her accident, completed her internship in the lab, and went on to be accepted into a highly competitive program as an undergraduate research assistant at the University of Massachusetts Medical School the summer after her junior year. She was one of 29 applicants out of a pool of 1,600 to be accepted.
At UMass, she worked in a lab researching how changes in a protein can alter gene expression and genome organization, causing Hutchinson-Gilford progeria syndrome, a genetic condition characterized by the dramatic, rapid appearance of aging that causes children to die on average at 14. She won first place in the program's poster session and presented her research this spring at the New England Science Symposium at Harvard Medical School.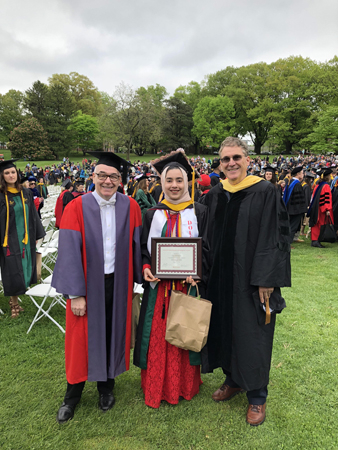 She credits a lot of her success to the help and guidance she received as a student at Douglass Residential College and to her professors who believed in her and supported her. The professor she worked with at UMass traveled to Rutgers when Abdulhai presented her summer internship research as her thesis for the George H. Cook Scholars Program.
"Now that I have accomplished these different things, I want to help people who feel the doors are closed to them,'' she said.
Abdulhai became a mentor for students through the Douglass Project and became involved in the Muslim Feminists for the Arts as a way of sharing her message of inclusion and encouraging women to pursue STEM fields.
Moving back to New Jersey in high school and attending Rutgers marked the first time Abdulhai felt she fit in. She said she wants to remain positive and be an advocate even in a politically challenging times.
"At Rutgers, people did not judge me because of my nationality, they were so accepting and excited to learn about me and my experience living around the world,'' she said. "I am hopeful the future is going to be welcoming of people regardless of their backgrounds and religion.''