Rutgers Graduate Becomes University's First Marshall Scholar
Diego A. Atehortúa was one of only 46 people in the United States awarded the postgraduate scholarship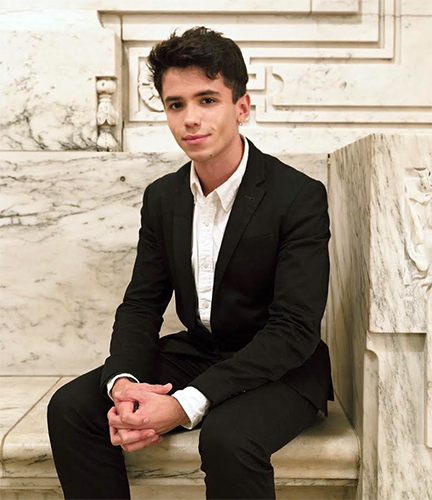 "Being the first Rutgers student awarded a Marshall Scholarship serves as a recognition of the dignity of immigrants and an affirmation of the value of the arts and humanities."

 

– Diego A. Atehortúa
Diego A. Atehortúa recalls watching his grandfather carve and stain wooden crucifixes in Colombia, not long before his family escaped the country's decades-long armed conflict. They moved to Englewood, New Jersey, where a young Atehortúa would admire his father's calligraphy and drawings of human figures.
Those experiences were his introduction to the world of art, said Atehortúa, a standout researcher of Latin American art history. "I wouldn't consider myself an artist; for me, the fun aspect is thinking, interpreting, and writing about everything that art can be," he said. 
Atehortúa today became the first Rutgers University graduate to win the prestigious Marshall Scholarship. He was one of only 46 people in the United States awarded the postgraduate scholarship out of a pool of more than 1,000 applicants. The newest class of Marshall Scholars is the second-largest in the program's 66-year history and among the most diverse.
Over one-third of this year's class are from minority backgrounds and 61 percent of this year's class are female scholars. Recipients are entitled to pursue advanced degrees at United Kingdom universities of their choice.
"Being the first Rutgers student awarded a Marshall Scholarship serves as a recognition of the dignity of immigrants and an affirmation of the value of the arts and humanities," said Atehortúa, who earned a bachelor's degree from Rutgers University-New Brunswick's School of Arts and Sciences in 2018. He majored in art history with a minor in Latin American studies.
First awarded in 1954, the competitive Marshall Scholarship covers recipients' cost of tuition, books, travel and living expenses. Britain established the scholarship in gratitude for the U.S.-financed Marshall Plan that helped the U.K. rebuild after World War II.
"This scholarship is another example of the wonderful quality and rich backgrounds of our students," said Rutgers-New Brunswick Chancellor Chris Molloy. "Diego's academic achievements and intellectual curiosity are to be admired and should serve as a model for what Rutgers students can accomplish as they head out into the world."
In 2017, Atehortúa became the first Rutgers student to win a Beinecke Scholarship and one of only 20 students across the country. He also received a Fulbright Fellowship that allowed him to teach and conduct research in Brazil for nine months this year.
"It took a very special young man to win our first Marshall Scholarship ever," said Arthur D. Casciato, director of the Office of Distinguished Fellowships. "Diego has managed to strike a graceful and genuine balance between his considerable scholarly accomplishments and his deep commitment to social justice, something many students attempt but very few achieve."
The 23-year-old former School of Arts and Sciences honors student and McNair Scholar takes an interdisciplinary approach to his research, exploring the politics, racial issues and knowledge systems behind visual and material culture since the colonial period. Atehortúa in fact will not use his Marshall Scholarship to study art history, but rather other subjects to deepen his understanding.
Atehortúa plans to pursue a master of philosophy in Latin American studies at the University of Cambridge beginning in October 2020. He will spend a second year working on a master of arts in social anthropology at the University of Manchester.
He also plans to research watercolor drawings created in the early 19th century by British and French travelers to Colombia, works that are housed in U.K. institutions. "I hope to change the interpretations that currently stand," he said. After completing his master's degrees, Atehortúa plans to pursue a Ph.D. in art history.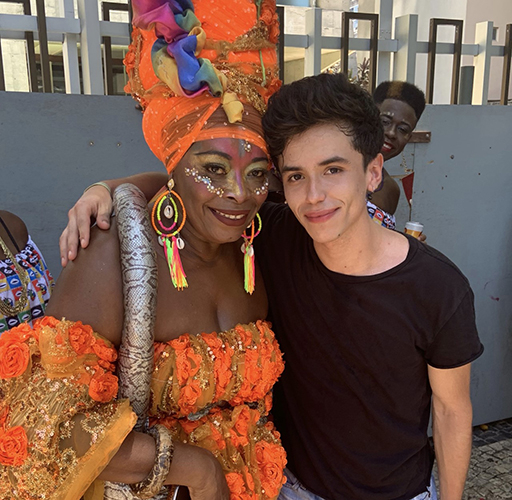 Atehortúa's research builds on his Rutgers senior thesis that explored the visual rhetoric and disenfranchisement of Colombians of African descent. 
He developed his thesis from research conducted in the summer of 2017 at the University of Chicago under the supervision of art historian Cécile Fromont, now an associate professor at Yale University.
Atehortúa is currently in Colombia conducting research in the Chocó region, which has a large Afro-Colombian population. His goal, he said, is to "bring this region back into the national conversation through art and trace its connections to the wider Atlantic and Pacific worlds."
Growing up, Atehortúa dreamed of becoming an ambassador. "As early as I can remember, I had a real interest in diplomacy and international relations," he said. Atehortúa began rethinking his career aspirations while doing an internship at the United Nations. He did not resonate with the broad-stroke approach to addressing monumental challenges such as eradicating poverty.
"I wanted to look at issues at a much more in-depth level," he said.
Atehortúa entered Rutgers as a political science major but switched to art history after taking a course taught by associate professor Tatiana Flores of both Rutgers Department of Art History and Department of Latino and Caribbean Studies.
"I identified with a lot of the things we were studying, and it made an impact on me," Atehortúa said. He connected with Flores because of their shared Latin American heritage. She became his mentor and supervisor, and he served as a research assistant on a major exhibition she organized in 2017 for the Museum of Latin American Art in Long Beach, California.
Flores said she is impressed by Atehortúa's level of dedication, drive and passion. "He has the potential to make invaluable contributions to art history and Latin American studies, not just from an intellectual perspective, but from moral and ethical ones as well," Flores said.