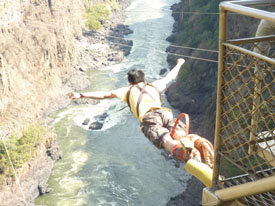 Credit: Courtesy Tim Dinh
Click here for a high resolution version
Read more profiles of the Class of 2012
In the summer of 2010, Rutgers student Tim Dinh stood on a platform overlooking the gorge of the Zambezi River, near Victoria Falls, with a bungee cord tied to his ankle and waist. He was scared. When he and some friends on a summer-abroad program in Botswana drove up to the falls, he hadn't really intended to jump. Yet, here he was. He took a few quick steps and leaped. 
"It only took a second of courage," he said recently. 
Dinh's leap off the Zambezi platform was the most dramatic in a series of adventures he's had – in classrooms, laboratories, conference rooms and farms. He'll graduate this month with a double major in biotechnology and ecology and natural resources and will start studying for his MD/Ph.d. in the fall, either at Stony Brook University or the University of North Carolina. 
The son of an immigrant Vietnamese doctor, Dinh grew up in Cherry Hill with an interest in the life sciences, so he already had some idea of what he wanted to study, but meeting Barbara Zilinskas sealed the deal. Zilinskas, a professor of plant biochemistry in the School of Environmental and Biological Sciences, is also the SEBS biotechnology undergraduate program director. She met Dinh before he matriculated, when he visited Rutgers along with several other students interviewing for the SEBS honors program. 
'I think Tim will have a hard decision down the road. He'd be a good researcher, but the fact is, he likes being with people and likes to help them; he's a kind, sensitive man. He may end up practicing medicine.'  – Arnold Rabson, Robert Wood Johnson Medical School
"The other students were trying to impress me," Zilinskas remembered. "They were all telling me about their accomplishments and what they knew about the university. Tim – and I don't think this was shyness – he was just very laid back. When he said something, it was important. I got a chance to talk to him alone later, and it was clear that he had a strong intellect and would go far, whatever he wanted to do with his life. I thought, 'Oh, I hope this guy comes to SEBS.'" 
Zilinskas accepted Dinh into the National Science Foundation-funded biotechnology scholars program. One assignment in this program's freshman seminar class was to meet with a faculty member with whom the student might want to do research and to write an essay about the experience. Dinh contacted Arnold Rabson, director of the Child Health Institute of New Jersey at the Robert Wood Johnson Medical School. "I felt it pushed me right into research," Dinh said. "I learned a lot of skills in a supportive environment." 
Laboratories like Rabson's are where students like Dinh find out whether the life of a scientist is for them. Rabson, whose lab studies leukemia and other childhood cancers, credits Cindy Lin, the scientist who manages the day-to-day work of the lab and supervised and taught Dinh every day, with making the work fun. And Dinh, Rabson said, was not a passive recipient of knowledge, but a creator of it. 
"Tim was a pretty far-sighted young man in terms of working in a lab," Rabson said. "He was very mature, but very eager – basically an enthusiastic guy and a good person. He pioneered a set of experiments with a newly discovered gene – Programmed Cell Death II."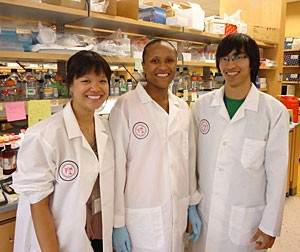 Rabson said neither he nor Dinh knows exactly what the role of the new gene is, and Dinh won't have time to find out before he graduates. But when someone does find out, he may have Dinh's experiments to thank, at least in part. 
Dinh is excited about doing research, particularly in genetics, and his aim is to become academic physician scientist. Rabson thinks his future is bright, but he sees a hurdle ahead. "I think Tim will have a hard decision down the road," he said. "He'd be a great researcher, but the fact is, he likes being with people and likes to help them; he's a kind, sensitive man. He may end up practicing medicine -- or trying to find a combination of both, which is very difficult these days." 
Once he makes that decision, Dinh may look back on it the same way he recalls his moment at the Zambezi Gorge: one second of courage; then, the leap. "What I remember is the adrenaline rush, not the fear," he said.