Rutgers Global Health Institute Launches Program to Help Small Businesses Impacted by the COVID-19 Pandemic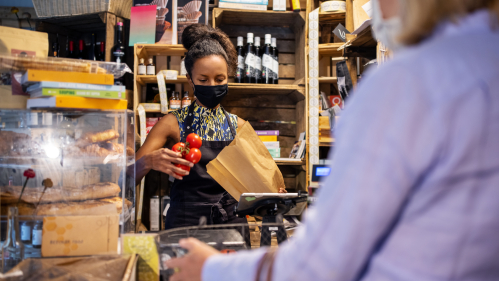 Three-part program provides guidance on safe operations and related support services for small businesses and nonprofits in New Jersey's low-income and minority communities
Rutgers Global Health Institute has launched a program that offers crucial support to small businesses facing economic and operational challenges due to the COVID-19 pandemic. The program, Equitable Recovery for New Jersey's Small Businesses, is designed to help small businesses and nonprofit organizations in low-income and minority communities.
The Equitable Recovery program has three components:
COVID-19 Health and Safety Training that provides knowledge, tools and guidance pertaining to a safe workplace;

Individual Consultations that take into account the physical spaces and needs of each organization and provide tailored recommendations for operating safely; and

Resilience Network, which provides access to an array of support services that can help employers and employees navigate many complex issues related to COVID-19.
While the pandemic has adversely affected the majority of small businesses, the goal of the program is to help underserved communities in New Jersey for which the impact has been especially severe. Businesses that are owned by minorities and women experience systemic disadvantages in the best of times, and these same businesses struggle disproportionately now.
The economic hardships these small businesses are confronting pose a serious threat to employees, families and entire communities. People are losing their jobs and income, which also means they are losing access to health care, struggling to feed their families and falling behind on rent or mortgage payments.
For minority- and women-owned businesses, the financial challenges and disparities they faced before the pandemic are now compounded. Multiple studies, including recent reports from the U.S. Chamber of Commerce, have shown that minority-owned businesses are more likely to have tried and failed to secure a loan, and that both minority- and women-owned businesses are more likely to project decreased revenues in comparison to businesses owned by white men.
Minority-owned businesses, in particular, are heavily concentrated in hard-hit industries, such as the service sector. Furthermore, members of both minority and low-income communities face significantly higher risks of COVID-19 infection and death.
Rutgers Global Health Institute's Equitable Recovery program addresses these inequitable circumstances and offers a pathway toward overcoming them.
"When small businesses know how to operate safely, their customers can feel more confident, their employees can continue working, we can keep infections down, and hopefully these businesses will stay open for the long term," said Richard Marlink, director of Rutgers Global Health Institute. "That's good not only for their communities but also for New Jersey's recovery overall."
The program is underway in New Brunswick – where more than a third of the city's 56,000 residents live below the poverty line, according to 2019 U.S. Census data – with funding support from the Johnson & Johnson Foundation and the New Jersey Alliance for Clinical and Translational Science, and in partnership with New Brunswick Tomorrow, a local nonprofit organization.
The 90-minute online COVID-19 Health and Safety Training and subsequent consultations are offered in English and Spanish, led by Rutgers Global Health Institute and New Brunswick Tomorrow staff. The training content continues to evolve according to participant feedback and the latest COVID-19 guidelines. Following the live training session, businesses can choose either a virtual or an on-site consultation that results in recommendations specific to their needs.
The program's earliest participants are in the city's Esperanza Neighborhood, where 84 percent of residents are Hispanic and 52 percent are foreign born.
"Many of the immigrant small business owners in New Brunswick have trouble finding accurate, up-to-date information, especially in Spanish, on how to deal with COVID-19 risks in their businesses," said Charles Bergman, director of New Brunswick Tomorrow's Esperanza Neighborhood Project. "This program is crucial to help these entrepreneurs be better informed and prepared to protect their customers and workers."
Additional community partners in New Brunswick include Rutgers Occupational Training and Education Consortium, New Brunswick City Center and the New Jersey Department of Health. These partners and Rutgers Global Health Institute have been jointly organizing free COVID-19 testing at a location within walking distance from many downtown businesses. The current testing site is Tavern on George restaurant's outdoor tent.
Since the successful launch of the program in New Brunswick, Merck & Co., Inc. has funded an expansion of the program to Newark and bordering neighborhoods within surrounding cities. Newark's population is more than half Black or African American and more than a third Hispanic or Latino, and nearly half of households speak a language other than English at home.
The Equitable Recovery program aims to reach other vulnerable communities throughout New Jersey in the coming months. Interested parties can learn more about the program on the Rutgers Global Health Institute's website.