The program presents a life-changing opportunity for aspiring low-income, first-generation college students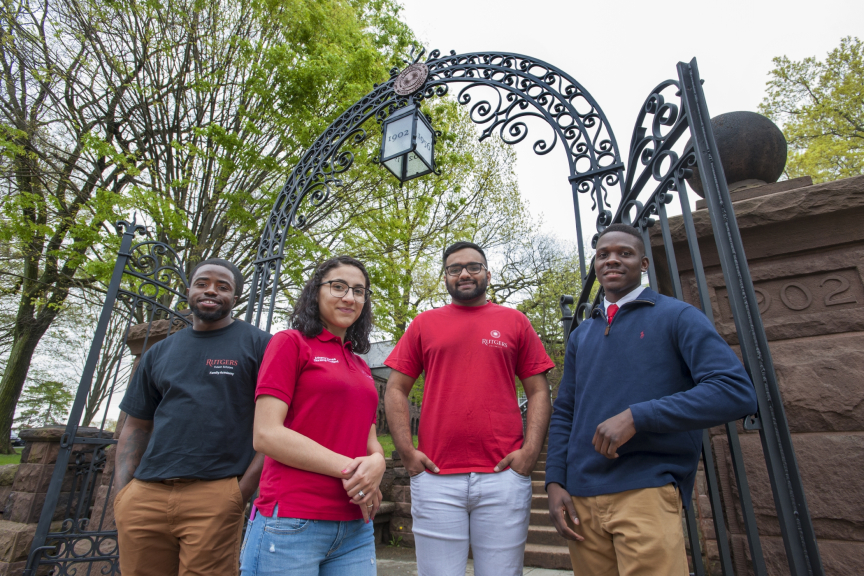 When the Class of 2017 graduates from Rutgers University in May, approximately 55 will walk with special distinction as the first Rutgers Future Scholars to earn university degrees. Including other universities, a total of 75 Future Scholars will graduate this spring.
Since 2008, the pioneering program has inspired and prepared 1,800 low-income, first-generation students to attend college. Conceived when the university noticed that few students from its host communities were enrolling at Rutgers, the program sought to discover promising students and invest in their futures.
Each year, Future Scholars, which is funded primarily through private and corporate contributions, accepts 215 seventh-grade students – 50 each from New Brunswick, Piscataway, Newark and Camden, plus 15 from Rahway – who remain in the program through their high school graduation. The students receive mentoring, tutoring and college prep courses, including required summer sessions. Upon graduation, if the student applies and is accepted to Rutgers, the university covers the cost of tuition.
On average, 90 percent of the students enroll at a college the fall after graduating high school; 70 percent are admitted to Rutgers and of those 50 percent attend. Of the 183 students who made up the first class, 163 enrolled in post-secondary institutions, 98 of them with full scholarships to Rutgers.
"We focus on the 'if only' students – those who teachers say could excel if only they had the opportunity or financial means," says Aramis Gutierrez, the program's director. "Beyond academic aptitude, we look for students with leadership skills or who are engaged in community service."
To qualify for the program, students must be the first generation in their family to attend college and meet the Educational Opportunity Fund guidelines on income. "We ask them to write essays, which is how we get to know who they are and who they aspire to be," says Kim Williams, associate director.
During the school year, college courses co-taught by a university professor and a trained instructor from the district are offered for high school and college credit. In addition, the School of Arts and Sciences at Rutgers University-Newark offers courses after school. "Our Scholars, like their peers, have a lot of questions – 'Am I smart enough? Will I fit in? Can I afford it?' We provide answers by exposing them to college credit courses as early as the ninth grade, building a community of likeminded peers and educating them on how to pay for college and apply for scholarships," Gutierrez says.
Each summer, students attend courses taught by Rutgers instructors on the various campuses. Internships during their junior year allow them to earn college credit and get paid.
---
Related Stories:
---
Peer support is emphasized throughout the program. In addition, Future Scholars who have finished at least a semester at Rutgers can take a mentoring course for credit and assist high school Future Scholars in time management, course selection and handling stress. Scholars in college also serve as ambassadors, returning to the high schools to offer encouragement and advice.
"I tell current scholars to take full advantage of this opportunity to be a pioneer and set a new culture for their families – one of achieving higher education," says Marcellus Hill, who attended Brim Medical Arts High School in Camden and is graduating from Rutgers-Camden with a degree in health science. He plans to enroll in graduate school to study physical therapy. "A lot of these students are like I was: In the seventh grade, I didn't understand how inaccessible college was for people in my demographic."
Many Scholars, like Hill, are eyeing graduate school. "College was difficult, but I want to move on to the next level as I understand how important higher education is," says Harvey Mills, a student from Woodrow Wilson High School in Camden who is graduating from Rutgers-New Brunswick with a degree in history and Africana studies. A substitute teacher in Plainfield, Mills plans on pursuing a master's degree in education.
Athena Torres, who attended high school with Hill and will receive her bachelor's degree in nursing from Rutgers University-Newark, says she experienced some peer pressure. "Few of my friends were in the program. While they were hanging out in the summer, I was taking college classes, but that opened up many opportunities," says Torres, who was raised in a single-parent household and decided to pursue medicine after caring for her terminally ill grandmother. "I have been called to interview for jobs because employers see 'Future Scholars' on my application."

Himang Patel of Piscataway, who will receive his degree in finance and accounting from Rutgers University-New Brunswick, has seen firsthand how the Future Scholars program paves the way to jobs: After commencement, he will start work on Wall Street in Deutsche Bank's regulation compliance and anti-financial crime unit.
Patel, who emigrated from India at age 8, found assimilating difficult. "I was taking it one grade at a time, but when I entered the Future Scholars program, I saw all that was possible. When I got to college, companies took note of me because my involvement in the program and reached out to me for internships. That work helped me succeed beyond my dreams."
Beyond their degrees and job offers, the graduating Future Scholars cite their peers as the most valuable part of their experience. "This is more than a program," says Torres. "It is family."
---
For more information, contact Patti Verbanas at 848-932-0551 or verbanpa@ucm.rutgers.edu