Rutgers Establishes Collaborative Partnership With Botswana
Plans underway for technology hub, expanded medical training and more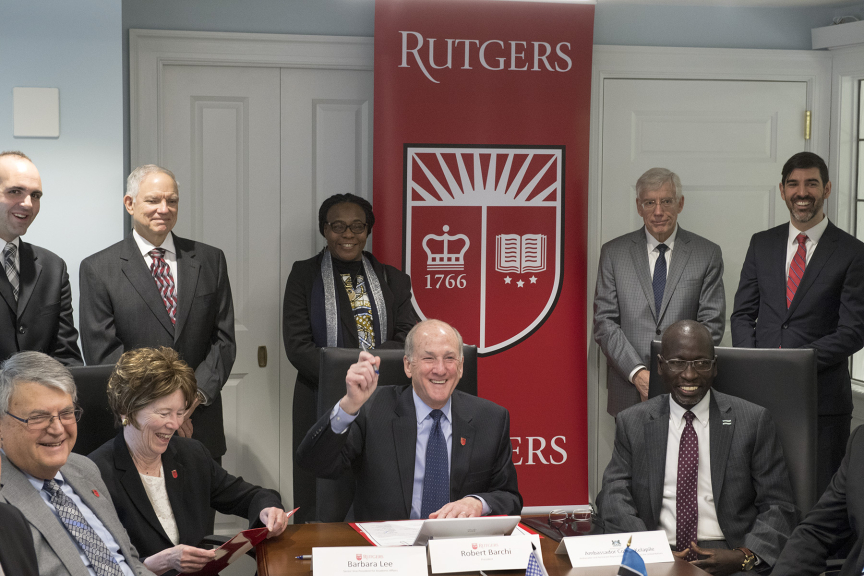 "This agreement goes beyond the traditional institutional academic agreement – it is not a partnership between Rutgers and a single university or a consortium of universities, but a partnership with an entire nation."

 

-Rutgers President Robert L. Barchi
Rutgers University and Botswana leaders signed an agreement to launch the Botswana-Rutgers Mahube Partnership for Transformation, a joint initiative to exchange knowledge through technology and develop programs that help Botswana address its strategic development goals as the country emerges as a regional hub of southern Africa.

Led by Botswana President Mokgweetsi Eric Masisi and Rutgers President Robert L. Barchi, the broad partnership will focus on health care, information technology, higher education and research, entrepreneurship and innovation, civic leadership and other needs to help Botswana transform from a predominantly natural resource-based economy into a knowledge-based one.

"This agreement goes beyond the traditional institutional academic agreement – it is not a partnership between Rutgers and a single university or a consortium of universities, but a partnership with an entire nation," President Barchi said. "We are discovering common interests and opportunities, and learning how we can share our expertise to help tackle major issues and cultivate the next generation of leaders with skills and expertise in priority areas sought by Botswana's leadership." 

The collaboration centers on the creation of a knowledge hub in Botswana, powered by the same technology that enables digitally connected classrooms at Rutgers. By using this technology to convene working groups, develop training sessions and share ideas, Rutgers and Botswana will focus on moving knowledge instead of people.

"A recurring theme of the agreement is access. We're going to help create a knowledge hub, which will provide a platform for regular communication between Rutgers and partners in Botswana as well as educational consulting and training programs," said Michele Norin, senior vice president and chief information officer at Rutgers. "The hub will also serve the needs of new businesses, government offices and educational institutions in Botswana."

For Rutgers and New Jersey, the partnership will draw on the university's global engagement mission and experience, while providing cross-cultural and research opportunities for Rutgers faculty and students and business development opportunities in Botswana for New Jerseyans. "Rutgers is uniquely prepared for this innovative nation-university partnership," said Barbara Lee, senior vice president for academic affairs.

"We have a tremendous amount to offer in terms of programming, student interests and a wide variety of faculty expertise and activities," Lee said. "Rutgers has a long history of global engagement dating back to our charter in 1766, and, today, we have over 10,000 international students and scholars and nearly 400 international partnerships with institutions abroad."
Rutgers and Botswana leaders have been working toward this collaboration for several months. Last September, President Masisi and Botswana First Lady Neo Masisi visited Rutgers while they were in the United States for the 73rd session of the United Nations General Assembly. In early October, Masisi hosted a Rutgers delegation including President Barchi, Eric Garfunkel, vice president for global affairs, and Rutgers Global Health Institute director Richard Marlink for a tour that included the nation's major government offices, hospitals and research and educational institutions. 
While many of the details of the Botswana-Rutgers Mahube Partnership for Transformation are still being refined, Marlink, who for the last 22 years has led partnerships in Botswana to combat HIV/AIDS nationwide, signed a universitywide agreement with the University of Botswana focused on health – the first international agreement initiated by Rutgers Global Health Institute.

"We know from our discussions that addressing health care system gaps – particularly with regard to cancer care and treatment – is a high priority for the government of Botswana," Marlink said. "Plans for expanded medical specialty training, a new teaching hospital and a biomedical engineering curriculum at the University of Botswana are beginning to take shape."

"The goal of this initiative is to engage on priority areas that Botswana and Rutgers have jointly identified, provide training and develop curricula that will help create a knowledge-based economy in Botswana equipped with a workforce prepared to address key regional challenges, and pursue collaborative research," Garfunkel said. "We are taking a long view and not merely trying to put a Band-Aid on a handful of issues with our research." 

Other key Rutgers faculty engaged in the collaboration include Ted Baker, professor and George F. Farris Chair in Entrepreneurship at Rutgers Business School; Brent Ruben, director of the Rutgers Center for Organizational Leadership; and Tom Farris, dean of the School of Engineering.

Ruben, whose office runs the Rutgers Leadership Academy for faculty and staff who want to pursue broadened leadership roles, said Rutgers will work with Botswana to develop new cooperative training and mentoring programs for current and future leaders in civic government, education and research, both in person and online.

The Botswana-Rutgers Mahube Partnership for Transformation is the latest effort in Rutgers' long-standing commitment to African studies and meaningful collaboration on the continent, with over 100 faculty currently working and teaching with colleagues in Africa.