Rutgers Enters Partnership to Build Performing Arts Center
Board of Governors approves university's investment in center that paves way for expanded programming at Mason Gross School of the Arts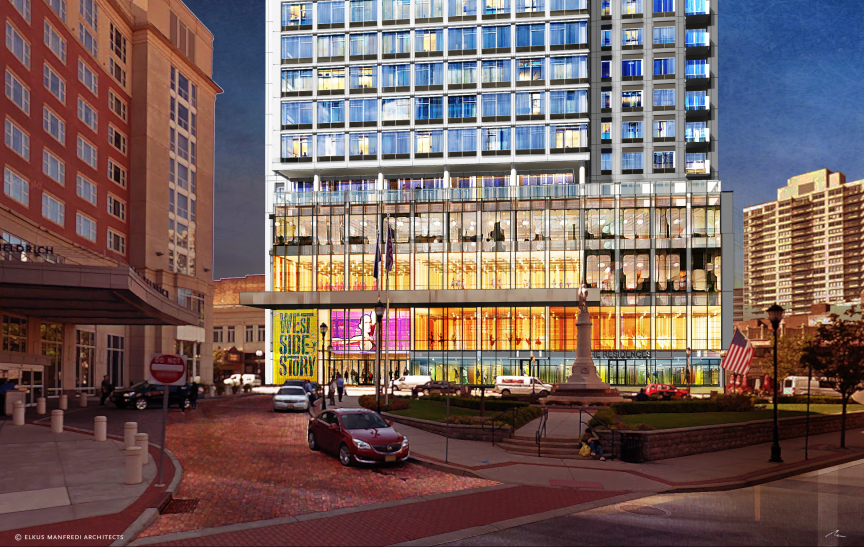 NEW BRUNSWICK, N.J. – Rutgers University and other partners plan to build a performing arts center that will allow the Mason Gross School of the Arts to launch a musical theater program and expand its opera program.
The Rutgers Board of Governors today approved the university's investment as a partial owner of the 60,000-square-foot New Brunswick Performing Arts Center. The new facility will be part of a 450,000-square-foot development that also will include office space and residential units on the site of the existing George Street Playhouse and Crossroads Theatre in downtown New Brunswick.
"This is a tremendous collaboration between Rutgers University-New Brunswick and our home city," said Richard L. Edwards, chancellor of Rutgers University-New Brunswick. "Our talented Mason Gross students will be able to perform in a state-of-the-art venue that will draw a wider audience from throughout New Jersey."  
Construction is expected to begin in August, following demolition of the two existing theater spaces beginning in May. The arts center is expected to open for the fall 2019 semester, when Mason Gross will launch its musical theater program. Rutgers is working with the George Street Playhouse to find university locations to stage performances during the two-year construction project.
"Rutgers students will have the opportunity to perform for a downtown audience, right next to a professional presenting house, the State Theatre," said Mason Gross School of the Arts Dean George B. Stauffer. "For New Jerseyans, it gives them the chance to see our students perform in a first-class setting."
Rutgers is partnering with the New Brunswick Development Corporation (Devco) and the New Brunswick Cultural Center on the $60 million project. The university will provide $17 million toward construction – $10 million from Mason Gross fundraising and $7 million from university reserves and short-term borrowing, said Antonio Calcado, executive vice president for strategic planning and operations at Rutgers.
 "This is a phenomenal partnership with the city and the arts community that is unparalleled and shows Rutgers' commitment to the city of New Brunswick," Calcado said.
Mason Gross leaders have long wanted to launch a musical theater program, but Stauffer said those plans have been delayed due to a need for a fully equipped production house.
"We've had great demand for musical theater over the years from prospective students, and we've regretted telling them we don't offer it," Stauffer said. "Several of our peer Big Ten universities, most notably Michigan, Northwestern and Penn State, have thriving programs. It's time for Rutgers to end this shortcoming and create our own program."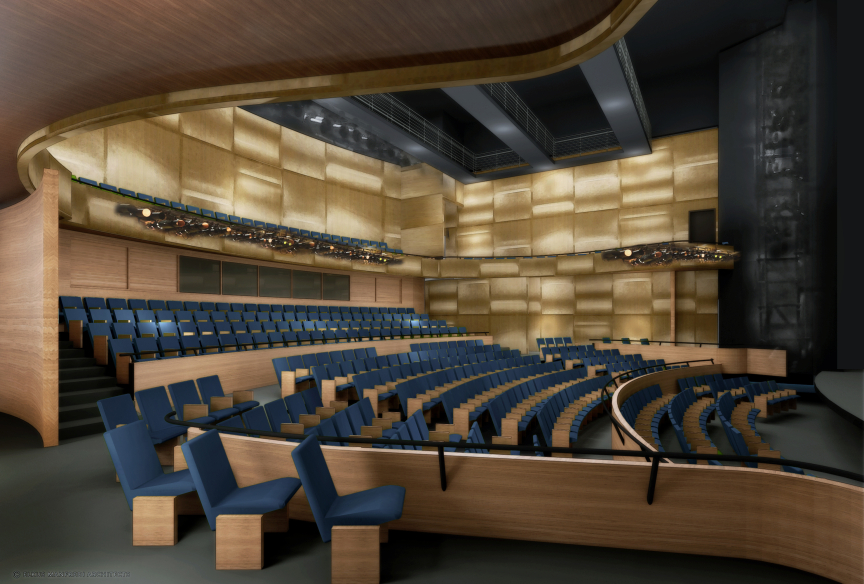 The center will feature two theater spaces, including a 465-seat lyric proscenium theater, designed to accommodate musical theater, dance, opera and dramatic theater, with an 86-foot stage and an orchestra pit. It also will include a tower for suspended stage scenery and equipment and a trap system below the stage used for scenery effects. The smaller theater will seat 253 people and is designed for theatrical performances, smaller dance performances and lectures, as well as community and musical events.
Three rehearsal spaces that replicate the stage spaces will free the main venues for more scheduled performances.
"Our students will be able to do multiple presentations of each performance and get the experience of a full run," Stauffer said.
Chris Paladino, Devco president, said the performing arts center is expected to draw an additional 80,000 arts patrons to the city's cultural center, which already brings in 400,000 people a year.
---
More from the Board of Governors:
---
"This arts campus will serve as a rich haven of creation and culture, allowing for our partner agencies to grow their programs and performances and reach wider audiences than ever before," said New Brunswick Mayor Jim Cahill. "Our collaboration with the university community brings an exciting element to this plan and strengthens our melding of public and private collaboration to yield a modern and sensational product."
Along with the arts center, the redevelopment project is expected to include:
30,000 square feet of office space housing Middlesex County arts organizations
 A 207-unit, 18-story residential rental apartment tower
 A 344-space parking garage on an existing parking lot on Bayard Street, currently owned by the New Brunswick Cultural Center and TD Bank
Other project partners include the city of New Brunswick, Middlesex County, the New Jersey Economic Development Authority, Pennrose Properties and the New Brunswick Parking Authority.
"This makes a very important statement," Paladino said. "The university and the city and the other cultural assets of New Brunswick are truly partners."
---

Mason Gross School of the Arts is one of Rutgers' most selective schools and is highly ranked for several of its programs. More than 500 events are offered a year at the Mason Gross Performing Arts Center and Galleries – in classical music, jazz, theater, dance and art, including lectures, performances, master classes, and exhibits – by students, faculty and visiting artists.
Established in 1766, Rutgers, The State University of New Jersey, is America's eighth oldest institution of higher learning and one of the nation's premier public research universities, educating nearly 69,000 students and serving people throughout New Jersey. Rutgers University-New Brunswick is the only public institution in New Jersey represented in the prestigious Association of American Universities. Rutgers-New Brunswick is also a member of the Big Ten Conference and its academic counterpart, the Big Ten Academic Alliance – a consortium of 14 world-class research universities.