Students are participating in a new project that encourages a fair and transparent redistricting process
A team of undergraduates at Rutgers' Eagleton Institute of Politics is redrawing the lines of Congressional and legislative districts to advocate for fair representation for New Jersey's 9.4 million residents.
The new project, "NJ Redistricting: Community Engagement Prioritizing New Jersey's Communities of Color" allows students to work alongside Fair Districts New Jersey - a non-partisan coalition fighting to reform and inform the state's redistricting process. The student's recommendations will be part of presentations to both the Legislative Apportionment Commission and Congressional Redistricting Commission.
The student intern team includes Neha Aluwali (Honors'22), Marc Ramrekha (SAS'22), Michael Brestin (SAS'23) and Alex Fonseca (SAS'22).
"I have gained a much deeper understanding of New Jersey politics and how coalition-building works," said Neha Aluwalia, a redistricting intern, Honors College student and an undergraduate associate at the Eagleton Institute of Politics at Rutgers-New Brunswick. "I believe that each citizen is the expert of their own community."
Nationwide, states are redrawing their Congressional and legislative districts based on U.S. 2020 Census data, a process that will shape political power for the next decade.
The Rutgers students are using mapping software, including Maptitude, to identify and map communities of interest and draw Congressional and legislative districts to try to achieve fair representation for New Jersey residents, particularly communities of color.
Aluwalia, who is double-majoring in political science and German studies, researches women's political participation at the Center for American Women and Politics at Eagleton.
Aluwalia developed testimony and presented before the New Jersey Legislative Apportionment Commission in November, urging commissioners to move her hometown of Plainsboro into the same state legislative district as West Windsor because they are associated with many of the same community organizations and institutions and share many services, including a regional school district, the West Windsor-Plainsboro School System, considered one of the best in New Jersey.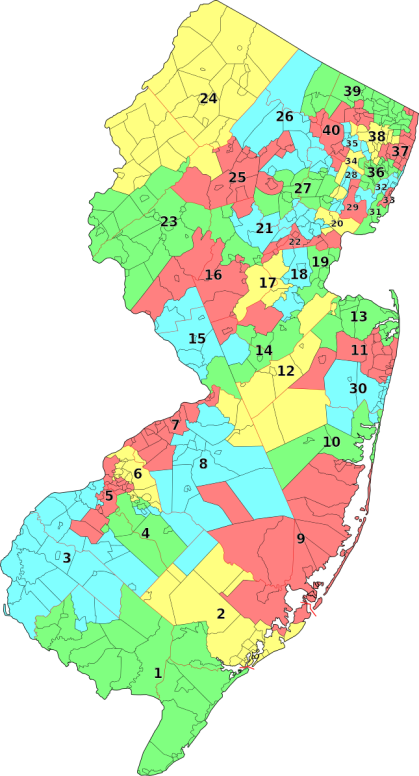 "Currently, the needs of the West Windsor-Plainsboro school district are not being advocated for together by a single representative," said Aluwalia. "One inconvenient truth about living in Plainsboro is that we do not have a gas station and the closest gas station to my house is located in West Windsor. Our communities need to share resources and should share a representative as well."
"The interns have been crucial to the process of drawing a map for the advocacy organizations," said Henal Patel, Director of the Democracy and Justice Program at the New Jersey Institute for Social Justice. "Neha, our intern, has done tremendous work drawing communities of interest incorporating feedback from Black people and other people of color. She's also learned a great deal about outreach, coalition building and what racial equity means."
John J. Farmer, Jr., Eagleton director, who served as legal counsel to the commission that redrew New Jersey's legislative districts in 2011 and was later appointed the independent tie-breaking member of the New Jersey Congressional Redistricting Commission, said the Fair Districts Coalition represents an important and new unified voice in the process.
"The opportunity Eagleton students have had to participate in drawing and analyzing districts alongside Coalition partners has been an invaluable education in real-world politics. At Eagleton, we analyze how the American political system can be strengthened and improved," said Farmer. "By engaging Rutgers students in the redistricting process, we match young talent, technology and community partners to support fair representation for all communities, particularly communities of color. Our goal is to eliminate voter dilution and to ensure inequities are not built into the district structures of our legislature and congressional delegation."
Last spring, Farmer co-taught, "Gerrymandering and Democracy," teaching these students and others about the importance of a fair, equitable and transparent redistricting process and its implications on our nation's democratic system of governance.
NJ Redistricting: Community Engagement Prioritizing New Jersey's Communities of Color is supported by the Fair Redistricting in New Jersey Fund of the Princeton Area Community Foundation. The Institute also worked with several Fair Districts Coalition partners to provide Rutgers students a seat at the redistricting table, including the League of Women Voters of New Jersey, New Jersey Institute for Social Justice, Latino Action Network Foundation, United Black Agenda, New Jersey Alliance for Immigrant Justice, Sikh American Legal Defense and Education Fund, and Asian Americans Advancing Justice/AAJC.
Learn more about redistricting through Eagleton's resources, including a presentation given by Eagleton Visiting Associate, Ingrid Reed, who outlines the history of redrawing electoral district lines every 10 years in New Jersey and the United States.