Rutgers Day 2018 Coming Saturday, April 28
Rutgers Day offers more than 700 free events in New Brunswick, Camden and Newark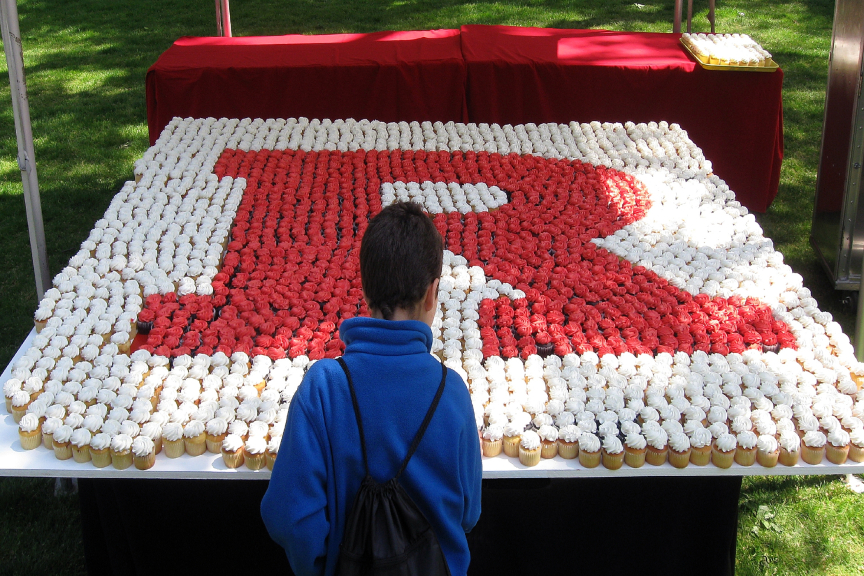 Rutgers Day, the university's annual welcome and show-and-tell for New Jersey residents of all ages, will take place Saturday, April 28, from 10 a.m. to 4 p.m.
The event, which celebrates its 10th anniversary this year, offers more than 700 free performances, demonstrations and interactive activities. Last year, a record crowd of more than 100,000 visitors learned firsthand about the university's research, teaching and service. The celebration includes programming at all three of the university's locations – Camden, New Brunswick and Newark. 
This year, attendees can plan their visit with the new Rutgers Day mobile application that allows users to search by location or program. The app is available through Google or iTunes for the iPhone and Android phones and tablets. 
Rutgers Day coincides with Alumni Weekend, which gives alumni the opportunity to connect with old friends and classmates at all three locations. In addition, the New Jersey Folk Festival, which takes place on the Cook/Douglass campus in New Brunswick, celebrates the theme "Native Americans in New Jersey" with singers, dancers, musicians and craftspeople. When capturing moments of your Rutgers Day experience, be sure to use the hashtag #RutgersDay for the chance to see your photos or video featured on Rutgers social media.
Program highlights include:
[image:3:left:45]]NEW BRUNSWICK
Rutgers Day and All-Alumni Parade: At 10:30 a.m., alumni join the Rutgers Marching Scarlet Knights, Rutgers cheerleaders and, of course, the Scarlet Knight mascot to march down College Avenue. Rutgers history comes to life with the appearance of characters from our revolutionary past.
Robots, Drones and Racecars:  Interact with robots, take in live demonstrations of drones, try your hand at a flight simulator, and participate in activities and games with Rutgers Formula Racing.
Learning and Fun with Animals, Insects and Sea Life: Watch horses run on a high-speed treadmill, get up close and personal with fascinating marine species at the Jersey Coast Touch Tank, cuddle cute critters at the petting zoo, and marvel at exotic insects and arachnids at the Fun with Bugs tent.
Performances: Rutgers Day features student performances, including choral concerts, bands, cultural dances, belly dancing, hip-hop dance and martial arts demonstrations, as well as shows by the Cabaret Theater and Livingston Theatre Company.
To Your Health: Become a Doctor For a Day, perform surgery on a Jell-O brain, bring your stuffed animal for a health exam or be a cell detective and spot the difference between normal and cancerous cells.
Eric LeGrand Flag Football Tournament: Join Rutgers football alumnus, Eric LeGrand, for the inaugural Eric LeGrand Flag Football Tournament benefiting Christopher & Dana Reeve Foundation. Watch 36 teams compete throughout the day culminating with a championship game at 4 p.m. at High Point Solutions Stadium.
Rutgers Delivers: Stop by the Rutgers Delivers tent on the Voorhees Mall to test your Rutgers knowledge wtih a quiz and win a T-shirt.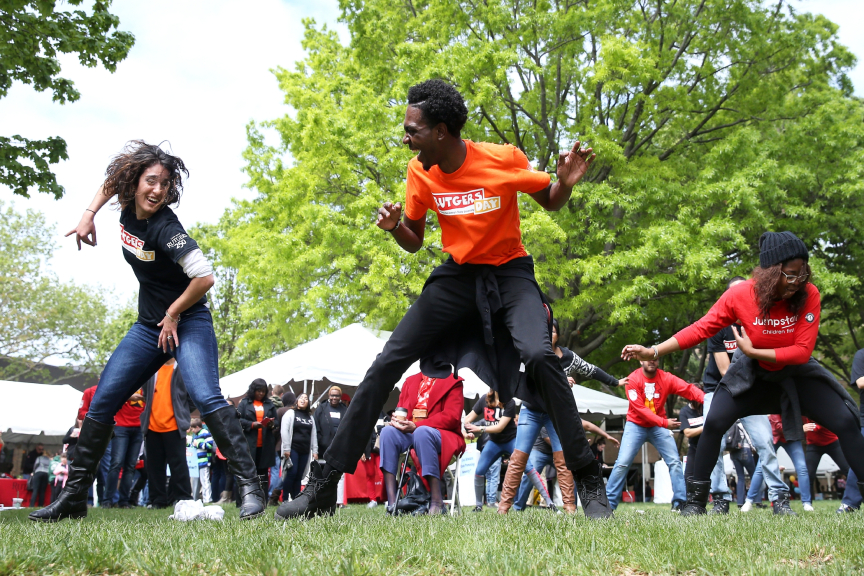 CAMDEN
Chemistry in Camden: Science, Sleuthing and Slime: Learn about pretty polymers, fingerprinting and forensics.  Explore some cool chemistry with the chemistry department's faculty and students and make your own slime.
Augmented Reality Sandbox: "Play" in the hands-on sandbox exhibit combined with 3-D visualization applications.  Mold sand by hand and the landscape comes to life! The sand is augmented in real-time with an elevation color map, topographic contour lines and simulated water.
Learn to Play Ukulele with Professor Stefán Örn Arnarson: Anyone can play the ukulele! Professor Stefán Örn Arnarson will teach you how.
Henna Art and Turban Tying: Meet students from the West Indian-Indian Connection and have a beautiful piece of art drawn in henna on your hand.  Members of the Rutgers-Camden Sikh Student Association will show you how to tie a Sikh turban while you learn about Sikh culture.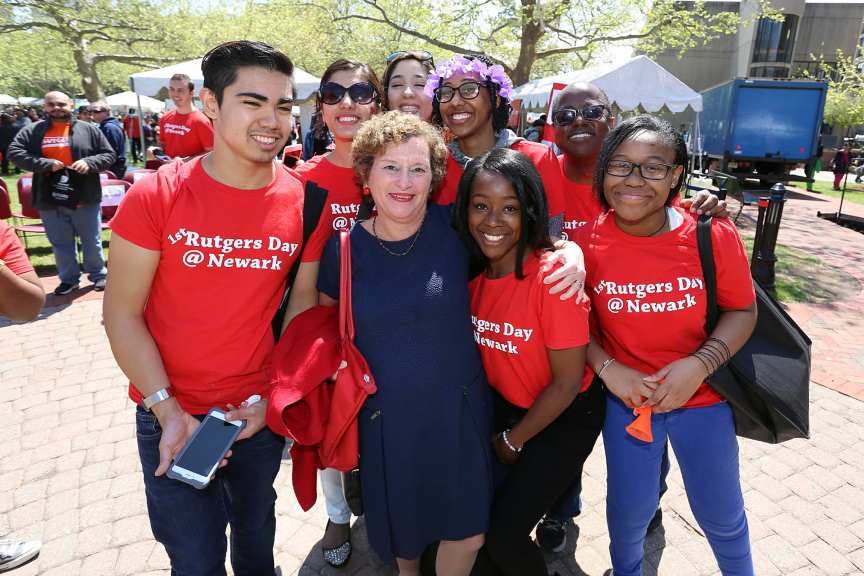 NEWARK
Newark CultureCon: Newark's first ever CultureCon is a convention of the arts across all comic book genres that highlights diversity, inclusion and representation in the industry and medium. Check out vendors displaying their artwork, live performances and special panels discussing the trending issues of inclusion and representation.
Beyond the Badge, Behind the Community: Learn about policing and security services at Rutgers through demonstrations, information and an interactive activity.
Virtual Reality Experience and 3-D Printing Hands-On: Virtual reality headsets use the latest technology to deliver a total immersion virtual reality experience. Try one on, and be transported to an alternate world! Plus, check out a 3-D printer up close. Get a quick info session in modeling in 3-D, slicing models to prepare for printing, and printing via Fusion F-400 3-D printers.
Your Baby's Brain: Calling all parents with baby scientists. Bring your little ones to build sand castles and play with bubbles while you learn about baby brain development.
Parking is free in Rutgers lots in Camden, New Brunswick and Piscataway. In Newark, guests can park for free in the University Deck I (200 University Ave.), Washington Deck II (166 Washington St.) or Washington Deck III (180 Washington St.). New Brunswick will offer free shuttle buses connecting the College Avenue, Busch and Cook/Douglass campuses.
Rutgers Day is sponsored in part by Saint Peter's Healthcare System, RWJBarnabas Health, Kearny Bank and Eight O'Clock Coffee, and supported by media partners, including New Jersey Advance Media – The Star-Ledger and NJ.com, 1450 WCTC and Magic 98.3. For information, visit rutgersday.rutgers.edu.