Rutgers Dance Marathon Raises More Than $1M for Cancer Charity, Topples Past Records
Largest, student-run philanthropic event in the state draws more than 1,700 dancers to 24-hour benefit supporting Embrace Kids Foundation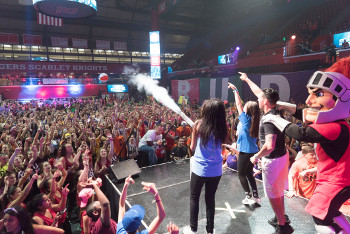 'It's just a beautiful sight to see the students and the families and patients dancing together. We are all standing and dancing together for one cause.'

 

– Jennifer Noji, RUDM marketing director
Rutgers University Dance Marathon has done it again.
Now in its 19th year, the fundraising juggernaut surpassed previous year's records by thousands this weekend, drawing more than 1,700 dancers and nearly 200 volunteers to raise $1,038,986.13 for Embrace Kids Foundation.
The largest student-run philanthropic event in the state, RUDM has raised nearly $6 million since its inception for the New Brunswick-based nonprofit, which supports the non-medical needs of children with cancer and blood disorders and their caregivers.
"The goal in our minds is always just to break the record. Period," said RUDM marketing director and Rutgers senior Jennifer Noji, 22, who cited last year's totals of 1,350 dancers, 350 volunteers and $912,143.47 in donations. "That's what we strive for – more Rutgers and community involvement."
To achieve that, RUDM amped up its recruitment efforts this year, said Noji, dispatching volunteers to the new-student orientation for the first time to start the indoctrination early.
"They learn that dance marathon is part of the Rutgers culture and tradition," said Noji, who has participated in the fundraiser all four of her years at Rutgers. "So it's just something they know they want to be a part of."
Once a continuous 30-hour dance party, RUDM planners broke the event into two back-to-back, 12-hour sessions last year to better accommodate the ever-expanding crowd. A new color war tradition was introduced at this year's event, said Noji, which grouped dancers into eight different color teams to compete in activities, including tug of war, karaoke contests and a life-sized game of Hungry Hippos.
But the highlight of RUDM remains family hour, she said, when the young patients served by the charity and their families are paraded through the crowd like celebrities.
"It's just a beautiful sight to see the students and the families and patients dancing together," she said. "We are all standing and dancing together for one cause."
RUDM is the culmination of a yearlong fundraising campaign, during which volunteers solicit donations from family, friends and corporate sponsors or host bake sales and other events. All participants must raise a minimum to attend the big bash at the Rutgers Athletic Center – dancers, $350; volunteers, $100; planners $450-$700.
"What's really cool is the money is not spent on cancer research or to pay medical bills but everything else, like putting gas in somebody's car or paying rent or helping patients pay for school," said Noji of the more than 300 patients and their families who receive financial support through Embrace Kids Foundation. "Our ultimate goal is to try to create a sense of normalcy that has been taken away because of illness."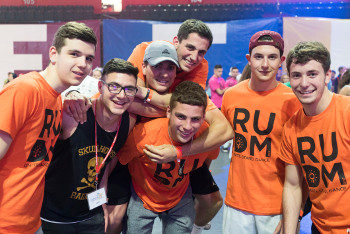 Five years ago, Michael Nicolaro was one of those patients fighting for normalcy and his life.
He was 16 and being treated for Hodgkin's lymphoma at Robert Wood Johnson Medical Center when he was "adopted" by a group of Rutgers fraternity volunteers with RU4Kids – a program under Embrace Kids Foundation that links students with patients to provide emotional support through regular visits and outings.
Today, the 21-year-old Rutgers senior is cancer free and just wrapped up his fourth and final dance marathon, having raised a total of $6,000 as an undergraduate.
"I've seen it from both sides," said the East Brunswick resident who received a scholarship from Embrace Kids Foundation to help with his Rutgers tuition. "I've directly benefited from the funds of dance marathon. Now I'm face-to-face and forging relationships with the families and seeing where those funds are going and the impact it making."
In addition to being a dancer, Nicolaro works as a patient liaison with Embrace Kids Foundation, handling planning and events throughout the year and visiting patients and their families in the hospital and clinics. He and his Phi Kappa Sigma brothers are paired with a few children in the program.
"I'm empathetic and I understand what's going on. It gives me awesome opportunity to connect with these kids," said Nicolaro, who hopes to apply to medical school after graduation and work one day as an oncologist. "A lot say, 'You don't get it. You don't know.' But I do. Even the parents, when they see someone whose gone though it and comes back, it gives them that spark of hope, that light at the end of the tunnel."