Rutgers Community Comes to Aid of Hurricane Victims
Project Pillow is latest university effort to help those affected in Texas, Florida and the Caribbean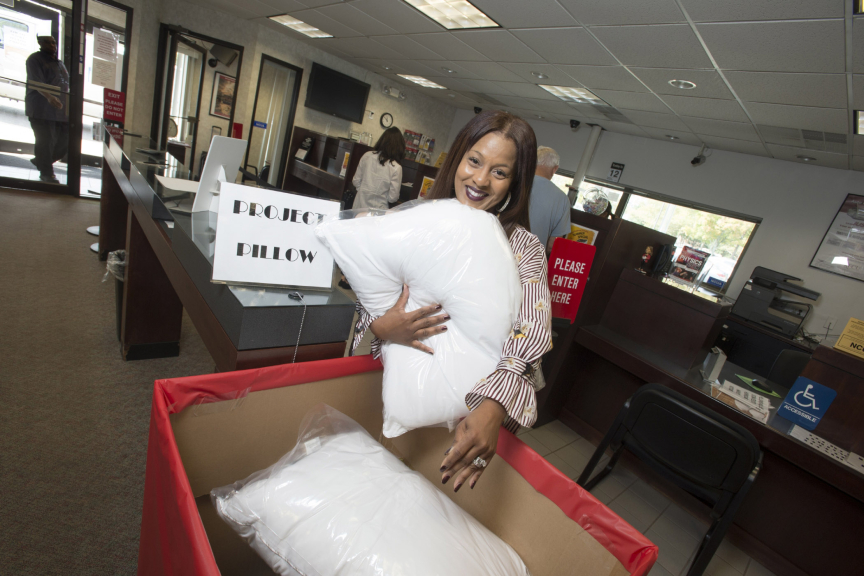 The Rutgers community and its neighbors are working to help hurricane victims rest their heads a little easier.
Project Pillow, a drive launched Sept. 8 by Rutgers' Lisa Scott, is collecting new, unused pillows for those displaced by hurricanes Harvey and Irma.
"In my opinion, when you have to sleep in a shelter, the sense of comfort a pillow brings is critical," said Scott, registrar of summer and winter sessions in New Brunswick. "We wanted to offer that warm feeling from the heart."
After witnessing the devastation superstorm Sandy wrought on the Jersey Shore, Scott said it's easy to empathize with what affected Texans, Floridians, and Caribbean islanders are struggling with today. 
"Watching the places where you grew up and played wash away hits home," said the Lakewood native.
Well over 200 pillows – in their original packaging or sealed in a plastic bag – have been collected since Scott and nine volunteers throughout the university began placing drop-off bins around New Brunswick and Piscataway. There are now more than 37 donation sites, said Scott, with more municipalities, including the New Brunswick, Piscataway and Secaucus mayors' offices, New Brunswick school district and Union County College, agreeing to participate in the drive every day. 
Originally intended for the victims of Hurricane Harvey, the Pillow Project has expanded to include victims of Hurricane Irma. Rutgers Federal Credit Union also joined the effort, accepting monetary donations in New Brunswick, Camden and Newark for the relief efforts. No end date for pillow and cash donations has been set, said Scott, who is working out the logistics of shipping the pillows to where they are needed most. 
Around the university, students, faculty and staff are supporting multiple hurricane relief efforts, including:
Rutgers Athletics collected new and gently used clothing and shoes from fans before the past two football games at High Point Solutions Stadium. Rutgers will partner with the University of Houston's athletics department to distribute the items.
 A group of Rutgers trauma nurses and doctors, including Adam Fox, assistant professor of surgery at New Jersey Medical School, traveled to Houston immediately after the storm to provide critical relief.
Mitch Rosen, director of the Office of Public Health Practice in the School of Public Health, visited Houston to train volunteers, homeowners and organizations on how to stay safe during the recovery process. 
The Rutgers Chapter of the American Student Dental Association (ASDA) raised $400 during a charity event Sept. 12, at The Shannon in Hoboken. The funds will be donated to families affected by Hurricane Harvey via a donation link that is run by Houston ASDA.
Rutgers University Alumni Association sent boxes of Rutgers shirts, hats and ponchos to help those stranded in the shelters during and after Hurricane Harvey.
 Proceeds of The Student National Medical Association at Robert Wood Johnson Medical School's annual Penny War were donated to aid victims of Hurricane Harvey.
Robert Wood Johnson Medical School hosted 10 displaced members of McKesson – the medical school's patient access center partner – as Hurricane Irma barreled toward their base in Port St. Lucie, Fla. The arrangement kept the McKesson team out of harm's way and ensured seamless patient access during and after the storm. The group arrived in New Jersey on Sept. 8 after a 28-hour charter bus trip and returned to Florida on Sept. 15 and 16.