Rutgers Campaign Seeks to Decrease Maternal Mortality Rates
New Jersey's second annual Maternal Health Awareness Day on January 23 brings attention to Rutgers' "Stop.Look.Listen!" campaign, which one grieving father hopes to take national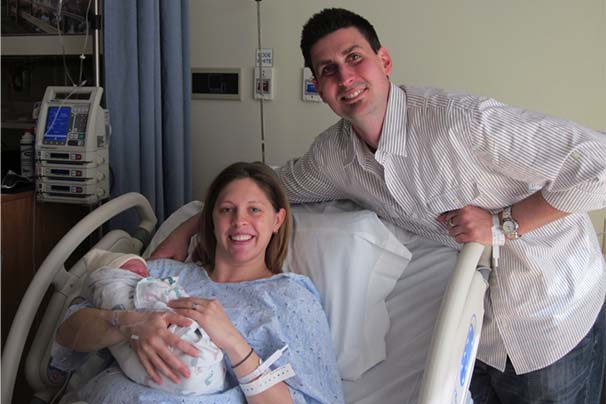 Shortly after giving birth to her son Brandon in 2011, Tara Hansen – while still in the hospital – told health care providers her body didn't feel right. But they considered her a healthy postpartum patient and sent her home.
Six days later, she died from an infection that had occurred during the birth.
"Tara was the only person who knew something was wrong, and her complaints just kept falling on deaf ears," her husband, Ryan, said. "Everyone assumed that the pain she described was to be expected because she just had a baby."
Maternal deaths are declining worldwide, but are on the rise in the United States. The U.S. Centers for Disease Control and Prevention reported 18 pregnancy-related deaths for every 100,000 live births nationwide in 2014, up from a low of 7.2 in 1987. In New Jersey, the most recent state data shows that from 2006 to 2008, the average maternal mortality rate was 14.4 deaths per 100,000 births, with higher rates reported for black women.
Vowing to make an impact in his wife's honor, Ryan, a Rutgers alumnus, launched the Tara Hansen Foundation in 2012 and forged a partnership with Rutgers Robert Wood Johnson Medical School, where his mother, Patricia Hansen, is director of communications and public affairs.
With assistance from the medical school and Robert Wood Johnson University Hospital, the foundation developed the "Stop. Look. Listen!" campaign. Its goals are to increase public and professional awareness of pregnancy-related deaths, empower women to report pregnancy-related medical issues, and increase awareness and responsiveness among health care practitioners. 
The campaign prompted a New Jersey law establishing January 23 of each year as Maternal Health Awareness Day – the first of its kind nationwide.
"Pregnancy is considered a happy time in a woman's life, and families don't want to think about anything negative, like hypertension or diabetes," said Gloria Bachmann, director of the Women's Health Institute at Robert Wood Johnson Medical School, who helped create the campaign.
"Our goal is to empower women and families to advocate if they feel something is wrong and understand that no question about the mother-to-be or new mom's health is inconsequential. For example, itchy skin could mean a liver or gall bladder problem, which was caused by the pregnancy. With 'Stop. Look. Listen!' clinicians need to stop whatever they are doing, look at the woman and conduct a full medical evaluation and, of course, listen carefully to what she and her family are saying about her concerns and how she is feeling," Bachmann said.
The campaign seeks to educate all health care providers – not just OB-GYNs, nurses and certified nurse midwives – as well as family members and emergency room physicians, who may be the first to recognize something might be wrong with a woman who has just given birth.
"Many women have a history of good health but suffer from pregnancy-related issues during or just after delivery, such as cardiovascular diseases, blood clots, pneumonia and stroke, which can result in death," said Bachmann.
Ryan Hansen looks forward to promoting "Stop. Look. Listen!" nationwide. "It's frightening that most people in the United States do not consider a healthy, postpartum woman at risk for death since we are in a developed country," he said. "This day of awareness shows that Tara's death has meaning – to save other women's lives."
More information about Maternal Health Awareness Day, #123forMoms may be found here: http://go.rutgers.edu/hbq3qwmi