Rutgers Board of Governors Approves Asset Purchase Agreement for RUCDR Infinite Biologics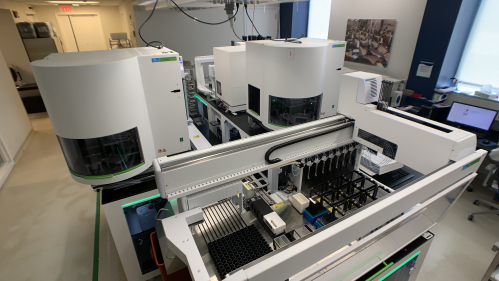 The Rutgers Board of Governors today voted to approve an Asset Purchase Agreement, whereby Rutgers will receive $44.4 million to spin out the RUCDR Infinite Biologics lab from Rutgers University-New Brunswick. The newly created company will be called Infinity BiologiX.  The new firm has secured significant growth capital to continue the development of RUCDR's innovative saliva test for COVID-19, as well as to accelerate the expansion of all other RUCDR product and service lines. Infinity BiologiX will operate independently of Rutgers, but will retain an affiliation with the university.
Dr. Andrew Brooks, the current COO of RUCDR Infinite Biologics, will become the CEO at Infinity BiologiX upon the closing of the transaction.  He will retain an adjunct academic appointment at Rutgers.
"The creation of Infinity BiologiX is a tremendous accomplishment for both RUCDR and Rutgers," Brooks said. "This transition will allow us to grow the business in ways that were previously not possible and to create strategic and innovative solutions in all market segments. The new capital investment in the business will allow us to expand both physically and technologically to meet the demands of our current and future clients across all of our services. I am honored to have been chosen to lead Infinity BiologiX and to work with our incredible team on this new and exciting journey."
Infinity BiologiX will continue to advance the mission of RUCDR, which was founded in 1999 by Dr. Jay A. Tischfield, to understand the genetic causes of common, complex diseases and to discover diagnoses, treatments and cures for them. The company will continue to collaborate with – and provide services to – researchers in both the public and private sectors globally, including innovative and market-disrupting sample collection and processing, storage and analytical services, and scientific and technical support in both the research and clinical arenas.
Infinity BiologiX will retain strong programmatic ties to Rutgers by continuing to provide the same services it has for the university on a priority basis. The new company will provide the state of New Jersey with access to 30,000 COVID-19 tests per day and will provide Rutgers with access to 10,000 tests per day for Rutgers students, faculty and staff.
"Dr. Brooks and the entire RUCDR team are to be congratulated for their remarkable work, especially during this time of unprecedented challenge to our global well-being," said Christopher Molloy, chancellor of Rutgers-New Brunswick. "Their work typifies the kind of original and creative thinking that occurs regularly at Rutgers, which attracts private and public investment that benefits our society in so many ways."
The FDA recently granted emergency use authorization for RUCDR's COVID-19 saliva test, which is the first specimen collection approach that utilizes saliva as the primary test biomaterial for SARS-CoV-2. The saliva collection method can be performed at home and allows for broader population testing than the method of nose and throat swabs.
"We are a next-generation central lab that creates solutions for all industries using biomaterials in their discovery, product development and diagnostic programs," Brooks said.
Viking Global Investors LP will be the majority investor in Infinity BiologiX following the close of the transaction. Viking is a global investment management firm founded in 1999 that manages approximately $30 billion of capital for its investors. It has offices in Greenwich, New York, Hong Kong, London and San Francisco and is registered as an investment adviser with the U.S. Securities and Exchange Commission.